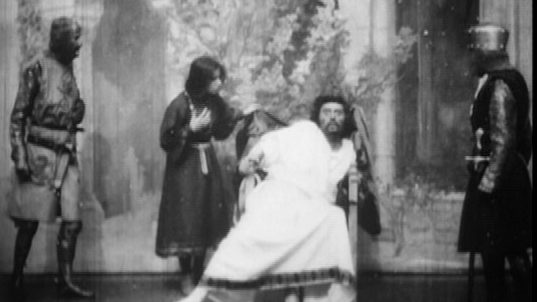 On Monday Alice Saville wrote an article for Exeunt about streaming and filming theatre. 'Why theatre needs to love film, not fear it' is intended as a provocation, so perhaps unsurprisingly I found interesting and irritating in about equal measure. Similarly predictable is my wish to respond, which is what this post is intended to do. Let me start with this from near the end of the article:
Theatre's relationship with filmed media has historically been defined by fear.
Which, with respect, is nonsense. There is an incredibly rich tradition, both in Britain and elsewhere, and across more than a century, of theatre, film, television and digital media collaborating and collectively exploring and enhancing performance, and together extending its audiences and engaging them in new ways.
The partnerships go right back to Herbert Beerbohm Tree's King John (1899, illustrated above), which appears to have been shot to bring audiences to the eminent actor's forthcoming stage production. This is really a topic for another piece, but I am certain that the more we know about the intimately intertwined histories of stage and screen then the richer is our understanding of the possibilities and potential now. That said, let's consider the finer grain of Alice Saville's argument. read more »