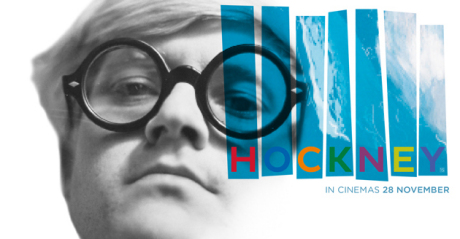 To the Clapham Picturehouse for an evening with David Hockney. First up was Randall Wright's new film biography of the artist, Hockney, which has been co-produced by the BBC. This was followed, to make it more of a cinema event, by a 35-minute "live and exclusive" visit to Hockney's LA studio in the company of his friend Charlie Scheips. Judged by the standards of television, this added attraction had aspects of a car-crash.
The satellite feed went down a couple of minutes in and was off for three or four minutes. Sporting a remarkable retro bow-tie, when he was back on screen Charlie couldn't keep quiet for a second. He seemed to have little sense from moment to moment of where the encounter was going, and he was palpably as nervous as a ferret on a freeway. At one point he and David cued up an extract from the mid-1980s documentary A Day on the Grand Canal with the Emperor of China but getting out of this was messy.
The vision mixer was irritatingly restless and the Steadicam operator became increasingly desperate to find yet another irrelevant floating shot. And most frustrating of all, as Hockney talked interestingly about particular works mentioned by Charlie, there were no images to bring up so that we could see what they were talking about. Television has a way of doing these things to make them look effortless. Yet this wasn't television, and I got the sense that while this hybrid TV/cinema form is perhaps more demanding technically than the small screen, there are aspects of it that are far more forgiving.
Certainly as David Hockney did his best to follow Charlie's scattershot questions, and gamely took on the only two seemingly submitted via Twitter to this Q&A, aspects of his character came through in a way that eluded the more polished form of the documentary. While his answers were sometimes repetitive, and at times almost obsessively focussed on perspective and smoking, you did feel you were getting beyond any sense of pre-packaging. You were, simply and straightforwardly, encountering a remarkable man. Plus, for all that the camera operators had little clue about where to look, we were in his studio and looking in the company of the artist at work only completed in the past few weeks. This was justification enough for any and all rough and raw aspects. Next time, though, it might be a good idea to bring in an interviewer who knows how to listen.
Randall Wright has been working towards Hockney for more than a decade. Given that Hockney vies with Henry Moore for being the most exposed British artist on film, and given too that Wright had access to the artist's remarkable personal films and videos, Hockney had a remarkably rich range of moving images on which to draw. Perhaps surprisingly, however, the film eschews two staples of such profiles. Apart from some short sections in the archive, there are no shots of process, so we never see Hockney painting or photographing today. Nor, again apart from some shots in the studio and in the archival elements, do we often see actual works hanging on gallery walls. The film is lavishly illustrated with Hockney's works, but almost all of these are reproduced from transparencies.
Perhaps inevitably for such a prestige production about a national treasure, Hockney approaches its subject with respect, even reverence. The artist's is the dominant voice, around which are arrayed those of friends and collaborators. For good or ill, there are no cultural critics, and next-to-no context in terms of what was happening in the art world across the past sixty years. A cornucopia of anecdotes is rarely complemented by analysis. And given Hockney's fecundity across such an extraordinary range of media, despite the film lasting around 105 minutes, aspects of his work perhaps inevitably feel short-changed.
There is no narrator and the structure is allusive rather than linear, with music both classical and original brought strongly to the fore. Some of the older archive doesn't stand up so well on a big screen, but at the same time the film is a visual treat. I particularly enjoyed the animated "replay" of Hockney's mark-making on an iPad, which much as Henri-Georges Clouzot achieved with Picasso some seventy years ago, means that the film screen becomes the site of the artist's direct creation. So I recommend seeking out Hockney when it turns up, as it soon will, on television. But perhaps ultimately because I think him a more significant artist, Randall Wright's 2012 film Lucian Freud: Painted Life is for me a richer, deeper arts documentary.