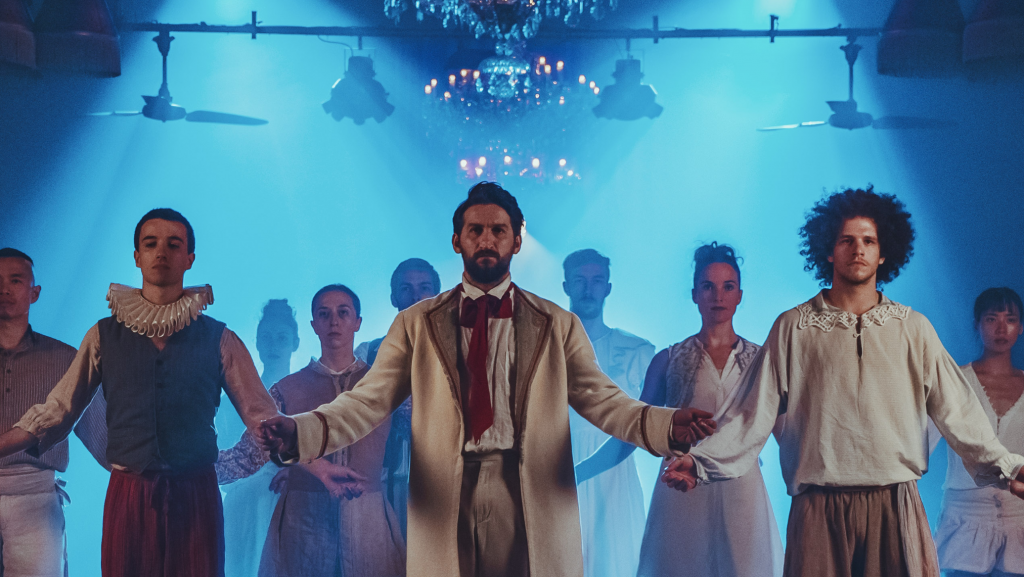 We may have been neglecting the blog – and once again we'll try hard to do better – but nonetheless we've been busy in the past months. Looking forward, here are details of a clutch of forthcoming events involving Illuminations and our productions: a panel at BFI Southbank, dance screenings at BAC (including Hofesh Shechter's Clowns, above), a symposium about scripts in Exeter, the next RSC Live from Stratford-upon-Avon presentation, the cinema release of our screen version of Matthew Bourne's Swan Lake, and the publication in June of John Wyver's book, Screening the Royal Shakespeare Company: A Critical History.
'European Connections Today'
As part of BFI Southbank's 'European Connections' season of British productions of classic plays from elsewhere in Europe, John Wyver is chairing a panel on Tuesday 5 March to explore questions about European drama and co-productions today. Panellists will be All4's Walter Presents supremo Walter Iuzzolino, writer/producer Stewart Harcourt (who credits include ITV's Maigret), actor Cherie Lunghi and Beatriz Campos, Head of International Sales at Studiocanal TV. Tickets are available here – and we'll feature further details about the season in a future post.
Performance Live: The Box Set
On Sunday 17 March the estimable and exceptionally welcoming Battersea Arts Centre (BAC) is organising a one-off all-day showing of the productions in the series Performance Live that BAC co-produced with BBC Television, Arts Council England and various cultural organisations and production companies. There are showings between midday and 9.30pm, and the full programme is downloadable here. Two of the productions that we made for the series will be screened, Winged Bull in the Elephant Case, made with Studio Wayne MacGregor, which is showing at 4pm, and Hofesh Shechter's Clowns, screened at 7pm. Tickets are free, but should be booked in advance.
'Working the Film Script: Hidden Production Histories'
On Saturday 23 March John is contributing a paper to a symposium at the Bill Douglas Cinema Museum in Exeter about the hidden labour of those who work with film scripts. Melanie Williams is giving the keynote, titled 'Script girls, script work: exploring the gendered labour of script supervision', and John's paper is about the camera scripts of live cinema presentations of Shakespeare, focussing on one scene from the recent broadcast of the RSC's Troilus and Cressida. The conference outline summarises the focus of the event like this:
Film studies has increasingly relied upon collaborative models of authorship to avoid overly romantic notions of cultural production. Recent production studies and feminist film historiographies strategically distinguish the work of academically marginalised agents from within their respective networks. Various scripts bear the marks of this collaborative process. Symposium speakers will respond to recent developments in the field and debate case studies which demonstrate how scripting (broadly understood) has involved underappreciated efforts to share or silo time, energy and artistic expertise within hierarchical or communal production scenarios.
Tickets for the symposium are available here.
RSC Live from Stratford-upon-Avon: As You Like It
Wednesday 17 April is the date for the next RSC live cinema broadcast in Britain, when Kimberley Sykes' totally delightful production of As You Like It will be beamed to more than 500 cinemas. Details and tickets are available here, and we'll highlight more about this in the coming weeks. These broadcasts are not Illuminations productions, but John Wyver produces them for the RSC. While you're waiting, take a look at the RSC's new season trailer:
Matthew Bourne's Swan Lake in Cinemas
Tuesday 21 May is the UK release date for the new screen version, produced by Illuminations and New Adventures, of Matthew Bourne's glorious and greatly loved interpretation of the classic ballet. We'll feature more details of this in future posts, but for the present there is information here together with a click-through to cinemas to purchase tickets.
Screening the Royal Shakespeare Company published
Lastly, here's advance notice of the publication date for the book that John Wyver has been working on over the past couple of years. Screening the Royal Shakespeare Company: A Critical History is a study of film and television adaptations of stage productions by the RSC and by previous forms of the company from 1910 to the present. The book is published by Bloomsbury as part of The Arden Shakespeare series on Thursday 13 June.
We'll do our best to keep this list of forthcoming attractions updated at the start of each month.