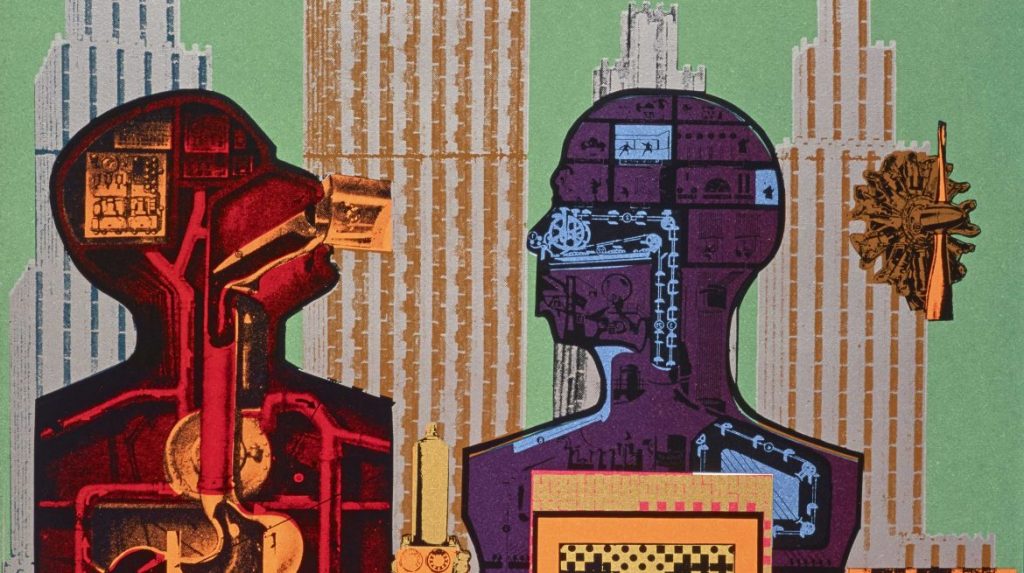 Long ago, back in 1971, I went one Sunday afternoon to what was then The Tate Gallery to see the exhibition of work by Eduardo Paolozzi. It was one of the very first contemporary art shows that I had ever been to – I was 16 – and I was thrilled and excited to discover that an artist could fill the central Duveen galleries with toy robots and pages torn from comics and shiny geometric blobs. That day remains a special memory, and flashes of it came back as I visited Eduardo Paolozzi at the Whitechapel Gallery this morning. The show is somewhat austere, but full of fascinating things, especially from the late '40s and early '50s, and is accompanied by an excellent catalogue.
For more:
• Sir Eduardo Paolozzi: Frank Whitford's 2005 Guardian obituary.
• How Eduardo Paolozzi channelled the chaos of modern life: Simon Martin reviews the Whitechapel show for The Art Newspaper.
• Where to find Eduardo Paolozzi's sculptures in London: an illustrated guide by Tabish Khan for Londonist.
• On BFIPlayer you can watch (for free) Lorenza Mazzetti's 1956 film Together, an eccentric, poetic fiction with Paolozzi and the painter Michael Andrews wandering the streets of East London.
• New Brutalist Image 1949–55: 'atlas to a new world' or, 'trying to look at things today': a richly interesting academic paper by Victoria Walsh and Claire Zimmerman published in the excellent British Art Studies; the authors focus on the exhibition Parallel of Life and Art held at the ICA, London, in 1953, for which Paolozzi was one of the collaborators.
NOTE:
I have been wrestling with how best to contribute regularly to this blog while I am much preoccupied with a number of productions and several more extended pieces of writing. The Sunday links columns have been the only ones that I have managed to post in recent weeks, and now I am going to try a variant of those, spreading them through the week and contributing each day a group of – as it were – linked links. There will be times when I'll feel I can write something a little more substantial, but for the present I want to try to find a rhythm that involves a short post each day which builds over a week to something more substantial.
Image: Eduardo Paolozzi, Wittgenstein in New York (from the series As is When), 1965 (detail) Courtesy Scottish National Gallery of Modern Art: GMA 4366 K © Trustees of the Paolozzi Foundation