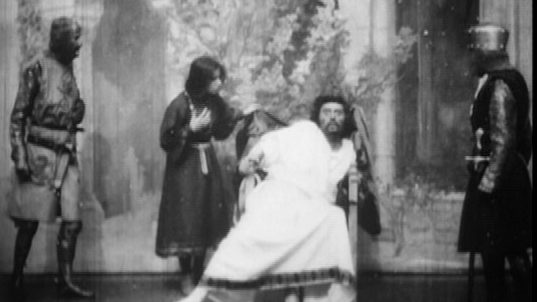 On Monday Alice Saville wrote an article for Exeunt about streaming and filming theatre. 'Why theatre needs to love film, not fear it' is intended as a provocation, so perhaps unsurprisingly I found interesting and irritating in about equal measure. Similarly predictable is my wish to respond, which is what this post is intended to do. Let me start with this from near the end of the article:
Theatre's relationship with filmed media has historically been defined by fear.
Which, with respect, is nonsense. There is an incredibly rich tradition, both in Britain and elsewhere, and across more than a century, of theatre, film, television and digital media collaborating and collectively exploring and enhancing performance, and together extending its audiences and engaging them in new ways.
The partnerships go right back to Herbert Beerbohm Tree's King John (1899, illustrated above), which appears to have been shot to bring audiences to the eminent actor's forthcoming stage production. This is really a topic for another piece, but I am certain that the more we know about the intimately intertwined histories of stage and screen then the richer is our understanding of the possibilities and potential now. That said, let's consider the finer grain of Alice Saville's argument.
With a few exceptions, livestreaming is confined to the mega-hit shows.
True, or at least largely so. Certainly cinema screenings have been developed by NT Live initially and then by the RSC, Shakespeare's Globe and others. The production costs of taking a theatre show live to cinemas are considerable, and persuading both distributors and exhibitors of a presentation's financial viability is hard. Despite the prevalent vision of cinema broadcasting being a road to riches many of the broadcasts fail to make a profit and require support or investment from producers or other funders.
There's been a real slowness to embrace digital media as a way to share work, as well as just market it. Livestreaming is a kind of grand gesture, made by venues that can afford it.
This is not really the case, at least if you consider online streaming. Look at the bold presentations from, among others, Pilot, Forced Entertainment, Complicite, Talawa, Cheek by Jowl and the Hampstead Theatre.
These venues [the big ones, that is] aren't letting online distribution shake up the way they make work. They're just handing it out, in a kind of digital cultural largesse – and like all charitable gestures, they don't expect the recipients' voices to be heard (hashtags excepted).
Although I can't speak formally for the RSC, nor indeed for NT Live and others, I simply don't recognise their vision of cinema distribution in this description. The RSC and the National take seriously their place in the theatre ecology, their relationships with national and local partners, and the possible impacts of the live broadcasts. They contribute to the research undertaken by NESTA, UK Theatre, ACE and others, as well as commissioning their own. They indulge in dialogues with a whole range of industry partners, as well as working closely with other producing organisations, with educational institutions and with audiences.
Internet livestreams (the mesmerising Beware of Pity included) follow cinema ones in using an approach that mimics filmed drama – switching between a few different camera angles, often in a way that feels frustratingly random. Your eye loses the ability to roam around the stage, but there's not the considered precision that's behind every movie close-up or panning shot. In short, it's a flawed compromise.
No. Not even close. At least if the description is intended to apply to cinema broadcasts, which however they may be received are most certainly not produced in a 'random' manner. 'Considered precision' is exactly what's applied to every one of the 800 and more close-ups, pans and other shots that make up a RSC Live from Stratford-uopn-Avon broadcast. 'Considered precision' is exactly what's planned across a month or more of preparation and scripting, in two full camera rehearsals, and in the contributions of a team of 60 or more skilled and creative personnel. Moreover, any half-decent broadcast will find an appropriate balance between wide-shots that permit the eye to roam and the closer shots, the crane moves and the cutting that draw you into the drama and enhance the story-telling and emotional affect.
For more on exactly this, see my previous post 'Pity'.
We need a way of filming live performance that's as interactive, tense and immediate as actually being there – and that doesn't mean aping the idiom of mainstream cinema and tv, but on a micro-budget. It means getting creative. It's time for directors and theatremakers to work with filmmakers and think about how they want their work to be shot, and what the camera can do.
With this, I agree completely.
Livestreaming doesn't automatically convey a sense of liveness, and performances would likely feel more real, more immediate, if they were specially recorded for film only, in a way that allowed for clever editing and camera-friendly lighting.
But I don't see the filming/streaming choice as a competition where one form facilitates screen work that is 'more real, more immediate'. Editing (or live mixing) and refined lighting are key components of many recordings of stage productions. But it is also the case that streaming and filming have, to a significant degree, different and distinct grammars. There are technological and financial and rights reasons for the differences, but working to find ways of moving beyond those is singularly important. Which doesn't mean abandoning what live presentation can do, on occasions, exceptionally well. And there is so much to learn from what numerous pioneers have done with these questions and concerns before.
The theatre world's got the potential to take on cinema, and provide the complex ideas, diverse casts, scrappy approaches and new ways of looking that audiences are hungry for – as the excitement around Forced Entertainment's livestreams shows. And that's where all the theatremakers that aren't going to sign a contract with the Odeon or the BBC come in. There are plenty of reasons to be cautious… But there are more reasons to rush in – imagine how incredible it would be for fringe companies to have global fanbases who rushed to see them when they came to town, or to see what's happening in tiny rooms in Denmark or Uruguay, or to get people collaborating across continents.
Indeed, but let's also recognise that there are initiatives underway focussed on exactly this. Much of the work that The Space is supporting has this aspiration, as do the varied productions being developed and created for the BBC/ACE/Battersea Arts Centre Performance Live project. Watch those, er, spaces.