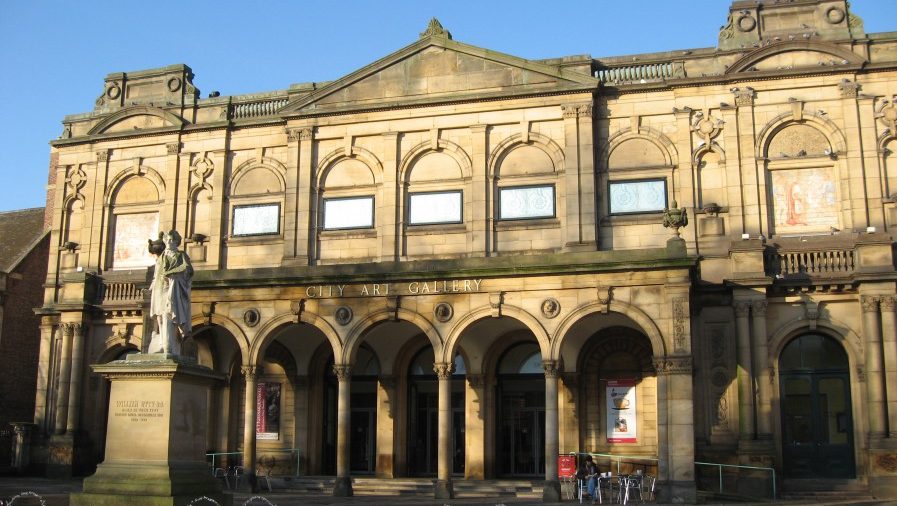 To York, where I find two hours to spend in the recently refurbished York Art Gallery. My appreciation of museums and galleries outside London has been greatly enhanced by reading Giles Waterfield's The People's Galleries: Art Museums and Exhibitions in Britain, 1800-1914. Published last year by Yale University Press, this really is a richly interesting read – and with many wonderful illustrations.
Opened in 1892, in a building originally intended for the Yorkshire Fine Art and Industrial Exhibition of 1879, York Art Gallery was – like many other late 19th century institutions – the product of civic pride, Victorian philanthropy and a desire to educate the emerging urban working-class. As can be seen below, the structure of the building was of modern iron and glass but its frontage, above, had to reflect tasteful 'true architecture' and consequently was composed in Italian Renaissance style. Today, York Art Gallery is home to the Centre of Ceramic Art (CoCA), as well as exhibiting a fine permanent collection of paintings and hosting temporary exhibitions. And in reverse order, each of these aspects of its activities offers compelling reasons for a visit.
Until 4 September, York Art Gallery is showing Truth and Memory: British Art of the First World War, a truly fine (and finely installed) selection from the Imperial War Museum. There's much here that you think you know but which seeing on the wall shifts your perceptions. I was surprised by how overwhelmingly large is Paul Nash's The Menin Road. I was reminded once again what a great artist was C.R.W. Nevinson. I was amazed that Anna Airey, represented by three substantial canvases of London factories, is not better known. And I was delighted by the teeming detail of J. Hodgson Lobley's Outside Charing Cross Station, July 1916 – Casualties from the Battle of the Somme arriving in London (below), which I had never encountered before.
The temporary exhibition galleries are on the ground floor, while CoCA occupies much of the first floor, which has been sensitively opened up and for my visit was flooded with sunlight. Here you can find an extraordinarily diverse collection of mostly British ceramics, beautifully presented and with a wealth of contextual information (as well as some very helpful gallery staff). In the midst of the main space is Clare Twomey's truly glorious installation Manifest: 10,000 Hours.
Clare is a colleague at the University of Westminster, and her work as an artist with ceramics is constantly stimulating and thought-provoking, as well as being simply, gloriously beautiful. For more about Clare's practice, go here.
In the large Burton Gallery just adjacent to the main ceramics space, York displays a selection of its eclectic but exceptionally interesting permanent collection. As in other museums that we rather patronisingly label 'provincial', you can find here some familiar masterpieces alongside startling surprises, as well as canvases and sculptures that have what might best be described as local interest.
I was particularly pleased to encounter Robert Medley's Bicyclists Against a Blue Background, 1951, with its contrasting figures and colours, that was commissioned by the Arts Council for the Festival of Britain. (The links in the painting titles take you to better-quality online reproductions, which are clearer but rather brighter than the artworks appear on the walls.)
Another pleasure was The Rural Postmen, Mantes-la-jolie, 1939-40, by Laura Sylvia Gosse, an artist I'd never heard of before, but whose Sickert-influenced image suggests that there's much more to discover about her. To which end, there's a good introductory essay by Nicola Moorby which is part of Tate's exemplary research website, The Camden Town Group in Context.
My best discovery, however, was Paul Maitland's Cheyne Walk in Sunshine, 1887-88 (which is glazed and hard to photograph straight-on). The palette of this small canvas is startling, but so too is its almost abstract composition carved out of a streetscape. Again an artist who I'd never heard of before, Maitland apparently exhibited with the 'London Impressionists' in 1889. I feel there's more to discover there too.
And then simply because it seemed to fit the mood of the afternoon so well, I loved encountering Mary Fedden's Blue-Striped Tablecloth, 1959.
York Art Gallery was one of the five institutions shortlisted for the Artfund Museum of the Year 2016, although it lost out to the V&A. There's also been quite a lot of adverse comment about the £7.50 entry fee, although I felt that I more than got value for my money earlier this week.