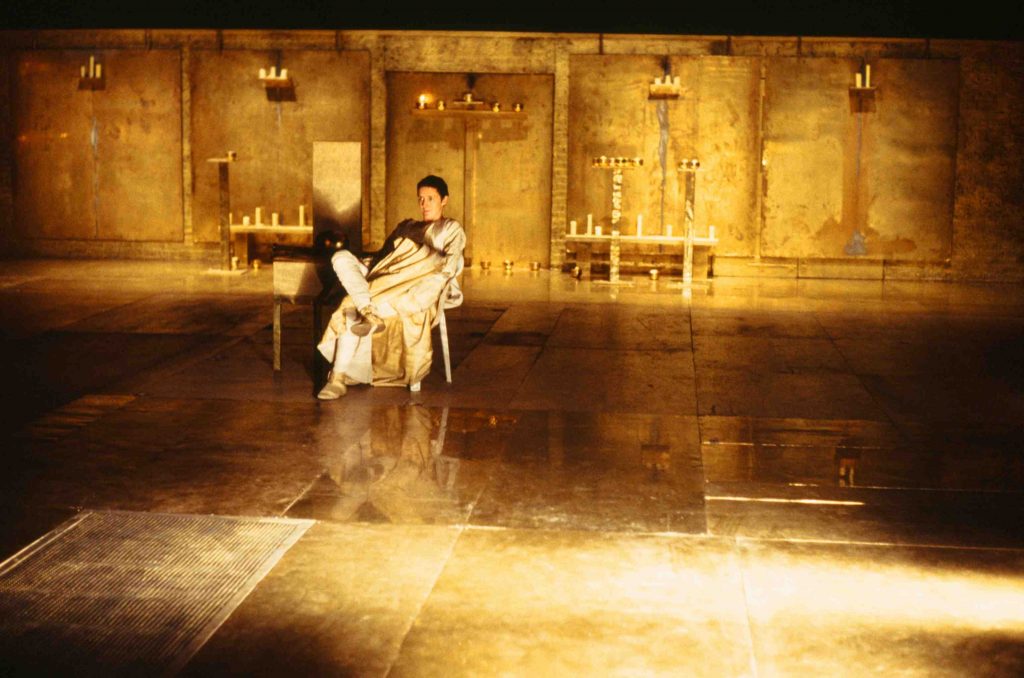 We are thrilled to announce that Richard II directed by Deborah Warner with Fiona Shaw as the king is now available on our DVD label and can be purchased here for £17.99. Twenty years ago we produced this television version of the ground-breaking 1995 production at the National Theatre, but it has not previously been released in any video format. As Peter Kirwan writes in a generous review
The timing of the release couldn't be better, coming as it does hot on the heels of the Royal Exchange's Hamlet, the RSC's Cymbeline, the Old Vic's King Lear and the Donmar's Shakespeare trilogy. The 'moment' of women playing Shakespeare's leading male roles on a widespread scale has finally arrived, and as such it feels fitting that Fiona Shaw's breath-taking Richard II can now also reach a broader audience, twenty years on.
The original stage production was created for the Cottesloe Theatre and was also seen in Paris and Salzburg. With funding from BBC2, ARTE and NVC Arts we worked with Deborah, with production designer Hildegard Bechtler (who created a glorious, glistening set) and most the original cast to translate it to the screen on a sound stage at Three Mills Studios. Over two weeks of shooting in a freezing cold, cavernous space, Director of Photography Peter Mumford recorded the production with a single camera, including capturing several of the scenes using a Steadicam. I am hardly an unbiased commentator, having been co-producer with Shaun Deeney, but I think that the result is a fascinating hybrid of theatre and cinema.
When the craziness of the past few weeks has passed, in what I hope are the calmer days on the new year, I intend to write further posts about this production. For now it is worth noting that one of its wonders is a remarkable cast exploring one of Shakespeare's most beautiful and devastating dramas. Donald Sinden's Duke of York is particularly cherishable, but as Peter Kirwan reflects in his detailed consideration of the production,
There isn't a weak link in the cast, but this is Shaw's film, and the camera knows it, from the opening shot as a clapperboard hovers in front of her face, captured in close-up and slow-motion as (I presume) Warner herself prepares the image of her king.
Our DVD release includes new filmed interviews with Deborah Warner and Fiona Shaw, together with a 16-page booklet of critical writing about both the stage and screen versions. Go here to purchase a copy.
Production photographs by Neil Libbert.