John Wyver writes: another cluster of recommendations for the second Easter in lockdown – articles, threads and videos, many culled from my Twitter feed, that have engaged me over the past week.
• BFI at Home | Romeo & Juliet with Josh O'Connor, Jessie Buckley, Lucian Msamati and Simon Godwin: a richly interesting conversation about the much-anticipated NT Live 'original film' (that's the official tagline, image above) that premieres tonight on Sky Arts at 9pm:
• Shakespeare and lost plays: for the Folger's 'Shakespeare Unlimited', David McInnis, Associate Professor in English and Theatre Studies, Culture and Communication at the University of Melbourne in Australia, introduces the arguments of his important new book, Shakespeare and Lost Plays.
• Shakespeare, 17:1: an exceptional resource in the shape of an open access issue of this significant journal, dedicated to 'Shakespeare, Race and Nation', guest-edited by Farah Karim-Cooper and Eoin Price.
• Family affair – the dinner scene in Fanny and Alexander: for Criterion's The Current, Thomas Vinterberg reflects on a sequence from Ingmar Bergman's great family saga – and at the end you get the nearly 5-minute extract.
• Notebook primer – Polish animation: for Mubi.com Henri de Corinth offers an introduction to the works of, among others, Franciszka and Stefan Themerson, Zbigniew Rybczyński and Stanisław Lenartowicz.
• BFI At Home | Our Friends in the North 25th Anniversary with cast Christopher Eccleston & creatives: the second recommendation this week for an online conversation from the BFI, looking back at one of British television drama's finest achievements:
• Extract: TV by Susan Bordo: courtesy of theartsdesk, a short section about television and Trump from the author's new book that makes the important point that, 'The fact is that for the most part, cultural theorists and television critics just don't watch enough television to comment about it with authority.'
• Gooey connections – a little detour en route: Joëlle Rouleau introduces a dossier about Queer TV from the latest issue of JUMP CUT, promising a 'special section seeks to question the representations, receptions, perverse readings… and fan creations around the so-called LGBTQ+ spectrum in audiovisual media.'
• Your hat sucks [£ but limited free access]: Gill Partington for LRB on Kenneth Goldsmith and UbuWeb, which she describes as
a kind of left-field Pirate Bay. But where internet piracy is usually a covert, shady business, Goldsmith is cheerfully upfront about it. His new book, Duchamp Is My Lawyer, is a freewheeling eulogy to flagrant copyright violation, documenting the life and times of UbuWeb and its various brushes with the law.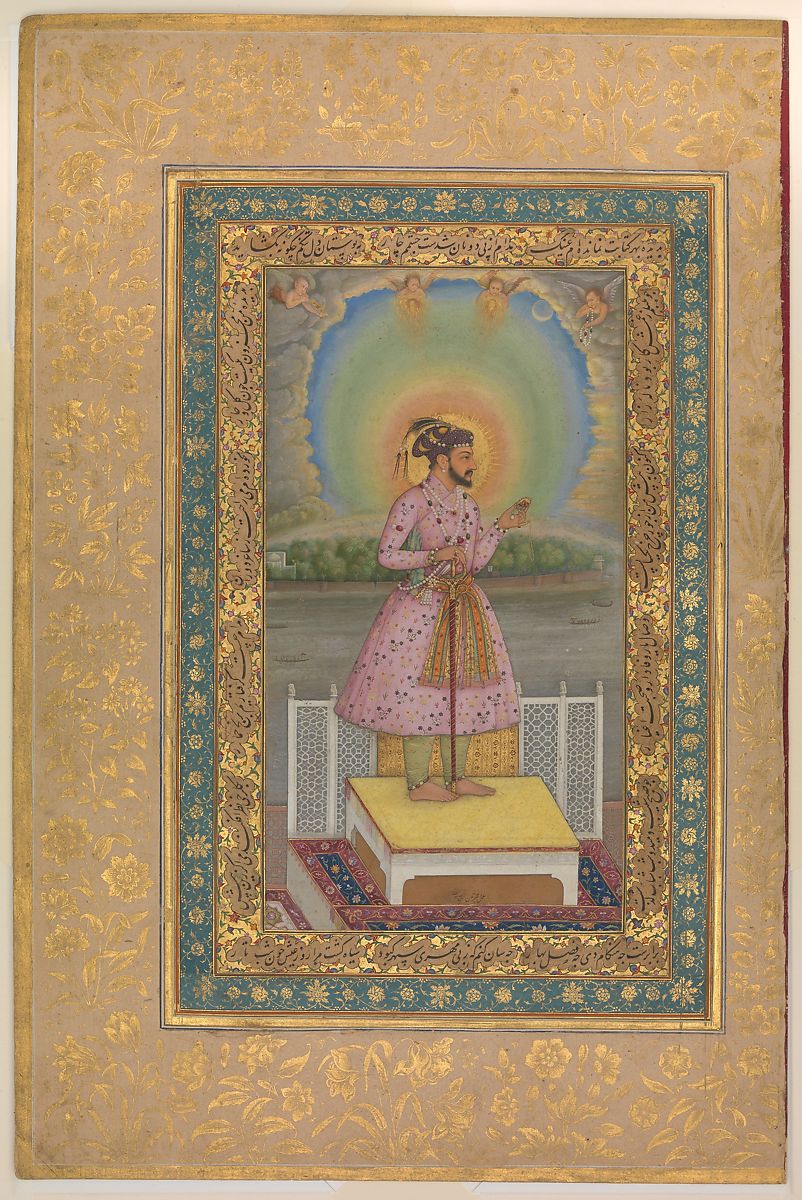 • What a tiny masterpiece reveals about power and beauty: another of Jason Farago's revelatory interactive visual essays for The New York Times, this one about an exquisite Indian miniature (above), painted by Chitarman, "Shah Jahan on a Terrace, Holding a Pendant Set With His Portrait," recto: 1627-28 and verso: circa 1530-50, from the Metropolitan Museum of Art…
… but enjoy the article with an awareness of this important critique:
• A history of violence: Emmelyn Butterfield-Rosen for Artforum on Félix Fénéon and MoMA's recent show 'Félix Fénéon: The Anarchist and the Avant-Garde—From Signac to Matisse and Beyond':
Beautiful and perturbing, the show was important in the way it raised and put into discernible relation, even if it failed to fully intellectually engage, some of the most urgent topics of today––when mounting calls for restitution are increasingly forcing Euro-American museums to address the colonial origins of their collections, and when, at least in the United States, domestic terrorism, as both an actual fact and a strategically weaponized accusation, is again a hyperpotent force in the political imagination.
• Daniel Wolf, 65, dies; helped create a market for art photography: an obituary by Clay Risen for The New York Times of the gallerist who in the early 1980s, bought around 25,000 classic and contemporary photographs on behalf of his client the J. Paul Getty Museum in Los Angeles: '"The Getty acquisition sounded the starting bell of a golden age of great public photography collecting,:" said Peter Galassi, a former chief curator of photography at the Museum of Modern Art.'
• A remarkable thread of photographs by Emile Zola:
• How Georges Simenon found his eye: … and William Boyd for New Statesman on the photography of the creator of Maigret, with a generous selection of images.
• Art's NFT question – next frontier in trading, or a new form of tulip?: Scott Reyburn with a detailed New York Times article that is informative and mystifying in about equal measure – something is happening here but I don't truly know what it is.
• 'I don't want to fake the funk' – Henry Taylor, the painter of black American life: interview by Lanre Bakare for the Guardian with the artist who has an exhibition at Hauser & Wirth, Bruton, Somerset, online now and on location from 13 April until 6 June.
• Shutting up shop – an elegy for the department store dream: Will Wiles for Apollo on what looks all too much like the end of a retail era.
• Living Anna's last hours [£ but limited free access]: I delighted in reading Craig Raine's TLS essay about Tolstoy's heroine.
• AA Milne's pacifism and patriotism: an exceptionally fine essay by Frank Cottrell Boyce for New Statesman about how the Winnie the Pooh creator struggled to square his hatred of war with love of his country.
• What is there to celebrate? An interview with Hanif Abdurraqib: for The Paris Review, the poet and critic speaks with Langa Chinyoka about his new collection, A Little Devil in America: 'essays on the history of Black performance in the U.S. It's Whitney and Michael, minstrelsy and blackface, school dances and sports games, Soul Train and a spades table'.
• Janet Yellen and Mario Draghi have one last job: a remarkable Foreign Policy long read by the peerless economist Adam Tooze about two profoundly influential post-war technocrats:
At the start of 2021, two of the most contentious capitalist democracies in the world, Italy and the United States, turned to familiar experts to chart a way out of novel political situations. If there is such a thing as a technocrat, Janet Yellen, the new U.S. treasury secretary, and Mario Draghi, Italy's new prime minister, are it.
• How religion contributed to Brexit: from UK in a Changing Europe, a surprising sidelight by Stuart Fox and Ekaterina Kolpinskaya showing that Anglicans were more likely to vote Leave and Catholics Remain:
[B]eing a member of the Church of England helps foster an attachment to the English heritage and national identity of which the Church is a key component. Anglicans are also likely to share the Church's historic opposition to Catholic supranationalism in Europe, and be sceptical about the benefits of social, economic and political change that erodes national borders and the power of the British state.
• Why computers won't make themselves smarter: Ted Chiang for The New Yorker on why 'the singularity' probably won't happen – not the most accessible of reads, but fascinating nonetheless.
• Zoom in the past conditional: Gary Kafer is great in the new issue of JUMP CUT (second recommendation this week) on 'a shift in our orientation to the object of videotelephony from the dystopic anxiety of a post-cinematic datascape to some embittered, intoxicating optimism that makes our experience of Zoom so cruel.'
• 'Jesus Christ, superstar': from Norman Jewison's 1973 film of the Andrew Lloyd Webber/Tim Rice musical; screen play Jewison and Melvyn Bragg (one of the more surprising credits on a musical); DOP Douglas Slocombe; choreography Rob Iscove – just because…