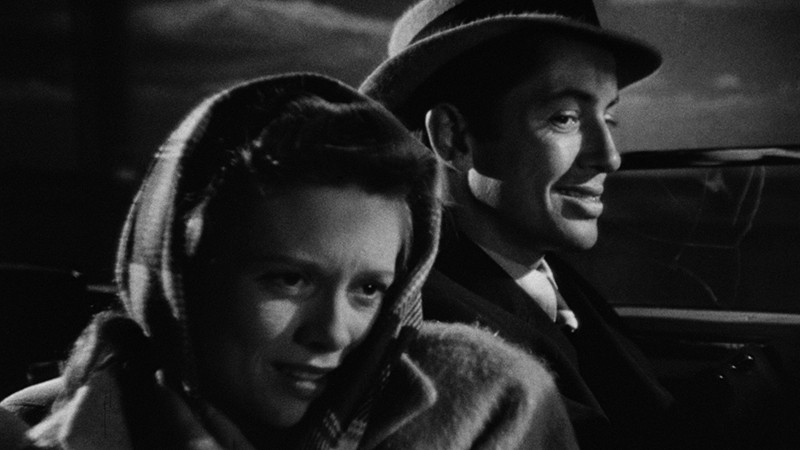 John Wyver writes: Let's do this (once again).
• Multimedia lectures on film (Ep. 1) – They Live by Night (Nicholas Ray, 1948): this is a fascinating initiative by Cristina Álvarez López and Adrian Martin, a dynamic critical double act who have appeared in a number of previous Sunday lists (added to which, Adrian asked very nicely for a plug here); it's a deeply smart extended (51 minutes) video essay about Ray's noir thriller, pictured above, with Cathy O'Donnell and Farley Granger that you can rent for $8 or buy for $15. A great idea that I really hope finds a paying audience.
• Edgar Wright breaks down 25 films from the 1960s that inspired Last Night in Soho: I wish I could love Wright's latest more but after a glorious first 45 minutes it descends into a standard zombie/slasher flick; but this is a terrific Indiewire feature with some familar titles and some deeply obscure ones.
• No connection: Leo Robson for NLR's Sidecar offers a dense but really good read on Wes Anderson's The French Dispatch, referencing (especially) the ideas of Frederic Jameson but also Pauline Kael, the Coens, late Godard and more.
• The Souvenir, Part II, reviewed – two movies for the price of one: The New Yorker's film critic Richard Brody is among my favourite writers on cinema, and here's on good form here writing about Joanna Hogg's latest.
• Movie history has never been more accessible, so why do classic film fans still feel it's threatened?: more from Indiewire, with Christian Blauvelt and Kristen Lopez asking key questions about access, conservation, the canon, and racism and sexism in classic titles.
• Value engineering: a rich essay about the politics of verbatim theatre and 'tribunal theatre' from Dan Rebellato prompted by Value Engineering: Scenes From the Grenfell Enquiry at the Tabernacle (until 13 November).
• Macbeth @ The Almeida (live stream): Peter Kirwan is as exceptional as always on the very fine production by Yael Farber and its screen version online.
• The media's love affair with New Labour: Alfie Steer for Tribune on the BBC2 series in five parts (which is probably two too long), Blair and Brown: The New Labour Revolution:
What we are offered in this documentary series is in essence a hagiography of New Labour, which, even when critical, seems to portray more a romantic tragedy (particularly in the last years of the Brown government) than a damning account of failure.
• The bad side of the medieval bestiary: this Debra Higgs Strickland post for the Getty blog is from 2019, but I only saw it this week after Tim Wingard on Twitter drew attention to it to caution about unthinkingly sharing 'weird' animals from medieval manuscripts – they were often anti-semitic symbols and/or laced with homophobia and misogyny.
• Photographing the dark – Nadar's descent into the Paris catacombs: Allison C. Meier for The Public Domain Review on the great pioneering photographer's efforts to make images with artificial lighting in the subterranean domain of the dead – with some wonderful images absolutely appropriate for Halloween.
• We must think!: Jenny Turner for LRB is terrific on the political thinker Hannah Arendt, responding to Samantha Rose Hill's new critical biography.
• Britain's imperial heyday is nothing to be nostalgic for: for Jacobin, Daniel Baker is very good on Peter Mitchell's essential Imperial Nostalgia: How the British Conquered Themselves.
• The last humanist: how Paul Gilroy became the most vital guide to our age of crisis: the Guardian published this profile by Yohann Koshy in early August and it was one of the most remarkable essays I read across the summer.
• Power and fear – the two tyrannies: Lord Puttnam's Shirley Williams Memorial Lecture, delivered a fortnight ago, and an absolutely essential read.
• Images from the Maoist era: remarkable images from Stephen Jones's blog of folk music in China during the Mao years, with exemplary links to further information and, where available, recordings.
• Introducing 7 Days – a revolutionary weekly newspaper in the Anthony Barnett archive: Madeleine Davis at the British Library writes on the radical newspaper of the early 1970s, available in digital form at the Amiel Melburn Trust Internet Archive with an introductory essay by Rosalind Delmar.
• [Lord, this is staggering and so, so depressing…]
• The origins of normalisation: Julian Petley at Byline Times 'looks back to the Soviet oppression of Czechoslovakia and the dissidence of the playwright Václav Havel for an understanding of the Post-Truth ideology of Donald Trump and Boris Johnson'.
• Findings in the future of live performance: an invaluable collection of resources in the form of talks with experts from the worlds of gaming, theatre, art and music who discuss their approaches to applied research and making using immersive technologies.
• The metaverse is about to change everything: … or not, but in any case Nick Bilton for Vanity Fair is good background to the name change of the week.
• Around Japan With a Movie Camera | BFI London Film Festival 2021: a compelling 85-minute presentation, with contextual discussion, of films shot in Japan of films between 1901 and 1913, newly restored by the BFI National Archive.