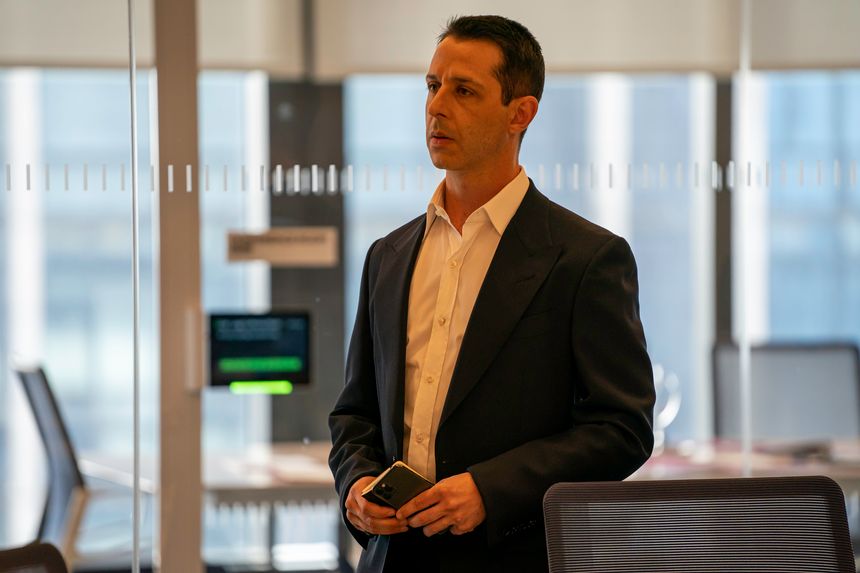 John Wyver writes: this week's selections begin with an exceptional profile from The New Yorker; see also the Guardian longread below the break, which is as good as anything the fabled US magazine publishes.
• On Succession, Jeremy Strong doesn't get the joke: a classic New Yorker profile by Michael Schulman of the actor who incarnates Kendall Roy (above); his 40th birthday party episode of the current series is breathtakingly good…
• Madness in their method: have we fallen out of love with actorly excess?: … and Hadley Freeman has a really good Guardian follow-up…
• Aaron Sorkin blasts New Yorker profile of Succession star Jeremy Strong, gets support from Adam McKay; New Yorker responds – update: … while the fall-out continues; this from Tom Tapp at Deadline, and there's a really lively debate across Twitter too.
• The President, 1919: the essential Danish Silent Film site has recently posted an exquisite print, with English intertitles, of Carl Theodor Dreyer's directorial debut.
• Burying Leni Riefenstahl – one woman's lifelong crusade against Hitler's favourite film-maker: a compelling Guardian Longread by Kate Connolly about Nina Gladitz and her righteously obsessional campaign to reveal truths about the German filmmaker and her Nazi links.
• Our 15 underrated film noirs: a great list by Nick Bartlett for SlashFilm with some unfamiliar titles to look forward to.
• The long take – Ten-storey love song: Pamela Hutchinson for Sight & Sound on Gagarine and the development of the tower-block in cinema.
• Although lightly disguised as a CFP, if you scroll on this is an extraordinarily rich thread featuring numerous commercials made by major filmmakers…
• Bogarde on the box – the rare small-screen roles for the star who disliked TV: a fascinating Sight & Sound feature from Simon McCallum highlighting some obscure titles that can be viewed for free at the BFI Southbank Mediatheque.
• Peter Jackson details how Get Back used machine learning to restore the Beatles' sound and footage: lots for those of us who care about archive moving images and sounds to mull on – and I would suggest, to be concerned about – in this Variety featurette – with 'natural' doing a lot of work in this quote:
"In 1969 that film [Let It Be, shot by Michael Lindsay-Hogg] had a quite chunky, grainy desaturated look to it. One of the purposes was to try to restore it sort of making it look as natural as possible", Jackson says.
• 'It takes great courage to write that way' – David Eldridge on Robert Holman: a very fine and moving tribute to the exceptional playwright who died a week ago:
Modestly, he didn't think he was clever enough to say anything new about history, politics or philosophy. But he felt that "our emotions, our feelings, are always slightly special and different to each of us". He preferred to trust himself and write emotionally, to trust his characters, what happened moment by moment, and to let the characters surprise him, surprise themselves and surprise his audiences. He liked to listen to himself and to his characters. They, in turn, listened to each other, sharing their fears, hopes, dreams, fantasies and tentative discoveries.
• The Lodger – Robert Holman's Interview Part 2: the second part of a lengthy, richly interesting interview with Rachel Clements, posted in September, in which he reflects on his career, including on the importance of contemporary television drama, including the significance of The Wednesday Play – he also talks about contributing to Play for Today.
• 10 Works of art that evaded the algorithm this year: a particularly rich 'Best of 2021' list from Jason Farago at The New York Times.
• Little Switzerlands: for Public Domain Review, Seán Williams on Alpine kitsch in nineteenth-century England, a subject that, I suspect, you had little interest in previously but which will captivate you here.
• Colour photography, children's books and Collins publishers (1940s), Part 2: Pantomime Party: another exceptional post from Stephen Herbert at The Optilogue, this time with a seasonal strand of a visit to the panto; I have purloined one of the images above.
• One more glorious one-of-a-kind thread:
• This happy breed: I continue to recommend David Edgerton's The Rise and Fall of the British Nation to anyone who will listen, but if you won't take my word for the importance of this twentieth-century history, read Eoin Dillon in Dublin Review of Books.
• Trump's next coup has already begun: Barton Gellman for The Atlantic – lucid, totally persuasive, very very scary.
• America is running on fumes: also for The Atlantic, Derek Thompson on how 'in film, science, and the economy, the U.S. has fallen out of love with the hard work of ushering new ideas into the world.'
• Labour has a new hope – their mission is possible: Peter Kellner in The New European looks back at the 2019 election and forward to a brave new world.
• NYTimes replaces 'anti-Semitism' with 'antisemitism' in updated style guidance: Matthew Kassel for Jewish Insider with a fascinating piece about a crucial hyphen.
• The strange world of… Takuroku: for The Quietus, Stewart Smith speaks with producer Fielding Hope about Café Oto's digital label which has come to an end after 195 releases.
• Steven Spielberg's West Side Story | Official Trailer | 20th Century Studios: … and to close, the movie I most want to see in a cinema…