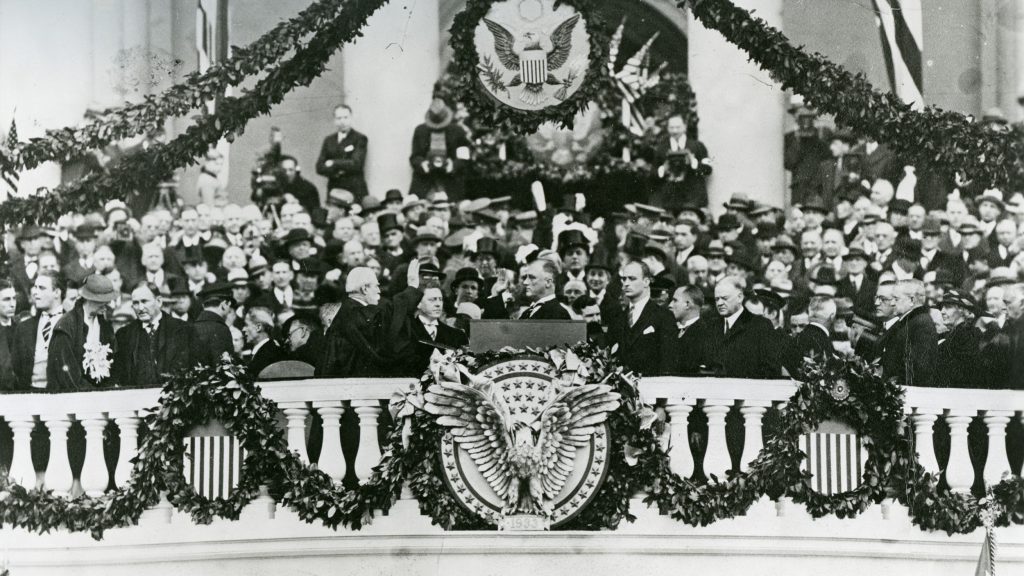 After a break through the early weeks of January, in part prompted by technical troubles here, let's return once more to posting. In a dark, dark week for the world, the first links are more or less loosely engaged by ways of resisting – and the later ones are more general. My continuing thanks to all those who alert me to these – and my apologies for not acknowledging that individually.
• Why I cannot fall in line behind Trump: by Peter Wehner, a Republican aide and speechwriter.
• At his inauguration, Trump signals no break from his politics of fear and loathing: there has been much excellent reporting over the past few days – David Corn's opening paragraph for Mother Jones is close to the top.
• Preserve, protect and defend: as so often David Remnick for The New Yorker is essential, here on the inauguration; the magazine's writing in the past weeks has been just tremendous.
The image above, incidentally, which comes courtesy of the Architect of the Capitol, is from the first inauguration of Franklin D. Roosevelt on 4 March 1933, when he famously spoke of
my firm belief that the only thing we have to fear is…fear itself — nameless, unreasoning, unjustified terror which paralyzes needed efforts to convert retreat into advance.
'This land is your land': the Boss in 1985 sings Woody Guthrie:
• America, America: Jonathan Kirshner for LA Review of Books:
Having spent three-quarters of a century fretting about enemies abroad, we have never fully processed a lesson of history: that great civilizations almost invariably collapse from within. We are Athens, we are Rome — we are, more than anything, Paris in the 1930s, another society divided against itself, living in what one historian described as "the age of unreason."
• The real story of 2016: Nate Silver at FiveThirtyEight continues the vital work of trying to understand America today.
• How statistics lost their power – and why we should fear what comes next: a really exceptional Guardian Long Read by the astute commentator Will Davies.
• From lying to leering: Rebecca Solnit is brilliant on Trump's fear of women, from London Review of Books…
• The threat of moral authority: … and Masha Gessen from New York Review of Books is equally good on Trump and John Lewis.
• How jokes won the election: Emily Nussbaum on Trump and television humour, for The New Yorker.
• A reading list for the new America: lots of great recommendations here, from artists, performers and others invited to submit to the Walker Art Centre blog.
• The shining: Michelle Kuo for Artforum:
In another delirious moment, facing another rise of nationalism, autocracy, and a new world order, Siegfried Kracauer wrote that the artist's "tasks multiply in proportion to the world's loss of reality." The artist must ultimately take on the role of "the observer who not only sees but also prophetically foresees." Art can and must foresee other pictures, other worlds—to which we can look, and for which we must fight.
And on less urgent matters (although I'd argue that there are numerous connections between the links above and those below):
• My girl Friday, and his, and yours: David Bordwell returns to one of his favourite movies, Howard Hawks' His Girl Friday, 1940…
• His Girl Friday – the perfect remarriage:… and here's Farran Smith Nehme writing on the film for The Criterion Collection, which has just released a sparkling 4K restoration.
• Relay: a take in Miklós Jancsó's The Red and the White: a terrific video essay from Adrian Martin & C. Álvarez López about a single developing shot in the Hungarian director's 1967 film, with background here at Mubi.com…
Relay: A Take in Miklós Jancsó's "The Red and the White" from MUBI on Vimeo.
… plus a valuable essay here by Jeremy Carr, Miklós Jancsó and the wages of war: close-up on The Red and the White.
• The best documentaries of 2016 – cinematic nonfiction in the year of nonfact: Robert Greene for Sight & Sound.
• The mysteries of our family snapshots: a very fine Geoff Dyer essay for The New York Times.
• Whatever her persuasion: a terrific review essay about Jane Austen by Devoney Looser for the TLS.
• The Anglosphere – new enthusiasm for an old dream: Duncan Bell for Prospect on the delusions of a march back to the future.
• Journalism that stands apart: The New York Times publishes the so-called 2020 Report, an internal study about the paper's future – remarkable.
And on the late and much-lamented Mark Fisher, author of Capitalist Realism: Is There No Alternative? and so much more:
• Simon O'Sullivan, for Visual Cultures at Goldsmiths
• Simon Reynolds for the Guardian