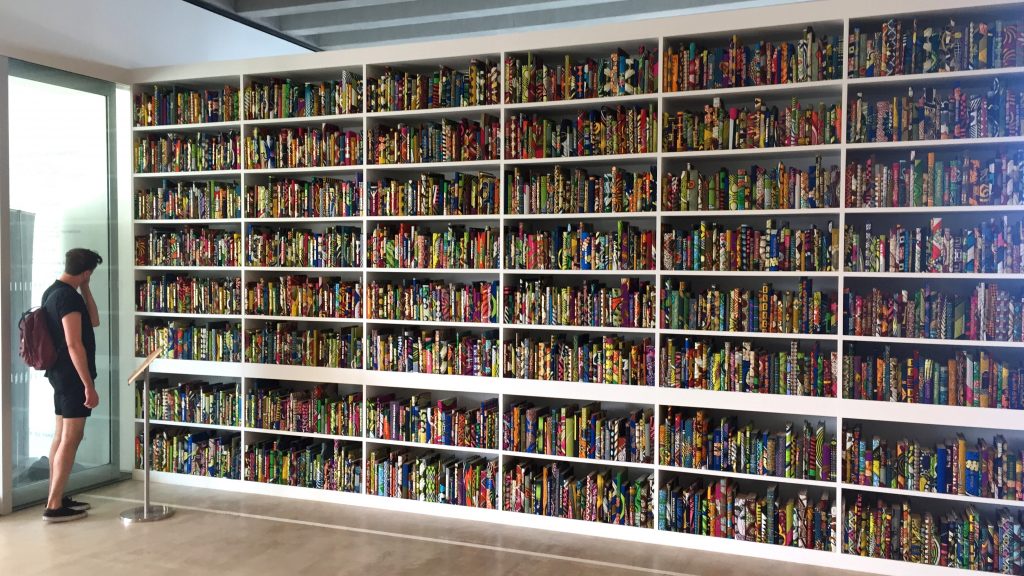 To Margate for the Illuminations summer outing. Our plan was a high speed train to the seaside, a touch of high culture at Turner Contemporary, a good lunch, a touch of low culture at Dreamland, and a high speed train home. The train out was delayed, we had a great time at the gallery, the fish and fine wine at Buoy and Oyster were terrific, Dreamland was dismally tacky, and the train back was delayed too. A good time was most definitely had by all six of us.
Seeing Round Corners at Turner Contemporary until 25 September is a strong mixed show conceived and co-curated by artists David Ward and Jonathan Parsons. Details including the list of artists featured are here, and a good Laura Cumming Observer review here:
[the curators] have thought very deeply about every aspect of the circle, from its irreducible beauty to its comforting warmth and its fierce self-containment. Every one of the works here, and there are nearly 200 paintings, drawings, videos, performances pieces and sculptures, has its own fascination but suggests some new idea about circles.
My highlights included recent work by Ian Davenport, Vitrine, 2004 by Lisa Milroy, and three tremendous paintings by Paul Nash that I imagine will make their way from here to Tate Britain for the major retrospective starting October 26. But the very best thing was a surprising and engaging and moving installation titled The British Library by Yinka Shonibare MBE.
Located in the Sunley Gallery just inside the lobby, The British Library, 2014, is simply two banks of book shelves filled with hundreds of volumes covered in the artist's batik Dutch wax fabric. On the spines of many of the books are the names in gold leaf of first- and second-generation immigrants who have enriched British culture and society. There are poets and film stars and footballers and politicians and academics and many more. Some of the spines are blank and some, apparently, bear the names of prominent opponents of immigration. I didn't see him but perhaps Nigel Farage is there.
And that's it. You can't handle the books, but they furnish this space gloriously and of course there is a fascination in reading all of the names – and even, as two of my colleagues did, trying to compile a decent football starting eleven. I think we all found it fascinating and engrossing and provocative.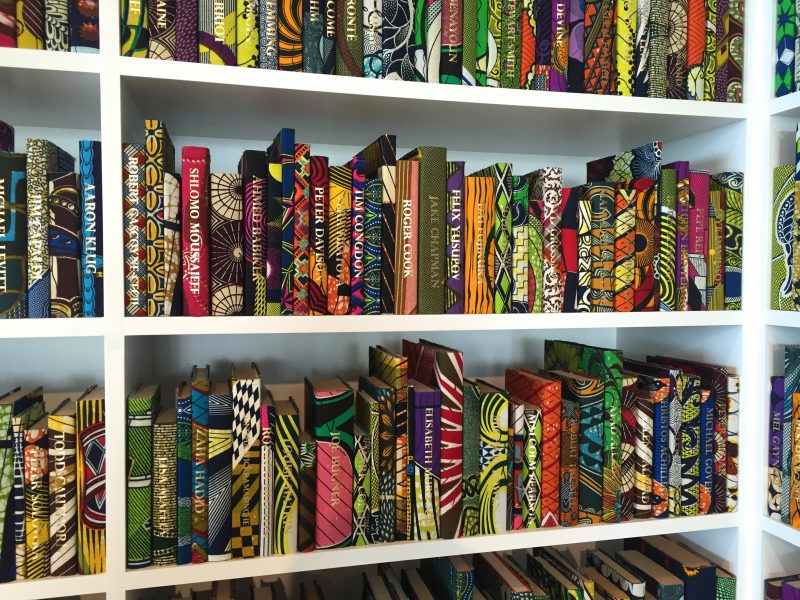 In March the artist spoke to Holly Black at the Artfund about The British Library:
The First World War created a lot of refugees and it was terrible. Today we have so many Syrian refugees, an issue that's on a global scale. The British spirit of aiding refugees during both World Wars is something that everyone should be proud of, and by contrast the very ugly response now is something for which we should all be deeply ashamed. I think that its very important to remind people that actually earlier generations did not react this way. They were kind, we need to learn from that. I'm very please that this work is being shown at this particular time. When The British Library was first shown at Brighton Festival the refugee crisis hadn't become as urgent as it is now. But remember, I'm not a politician, I am an artist.
You can purchase our 2005 film with Yinka Shonibare in theEYE series here.