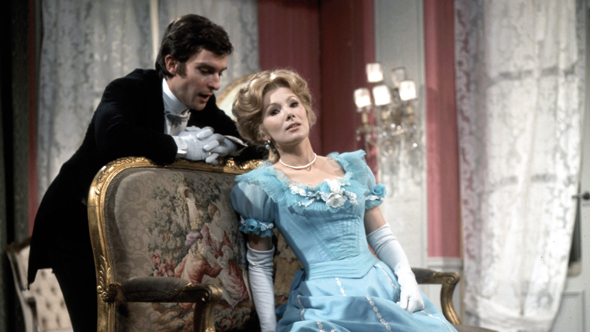 Following on from the successful Screen Plays 'Classics on TV'  seasons 'Greek Tragedy on the Small Screen' (June 2012) and 'Jacobean Tragedy on the Small Screen' (March-April 2013), the project is delighted once again to be working with BFI Southbank. In May 'Edwardian Drama on the Small Screen' will present six programmes of television productions of plays written between the 1890s and the First World War. The season, which I have curated, includes notable productions of plays by Oscar Wilde (including An Ideal Husband, above), Harley Granville-Barker, George Bernard Shaw, John Galsworthy, J. M. Synge and D. H. Lawrence.
In addition, on the afternoon of Friday 23 May at BFI Southbank we are organising a symposium to explore some of the issues raised by these productions, and we are delighted that Dr Billy Smart will open this with a keynote lecture. Further details of the symposium and the programmes will follow, but here is a first look at the productions to be screened. Public booking has just opened at BFI Southbank online, and full details of the programme are below.
Thursday 1 May, 17.50
An Ideal Husband
Play of the Month. BBC, 1969. Dir Rudolph Cartier
With Margaret Leighton, Keith Michell, Dinah Sheridan, Susan Hampshire, Jeremy Brett, 85 mins
In the 1960s Rudoloph Cartier was the BBC's supreme exponent of sumptuous studio drama. This glittering version of Oscar Wilde's 1895 comedy is among the finest demonstrations of the director's mastery as well as perhaps television's most compelling presentation of the writer's work. A tale of hypocrisy and political corruption, the play is a fascinating (and often criticised) examination of "the woman question" as well as a reflection of the stresses of Wilde's life. Margaret Leighton contributes a stellar performance as the blackmailing Mrs Cheveley.
+ Riders To The Sea
BBC, 1960. Dir George R. Foa
With Sybil Thorndike, Sean Connery, 28 mins
This austere version of Synge's mystical tale of the Aran Islands, first performed in 1904, was made for BBC Schools. In addition to a convincing cameo by Sean Connery, it features a truly remarkable performance by Sybil Thorndike who began her professional career in 1904.
George Bernard Shaw and Harley Granville-Barker
Thursday 8 May, 20.40
The Devil's Disciple
Theatre Night. BBC, 1987. Dir David Jones
With Patrick Stewart, Ian Richardson, Elizabeth Spriggs, Mike Gwilym, 120 mins
In the late 1970s and '80s David Jones, who had worked extensively with the Royal Shakespeare Company, breathed new life into the studio presentation of classic plays on television. His energy and rigour as a director is exemplified by this enormously enjoyable staging of George Bernard Shaw's 1897 comic 'melodrama' set in Colonial America during the War of Independence. Ian Richardson, Patrick Stewart and Mike Gwilym, all also stalwarts of the RSC at this time, relish the arguments and antagonisms in Shaw's polished prose.
Thursday 15 May, 20.45
The Voysey Inheritance
Play of The Month. BBC, 1979. Dir Robert Knights
With Jeremy Irons, Brewster Mason, Jeremy Child, Julie Covington, 100 mins
Harley Granville-Barker's 1905 play has the surface allure of a society drama centred on a respected solicitor. Yet it begins with Edward Voysey discovering that his father has for years been mis-using clients' funds, and the drama develops as a powerful critique of the foundations of Edwardian society. Jeremy Irons is especially effective as a man trying to do the right thing for both the victims and his family, yet unable to escape the logic of capitalism. This dissection of the law, religion, artistic freedom and modern marriage is wonderfully realised by a stand-out cast and Robert Knights' assured use of the studio.
Tuesday 20 May, 18.00
Waste
Play of the Month. BBC, 1977. Dir Don Taylor
With Paul Daneman, Annette Crosby, André Morrell, Hannah Gorden, 120 mins
Director Don Taylor was a true auteur of studio drama as well as a passionate advocate for the form. His controlled precision is perfectly suited to Harley Granville-Barker's devastating study of sex and power, the personal and the political in Edwardian England. Member of Parliament Henry Trebell has an affair with a married woman, Amy O'Connell, who subsequently dies after a botched abortion. In 1907 the subject matter led to the play being banned by the Lord Chamberlain's Office, and seventy years later the drama's radical vision remains strikingly potent.
Friday 23 May, 18.00
Strife
Theatre Night. BBC, 1988. Dir Michael Darlow
With Peter Vaughan, Timothy West, Kate Buffery, Anna Calder-Marshall, 130 mins
The final day of a bitter dispute in a tin-plate works plays out in John Galsworthy's 1909 examination of the conflict between management and workers. The playwright's sympathies are divided, and compared with most drama of the period there is a strong focus on the issue of class that foreshadows the political changes which the coming war will advance. But the centre of the drama is a head-to-head clash of two obdurate and unbending wills, factory owner John Anthony and strike leader David Roberts. Peter Vaughan and Timothy West inhabit these roles with great presence and power, and Michael Darlow choreographs the cameras with skill and sensitivity.
Tuesday 27 May, 18.10
The Widowing of Mrs Holroyd
Performance. BBC, 1995. Dir Katie Mitchell
With Zoe Wanamaker, Stephen Dillane, Colin Firth, Brenda Bruce, 90 mins
D.H. Lawrence's 1911 drama of working-class life has been presented on three occasions by British television, with this most recent being the medium's last major offering of an Edwardian play. This is also the only small screen production by acclaimed theatre director Katie Mitchell, who for much of the play confines her remarkable cast in a single room of a miner's cottage. When a tragedy occurs and the cameras move to a second space, a rare sense of ritual is achieved by a drama that one critic described as "utterly heart-breaking".
We are delighted to say that, work permitting, Zoe Wanamaker will take part in a Q&A after the screening.