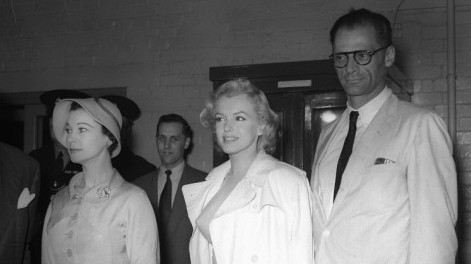 I have been reading with great pleasure the excellent Library of America anthology The American Stage: Writing on Theater from Washington Irving to Tony Kushner. Edited by Laurence Senelick, this features numerous essays, reviews and poems across the past two centuries – and I recommend it warmly. One of the topics that especially fascinates me at present – not least because of my work with RSC Live from Stratford-upon-Avon – is what the specific qualities are of the theatre experience, especially when compared to film and to television.
In a 1955 essay, 'The American Theater', penned for Holiday magazine and included in the anthology, Arthur Miller addressed the issue in the following way. I don't entirely agree with him (and his gender-specific prose grates today) but he expresses his sense of this with elegance and precision and passion:
 As the lights go down and the curtain rises, our visitor [to a Broadway theatre] may feel a certain strange tension, an expectancy, and an intense curiosity that he never knew in a theater before. Instead of the enormity of the movie image before which he could sit back and relax, he is confronted by human beings in life-size, and since their voices do not roar out at him from a single point to which his ear may tune in once and relax, he must pay more attention, his eyes must rove over a thirty-foot expanse; he must, in other words, discover. And if there happens to be something real up there, something human, something true, our visitor may come away with a new feeling in his heart, a sense of having been part of something quite extraordinary and even beautiful. Unlike the movies, unlike television, he may feel he has been present at an occasion. For outside this theater, no one in the world heard or saw what he saw this night. I know that, for myself, there is nothing so immediate, so actual, as an excellent performance of an excellent play. I have never known the smell of sweat in a movie house. I have known it in the theater – and they are also air-conditioned. Nor have I known in a movie-house the kind of audience unity that occasionally is created in the theater, an air of oneness among strangers that is possible in only one other gathering place – a church.
Image: Arthur Miller with his wife Marilyn Monroe and Vivien Leigh, London, July 1955.