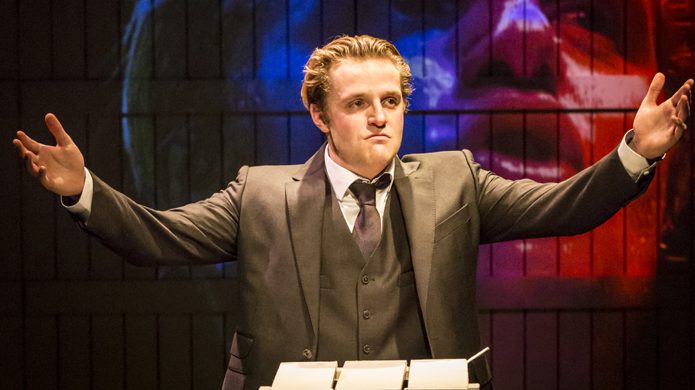 Cheek by Jowl are currently livestreaming their production of The Winter's Tale from the Barbican. Below is a bunch of background links and now I am intending to live blog through the evening. The stream will have subtitles in English, French and Spanish, and a recording will be available online until 7 May. It will also be available on BBC iPlayer from 23 April for 30 days.
Read from the bottom up – and do please join in the conversation using the Comments box.
10.20pm: see this as well
10:18pm: screen director Ross MacGibbon – good job!
10.08pm: finely handled 'resurrection' – perhaps the most magical and moving scene in all Shakespeare (all western drama?)
10.02pm: with its comparatively limited resources, the stream I think has been very successful – for the most part (a few overly dark shots excepted) it has looked very good, with thoughtful compositions enhancing the meanings of the play and production. Technically, too, it has been immaculate.
9.38pm: one more thought about the supporting elements – I'm surprised that the production didn't settle on a hashtag and advertise this widely across the various channels; some people are using #TheWintersTaleLive (which is a bit clumsy) but there's more Twitter activity to be found simply by searching on @CbyJ. I think associated social media activity is important to maximising the impact of streams, and co-ordinating this as effectively as possible has to make sense.
9.33pm: hmmm – the sheep-shearing scene: have I ever seen a production where this plays effectively? Far from sure that it does here.
9.26pm: one of the things that frustrates me about current discussions of streaming is that they focus almost exclusively on questions of access and questions of the streams' impact on live theatre ecology (important as both these sets of questions are) – and that they rarely consider aesthetics or the poetics of the broadcasts. And I fear that without a detailed critical engagement with these latter elements, the form will not develop as productively or as rapidly as it might.
9.11pm: as always, when I'm watching a production online and also blogging or contributing to Twitter, I worry if this 'split' form of viewing means that I cannot commit properly to immersion in the drama.
9.08pm: from Twitter:
Erin Sullivan @_erinsullivan_: The idea of video allowing theatre to 'live again' particularly poignant in the context of this play #TheWintersTaleLive
9.05pm: for all the charm and interest of the interval feature, I still think the stream would have benefitted from having Gwendoline Christie, or someone else, as a conventional host, welcoming viewers and offering a few signposts to how the evening is unfolding. But we're back to a card now saying that 'The second half is about to begin', which feels a little cold and distant.
9.03pm: Nick Ormerod talks about the pared-back quality of Cheek by Jowl's production style: 'Essentially we rely on the imagination of the audience.' There's a clue in that as to why the production comes across well in an intimate stream.
8.57pm: I guess this interval talk is pre-recorded (nothing wrong with that) because of the precision with which the photographs and extracts are edited in.
8.55pm: Tweets from Peter Kirwan (@DrPeterKirwan) about this interval feature:
On live-streaming paratexts (@mirthnomatter @_erinsullivan_ ), I am loving Gwen Christie's personal approach. @CbyJ #TheWintersTaleLive

and

Having an actor who has worked with directors doing the chat gives this mid-show chat a warm and privileged feel @CbyJ #thewinterstalelive
8.51pm: interesting that Gwendoline Christie's comments include extracts of low-res recording of Cymbeline from 2007.
8.49pm: our first shots of the audience at the end of Part One; a card announces a 20-minute interval, and then Gwendoline Christie pops up with Declan Donnellan and Nick Ormerod.
8.46pm: I'm struck that Cheek by Jowl's unfussy, text-focussed approach, mounted on a comparatively modest scale, is well-suited to a stream on this scale. Not sure that it would benefit from anything more ambitious.
8.44pm: 'Exit pursued by a bear' is always one of the touchstone tests for a production of The Winter's Tale. Done effectively here with a projected image and lighting, and the stream responded well to this.
8.29pm: impressed that the audio quality is very good – there's a temptation with streams to focus on the visuals, whereas the audio for a screen version is at least as important. But rarely commented upon, and too easily overlooked in planning a project like this.
8.23pm: the closeness of the cameras to the drama means that the drama comes across as a chamber piece – and it's all the more effective for that. But there's a persistent frontality to the presentation – cross-shooting certainly, but little sense of the cameras within the drama and using film techniques to draw the viewer into the drama. For all the skill and elegance of much of the framing, we remain with the spectators sitting in the auditorium.
8.18pm: @CbyJ production team responding to questions posted on Twitter – very neat.
8.12pm: this stream is clearly simpler, less elaborate than the cinema broadcasts of NT Live and RSC Live form Stratford-upon-Avon (which I produce). Fewer cameras, certainly, less flexibility in their deployment and operation. And, of course, cheaper to achieve. One of the things that much preoccupies me is developing a critical language and a context for discussions of these issues. For example, is this approach more appropriate for domestic viewing on a laptop or a tablet?
8.06pm: on the YouTube page the stream is currently attracting 590 views.
8.01pm: the production is a very fine, clear reading, and is already establishing a strong sense of a dark, disturbed world. And the screen treatment is straightforward and unfussy. My sense is that there are three cameras with operators, with extensive use of panning shots as the characters move across the stage. The technique is much as television used to present plays from the theatre, back in the 1950s and '60s.
7.40pm: in this first scene, the stream feels very focussed, intimate, with little sense of a wider stage – nor any indication of an audience.
7.37pm: streams are always tricky to begin, especially without a host or any pre-show material. The choice here is to go straight in, with just an animated logo for The Space, which has provided funding.
7.28pm: part of my interest, in addition to experiencing the stage production, is to witness both the technical and aesthetic approaches to the broadcast.
7.20pm: I'm of course very curious to see how this plays tonight. At present there's just a holding card on the Youtube channel, which is embedded below.
Here's the livestream trailer:
• The Cheek by Jowl production page is here.
• BBC Arts page with thoughts on the play by director Declan Donnellan, plus cast interviews.
• The Winter's Tale: Peter Kirwan wrote about the production in its earliest form, a little over a year ago; his thoughtful response is essential as background before tonight.
• In this Winter's Tale, the King is insane. It's as simple as that: for The New York Times Ben Brantley reviewed the production in December.
• The Winter's Tale review – male jealousy casts a toxic shadow in canny revival: Lyn Gardner offers a measured response for the Observer.
• Teacher Notes for AS and A level: not specifically about The Winter's Tale but this .pdf is fascinating about the company and its working methods.
• Follow Cheek by Jowl (@CbyJ) here.
Lead image courtesy of Cheek by Jowl, credit: Johan Persson.