John Wyver writes: Herewith a selection of books, television, art, Twitter, journalism, films and just a little music that kept me going, kept me sane and kept me cheerful during what was too often an annus miserabilis. I have deliberately excluded (with one exception) projects with which I was professionally involved, including my work at the Royal Shakespeare Company and, more tangentially, with Matthew Bourne's New Adventures. Most of the selection will, I feel fairly certain, be unsurprising to regular readers and Twittter followers of @Illuminations. The order is largely random.
• Succession series 3: compelling television drama; although the closing pair of episodes were remarkable, I think my favourite was episode 7, Too Much Birthday, largely set at Kendall's 40th birthday party and filmed at The Shed arts centre in New York's Hudson Yards.
• West Side Story: I watched Steven Spielberg's remake at a matinee in a huge central London auditorium, and there was just one other person there; the critical response has been so-so, and the audience has mostly stayed away, but I had a great time.
• The Hummingbird by Sandro Veronesi: the best contemporary fiction that I read this year, and it was this Guardian review by Edward Docx that alerted me to it.
• Ben Nicholson: From the Studio: a wonderful exhibition at Pallant House Gallery, Chichester – most of the best shows that I saw during the year (see Rhythm and Geometry and Laura Knight, below) were at the enterprising mid-sized galleries outside London.
• The Tragedy of Macbeth, live stream from the Almeida: for me, and leaving aside work with which I was involved, this was the year's best screen adaptation online – a vivid, visceral, close-up live presentation of Yaël Farber's production with James McArdle and Saoirse Ronan, realised online by North South Culture.
• @mrjamesob: James O'Brien's Twitter feed, including selected videos from his LBC phone-in, helped counter the political despair that I – and probably most of his 875K followers – too often felt.
• Laura Knight – A Panoramic View; an exceptional overview of this mid-century British painter, full of surprises and beauty, organised by MK Gallery, Milton Keynes, and on until 20 February; above, two paintings made at the Shakespeare Memorial Theatre in Stratford-upon-Avon: Theatre Prop Basket, left, and Theatre Wardrobe, both 1948.
• ear for eye: debbie tucker green's film of her play about individuals dealing with institutional racism is fascinating for many reasons, including its negotiation of ideas of the cinematic and the theatrical; screened by BBC Two in October, and on iPlayer for another 9 months.
• Mike Nichols – A Life by Mark Harris: a compelling biography of an extraordinary American.
• Marina Hyde: the Guardian's peerless columnist whose twice-weekly writings made me angry and happy and sometimes tearful, both from laughter and from sadness at the way of the world.
• Rhythm and Geometry – Constructivist arts in Britain since 1951: walking round this revelatory exhibition (above) at the Sainsbury Centre, University of East Anglia, I felt I was looking at nothing less than an alternative history of postwar British art; the catalogue is very good too, and you can catch the show until 30 January.
• Ingmar Bergman: I have hugely enjoyed making my way through the first two multi-film volumes of the BFI's Bergman blu-ray collection; volumes 3 and 4 are to follow in 2022; these are exceptional digital transfers of relatively obscure films that fill in so much about the director who was far more familiar to me from later works.
• Ruin and Renewal: Civilising Europe after the Second World War: Paul Betts' study of the idea of civilisation in the postwar world, published this year by Profile Books, is an absolutely exceptional work of intellectual and cultural history that I feel sure I'll re-read in 2022.
• @iandunt: sweary, angry, passionate, brilliant political commentary, both on Twitter and for the i newspaper.
• The Lost Leonardo: Andreas Koefoed's film is a wonderful study of the art market, money and power, beautifully shot and edited, and constantly surprising too.
• The Hopkins Manuscript by R.C. Sherriff: this is a eccentric but immensely rewarding 1939 novel by the author of the First World War play Journey's End, which imagines the moon crashing into Earth; an added bonus is that it's available in a fine edition from the ever-wonderful Persephone Books.
• Blair & Brown – The New Labour Revolution: a compelling five-part series from BBC Two; still on BBC iPlayer for another 9 months.
• Guardian Sport: the paper has hands-down the best sports desk, distinguished especially by Jonathan Liew and Barney Ronay; the OBO coverage is exceptional, and it's even been a pleasure to read despatches from down under over the past weeks.
• Call my Agent!: the delightful French comedy-drama in 24 episodes on Netflix that got us through the first part of this year.
• The New Music Show: BBC Radio 3's Saturday night series, presented in alternate weeks by Kate Molleson and Tom Service, remains a must-listen download via BBC Sounds.
• The Silk Roads by Peter Frankopan: I was late to this sweeping world history, which was first published in 2015, but I felt I was reading something completely original that made sense of so much that had intrigued and puzzled me previously.
• The Underground Railroad: Barry Jenkins' 10-part miniseries for Amazon (above) from Colson Whitehead's astonishing novel is beautiful and disturbing and compelling…
• Harlem Shuffle by Colson Whitehead: … and the author's latest novel, a heist tale set in 1960s' Manhattan is, apart from all else, a gloriously entertaining read.
• Enfin le Cinema!: I so wanted to get to Paris for this Musée d'Orsay exhibition (until 16 January) about nineteenth-century painting, photography and early cinema, and I had a ticket and a Eurostar booking, but Covid defeated me – so I'm making do, and much more, with the splendid catalogue, which has glorious illustrations and a text in French that I can just about stumble through.
• Mark-Anthony Turnage: Up for Grabs: son Ben and I had the best time at the Barbican for the concert premiere, with edited video, of Turnage's composition about Arsenal's historic victory over Liverpool to win the Football League on the final day of the 1988/89 season; Ryan Bancroft conducted the BBC Symphony Orchestra, and it's not every day you see more than a thousand gooners, almost all in club shirts, standing to cheer to the concert hall's brutalist rafters a contemporary classical composition.
• Four Hours at the Capitol: "immersive" is a much overused word in describing documentaries, but Jamie Roberts' 90-minute film about the attempted coup of 6 January really does take you right inside the unfolding events – and is deeply scary.
• New Books Network: I'm a recent convert to podcasts, and my current fave series is this expansive collection of academics being interviewed in detail about their recent publications – not all of them work, but the best ones are brilliant introductions to what might otherwise be somewhat intimidating works of criticism and theory.
• English parish churches: after a year of Covid-restrictions that closed off access to almost all churches in England, I was able to return to my lifetime ambition of visiting all (bar one, which I'm certain is a fiction) of the houses of worship in Simon Jenkins' guide, England's Thousand Best Churches, first published in 1999; my total is now around 480, and among this year's highlights from a few days in Shropshire were the simple, undedicated chapel at Langley (above) and the astonishing Baroque masterpiece that is Great Witley's St Michael (below).
• Photography after Capitalism: Ben Burbridge's lucid study of the politics of the image and image-making contains some of the best critical writing that I read this year.
• A Very British Scandal: a late entry, this, but Sarah Phelps' re-telling for BBC One of the story of the Duchess of Argyll (uncannily incarnated by Claire Foy) and the "headless man" is a dazzling comedy of mid-century manners that speaks so much about class and sex and frocks; you can find it on BBC iPlayer for at least the next year.
• One, Two, Three, Four: The Beatles in Time by Craig Brown: I know you all read this innovative collective biography a couple of years ago, but I've only just got round to it, and it's ridiculously entertaining (and no, I haven't seen Peter Jackson's Get Back yet, which is why it doesn't feature here).
• The Village That Died for England: Tyneham and the Legend of Churchill's Pledge: Repeater Books produced a handsome reissue of Patrick Wright's classic study, and devouring it in a few days convinced me all over again that it's one of the richest and most complex studies of Englishness.
• Composer of the Week: BBC Radio 3's series with Donald MacLeod has had an exceptional run this autumn, with a string of bold, contemporary choices including Sofia Gubaidulina, Carla Bley, Mark-Anthony Turnage (and see above) and, most challenging and rewarding of all, Julius Eastman.
• Silverview by John le Carré: published posthumously, this relatively slim tale from the master is a pitch-perfect closing to a literary life of great distinction.
• State Funeral: thanks to Mubi I have been catching up with the remarkable archive films of Sergei Loznitsa, including this mesmerising study made in 2019 of Stalin's funeral in 1953 (above), as well as the equally strong short, A Night at the Opera, 2020.
• The Walk with Little Amal: with my family, I went to see Amal in Deptford at the start of her weekend in London in late October, and I found the occasion wondrous – a brilliant project committed to raising awareness of refugees.
• Imperial Nostalgia: How the British Conquered Themselves by Peter Mitchell: engaging, enlightening political analysis, written in an accessible style even as it deals with some tough ideas.
• Aftermath: Life in the Fallout of the Third Reich, 1945-55 by Harald Jähner, translated (brilliantly) by Shaun Whiteside: a rich, nuanced and immensely readable study of postwar Germany that I found particularly stimulating.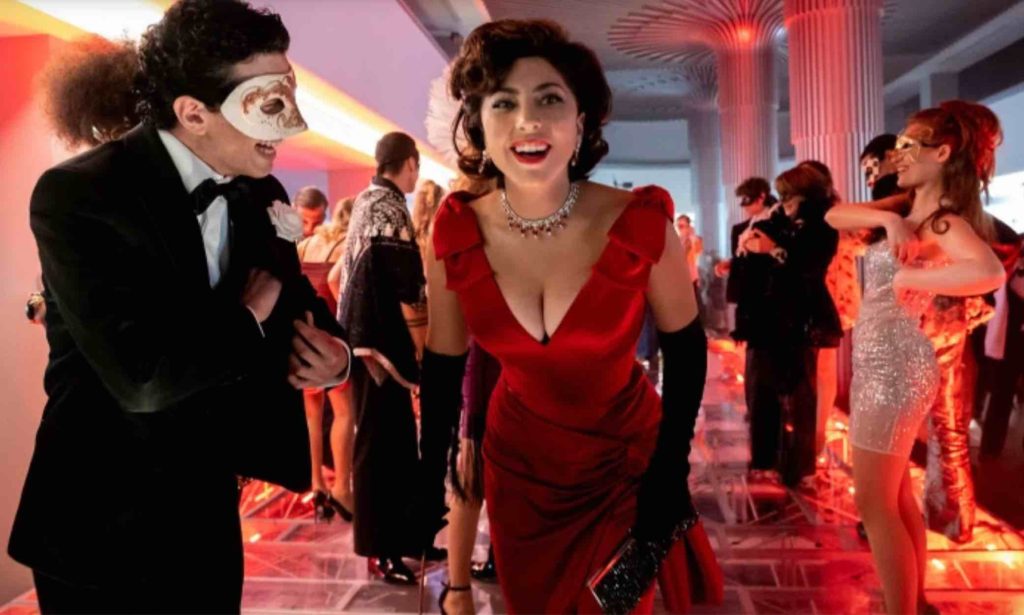 • House of Gucci: again, the critics for the most part sneered, but I had a great time in the cinema with Ridley Scott's telling of the fashion house saga (above), with its over-the-top performances, ridiculous accents, astonishing production design, and a wonderfully appropriate flamboyance.
• Coventry Cathedral: Building for a New Britain: forgive me for sneaking in my film documentary made with Todd Macdonald, Ian Cross, Helen Wheatley and other colleagues for BBC Four, and first shown in June (but on BBC iPlayer for another five months) – my excuse is that I'm including it partly because it was short-listed for the FIAT/ITFA 'Excellence in Archive Production' Award and partly because in early September we were privileged to screen it in the Cathedral itself, and watching it there was one of the very best evenings of the year.
• It's a Sin: Russell T Davies' powerful, passionate, moving and often very funny drama for Channel 4 about a group of friends living and dying in the shadow of AIDS; the Guardian selected this as the best television series of the year, and rightly so.
• London Review of Books: if I could only have one magazine subscription on a desert island, it would have to be the LRB, in both paper and digital form, please, Lauren – so many essential regular writers, including John Lanchester, T.J. Clarke, James Meek, Ian Penman, Patrica Lockwood, Ange Mlinko and many more.
• Le Bureau: this year I caught up with, thanks to a friend's recommendation, the full run of this dazzlingly good French television drama (from which the header image comes) about the intelligence services, made by Canal+, 2016-20; Clare and I were transfixed by the 50 episodes across the summer, admiring the characterisation, the acting, the spare dialogue (if not always the rather prosaic visuals), and above all, the plotting.
• Brexit & Beyond: Chris Grey's Friday fallout-from-Brexit blog is essential reading; most weeks it's deeply dismaying, but there are occasional gleams of hope.
• All Light, Expanded: one of the digital projects that I spent the most time with recently – an interactive companion of great depth and complexity to the 2021 documentary All Light, Everywhere by Theo Anthony.
• Uprising: the devastating three-part BBC documentary series, produced by Steve McQueen, about the 1981 New Cross fire and subsequent cover-up; available on BBC iPlayer for another six months.
• Women by Mihail Sebastian, translated by Philip Ó Ceallaigh: four light, elegant, sensuous and sexy stories first published in 1933 by a Romanian writer who was new to me, and who I discovered through Penguin's very fine European Writers series.
• The Flight Attendant: smart, funny, occasionally a touch dark, comedy with Kaley Cuoco and some innovative story-telling techniques.
• On the Cusp: Days of '62 by David Kynaston: no-one does post-war British social history better than Kynaston, and this relatively lightweight (for him) mid-series offering did not disappoint.
• No Time to Die, dir Cary Joji Fukunaga, 2021: loved it.