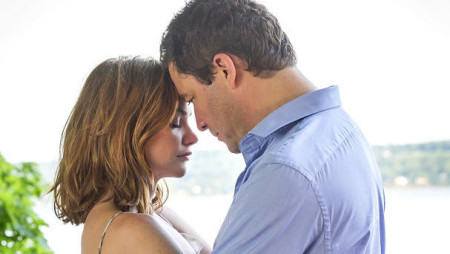 For the end of 2015, when this blog has been less than it should have been, and for the start of 2016, when I intend it to be more than it has been, we offer five short lists of five cultural highlights from the past year. Each of the five of us at Illuminations is putting forward five things, whether movies, television series, books, exhibitions or whatever, that have meant something significant to us during the year. Today's choice is John Wyver's, again offered in no particular order.
• The Affair
The past year has been especially rich in series drama on television. The genre-bending Fortitude from Sky was a favourite earlier on, The Good Wife was as great as ever – no, make that greater – and I hugely enjoyed Unreal in the summer; the first episode has to be amongst the most caustic presentations of television that the medium has ever hosted. And this autumn has been exceptional, with London Spy and The Last Panthers both falling into the flawed-but-compelling category, and series 3 of The Bridge and series 5 of Homeland both being close to flawless. Perhaps best of all have been the two series of Showtime's The Affair, shown here on Sky Atlantic, which is contemporary drama at the highest level, with richly complex characters, a supremely confident sexiness, and super-smart plotting. Plus, the final episode of series 1 closed with a sequence which was so unexpected and so disorienting that it remains the moment I best remember from a whole year of watching the small screen.
More: it's hard to link to US reviews without risking spoilers, so instead read Phil Harrison's 4-star Telegraph review of series 2 episodes 1 and 2; see also 'Dominic West on Ruth Wilson' recently from Harper's Bazaar; the good news is that the series 3 has been greenlit.
• Kiss Me Kate in 3D
No film this year has given me more intense pleasure than the newly restored 3-D print of MGM's 1953 Kiss Me Kate. Screened at the BFI London Film Festival, George Sidney's film was revealed as one of the greatest of all the screen musicals, with an assured use of three-dimensional space in its combination of on-stage and backstage scenes, with astounding (truly!) colour cinematography by Charles Rosher, with exceptional choreography from Hermes Pan, and with great, great performances from, among others, Kathryn Grayson, Howard Keel, the young Bob Fosse and, especially, Ann Miller. (I also saw a very good Opera North production of the musical, which I very much wanted to record for television, but was unable ultimately to secure the funding.) Just because, here's Ms Miller in 'Too Darn Hot' which – although the number begins Act II of the stage show – more or less opens the movie.
More: background on the movie's original 3-D release from 3-D Film Archive.
It is fair to say that my media consumption was transformed this year with the BBC's release of the iPlayer Radio App which for the first time facilitated easy downloads of radio programmes. Thanks to this, I was able to hear every note played at the BBC Proms this year, the exceptional Radio 4 adaptation of Zola's Rougon-Macquart  novels Blood, Sex and Money, the regular Radio 3 series of contemporary music, Hear and Now, as well  as lashings more music from Radio 3, which for my money is alone easily worth the BBC licence fee.
• John Hoyland: Power Stations — Paintings 1964 –1982
I saw a lot of good exhibitions during 2015, and a number of exceptional ones, including Barbara Hepworth: Sculpture for a Modern World at Tate Britain and Splendour and Misery: Pictures of Prostitution, 1850-1910 (until 17 January) at the Musée d'Orsay. The current show Soaring Flight of Peter Lanyon's gliding paintings at the Courtauld Gallery (until 17 January) is also terrific. And while I am not sure if the exhibition of John Hoyland paintings at the Newport Street Gallery (on until 3 April) is better than each of these, it was a particular treat to have Damien Hirst's very fine new space more or less to myself late one afternoon just before Christmas. Hoyland's large abstracts were all painted between 1964 and 1982, and the earlier ones, on the ground floor, are by far the most interesting. Their fields of colour, sculptural references and simple beauty make a visit a distinctive experience. Image: installation view © Kioyar Ltd.
More: Mark Hudson's 4-star Telegraph review; see also John Hoyland's own website.
• The Hundred Years War, Vol IV: Cursed Kings
No book published this year has taken me so convincingly into its world than the fourth (and penultimate) volume of Jonathan Sumption's medieval history. This traces the fluctuating fortunes of the English and French courts, on and off the battlefield, between 1399 and 1422, and is the perfect complement to the RSC's very fine production of Henry V currently at the Barbican. (I produced the cinema broadcast in October, a fragment of which is below). Juliet Barker's 5-star Telegraph review describes the book as 'magnificent', others have used the word 'magisterial' to describe the cycle that I have been reading as they were published over the past fifteen years. Both words are entirely warranted.
More: reviews by Diarmaid MacCulloch for the Guardian, Allan Massie for The Spectator, Stephen Brumwell for The Wall Street Journal.
Our other 5 x 5s:
5 x 5 No. 1: Linda's list, 28 December 2015.