John Wyver writes: Although Play for Today events are continuing, with showings on BBC Four and at BFI Southbank, our documentary Drama Out of a Crisis is happily installed on BBC iPlayer and I have started to think about other things. I am beginning to explore a clutch of research strands, for publication at present and not television, each of which has a connection with television between the mid-1950s and the early 1960s, and if you'll indulge me I'm going to feature occasional stories for this period over the coming weeks.
I'm interested in all sorts of stuff from this period. What kinds of plays did ITV show before Armchair Theatre? And what was BBC drama like before The Wednesday Play? What was the involvement of the company Towers of London in ITV dramas in late 1955 and early 1956, when Harry Alan Towers' company is credited as a co-producer on a string of titles? Then there's Mr Towers himself, who is a fascinating figure. How was the West End theatre behemoth H. M. Tennent involved in early television drama? And what links might be made between television drama of the late 1950s and British cinema at this time? Stick around – I'm going to explore these questions and more over the coming weeks.
This first post is an odd story which I'm not sure anyone has noticed before. It concerns two television productions of the same musical adaptation of Shakespeare's The Comedy of Errors. BBC Television first broadcast a studio production of this 'light operetta' version on 16 May 1954 (see the Radio Times heading above), with a live repeat on Thursday 20 May. Then, after the show had played in London's West End, it was re-mounted, with some cast changes but mostly the same creative team, for the eight-month-old ITV service in May 1956. I can think of no other Shakespeare adaptation that has channel hopped in this way.
The BBC's Comedy
On Sunday 16 May 1954, between 8.55 and 10.25pm, BBC Television, still eighteen months away from the end of its monopoly, broadcast a live studio presentation of a musical adaptation of The Comedy of Errors. By my count this was the fifteenth more-or-less full-length original Shakespeare production for television since the war, and the service had also shown a number of extracts and children's versions. 1953 had seen presentations of As You Like It and King Henry V, and later in 1954 BBC Television would broadcast Troilus and Cressida, so two major productions a year was the norm for this period.
As the splendid Radio Times billing indicates the authors of this musical adaptation of Comedy were Lionel Harris and Robert McNab, with music composed by Julian Slade. Harris is the focus of a richly interesting essay by Joel Finler on the Forgotten Television Drama website which outlines his post-war career as an actor before he joined BBC Television to direct live drama in 1953. He directed at least eight productions, including the Ben Travers farce Rookery Nook (23 May 1953) and this Comedy, which was his last production for the BBC.
The co-author Robert McNab is a more elusive figure (which means to date I can find out nothing about him), but Julian Slade is a noted figure in British musical theatre who just at the moment when Comedy was broadcast was about to open his hugely successful Salad Days. For this he composed the score and co-wrote the lyrics with Dorothy Reynolds. It opened in June 1954 at the Bristol Old Vic, where Slade had been composing incidental music for productions, and then transferred on 5 August to London's Vaudeville Theatre where it ran for 2,283 productions. Until it was taken over by My Fair Lady it was the longest-running show in British musical theatre history.
The cast of the BBC's Comedy is also intriguing with Joan Plowright as Adriana, and Jane Wenham, a stalwart of Sunday night drama at this time, as Luciana. At the base of the credits, listed for the supporting role as 'A nun', is Patricia Routledge. As you might expecct, there are two actors listed as playing the Antipholus twins, David Peel and Paul Hansard. By contrast,James Cairncross played both Dromio of Ephesus and his twin Dromio of Syracuse, which is comparatively easy to pull off, since they do not appear on stage together, until the final scene, when they do.
Fascinatingly, a fragment of the camera script was reproduced in Basil Bartlett's 1955 Writing for Television, apparently 'written at the request of the BBC in an attempt to help the professional writer to take advantage of the opportunities offered by the television medium.' At the time Bartlett was drama script supervisor for BBC Television. The book was republished in 2016 and selected pages are available on Google Books, including the conclusion for which Bartlett notes the 'use of mirrors for the two Dromios.' As he continues, 'This enabled both parts to be played by the same actor.'
The script indicates that the mirror was employed in conjunction with the superimposition of two images, and that this was a climatic special effect for the moments just before the final credits. Which is one further demonstration of the innovative approach to live studio production adopted by some producers in these early years.
Two takes on this Comedy
No recording of the BBC Comedy of Errors exists, even though tele-recording of dramas had begun the previous year. The Birmingham Shakespeare Library holds a typescript (and see below), which has to be a focus for future research, and we have two fairly detailed reviews to help us reconstruct something of this production. An anonymous reviewer contributed a notice to The Times on Tuesday 18 May:
… the play was brought forward to the later style of The Beggar's Opera [written by John Gay in 1728] … Mr Julian Slade's music had a delightful eighteenth-century tunefulness about it, and the costumes and décor seemed to take us further forward, to the period of Jane Austen.
The reviewer was underwhelmed by the stage-like settings by James Bould and felt that the acting left rather a lot to be desired, having
… failed to achieve the pace, the technical assurance and the deftness of stylization which are necessary to make a delight out of absurdity.
For The Listener Philip Hope-Wallace, an esteemed opera critic, found the enterprise somewhat bemusing, although he acknowledged that 'the tireless high spirits of the company did finally wear down any resistance at all before the end.' He also specifically praised the production by Lionel Harris who
… evidently knew where he was going; the cameras were where he wanted them. The pictures composed effectively in décor by James Bould. Eric Robinson was in there conducting dainty tunes by by Julian Slade and many a warbling voice was uplifted with a fair lack of self-consciousness, among them Jane Wenham's, which has pleased us before… Joan Plowright also sang nicely… the two Antipholuses were shared by David Peel and Paul Hansard, both very sporting and arrayed like incroyables or bad illustrations by Kate Greenaway. And so, with still slightly raised eyebrows, on to other things.
Before which, just a brief gloss on Catherine Greenaway, who was a noted Victorian book illustrator especially known for her work for children's books – and whose Wikipedia entry is well worth reading. The Kate Greenaway medal, established the year after the BBC's Comedy was shown, in 1955, is awarded annually to recognise 'distinguished illustration in a book for children'.
From screen to stage
Just under two years later, this musical version of The Comedy of Errors was mounted at London's Arts Theatre, where it opened on 28 March. For context, that same week the West End saw the transfer from Stratford East of Joan Littlewood's Theatre Workshop production of The Good Soldier Schweik, adapted from Jaroslav Hacek's novel by Ewan McColl. Within six weeks John Osborne's Look Back in Anger, directed by Tony Richardson, would open at the Royal Court.
As a note in The Times (12 March 1956) pointed out, The Comedy of Errors was a favourite for musical versions of Shakespeare. This version was in fact the third to be presented in England in the past six years, with one by John Barton, set in Victorian times, having been staged in Cambridge in 1950. John Barton, of course, later became a key figure at the Royal Shakespeare Company, where he was working when Trevor Nunn staged his immensely successful musical version of Comedy in 1976 with music by Guy Woolfenden. With Mike Gwilym, Michael Williams and Judi Dench in the cast, this production too was also adapted for television, being recorded by ATV and broadcast on 18 April 1978. And while we're here we should note too that the play is the basis for the 1938 Richard Rodgers and Lorenz Hart musical The Boys from Syracuse.
On stage, Patricia Routledge was promoted to the role of Adriana, Jane Wenham reprised her Luciana, and Bernard Cribbins was now the two Dromios, making, according to The Times (29 March), 'a decided success with the double part'. This reviewer also felt that the whole thing was
… at once easy and zestful. The result is at once pleasingly gay and decorative, which is precisely the result that has been sought… Mr Julian Slade's music fits the pattern. Without ever striking out an exciting tune it is always spirited.
For the Sunday Times (1 April) Harold Hobson enthused modestly about 'a charming evening', and for Illustrated London News (14 April) J.C. Trewin noted that, 'Several pleasant people take us through the intricate tangle of mixed identities'. In The Observer (1 April) Kenneth Tynan was a touch tougher, labelling the production a 'flimsy caprice' although he acknowledged that it was
… bolstered-up by smart performances from Jane Wenham, Patricia Routlege and Bernard Cribbins, whom I will trouble Mr Slade to remember in his will.
To the small screen again
In ITV's first year, after it went on-air in September 1955 in London and then February 1956 in Manchester, the three regional companies that made up the network – ATV, Associated-Rediffusion and ABC (Granada only joined in November 1956) – all contributed television dramas. The dominant player in the first year at least was ATV, led initially by Harry Alan Towers until he was summarily ousted in January 1956 (and we'll get to his story in a future post). Towers had been co-ordinating drama through his company Towers of London, drawing in part on the productions being made by Norman Collins' innovative High Definition Films at Highbury Studios (another future post will look at HDF).
After the departure of Towers, ATV set up a deal with the highly successful West End theatre entrepreneurs H.M. Tennent Ltd to co-ordinate starry packages for studio production. The company had been established in 1936 by the impresario and songwriter Tennent together with his protégé 'Binkie' Beaumont, and with financial backing from the theatre owning enterprise Howard & Wyndham Ltd. Howard & Wyndham held a significant stake in ATV shares, and so the collaboration was beneficial all round.
Tennent's 'Globe Theatre Presentations' were often based on recent stage shows. Such was the case when on Monday 21 May 1956 ITV's Play of the Week strand offered the Arts Theatre Club production of the Harris/McNab/Slade The Comedy of Errors. In the TV Times billing (18 May 1956, p. 15), Julian Slade was now identified as the composer of Salad Days, Harris was also credited as producer and director, and the viewer was promised 'ideal family viewing for the Whitsun holiday'.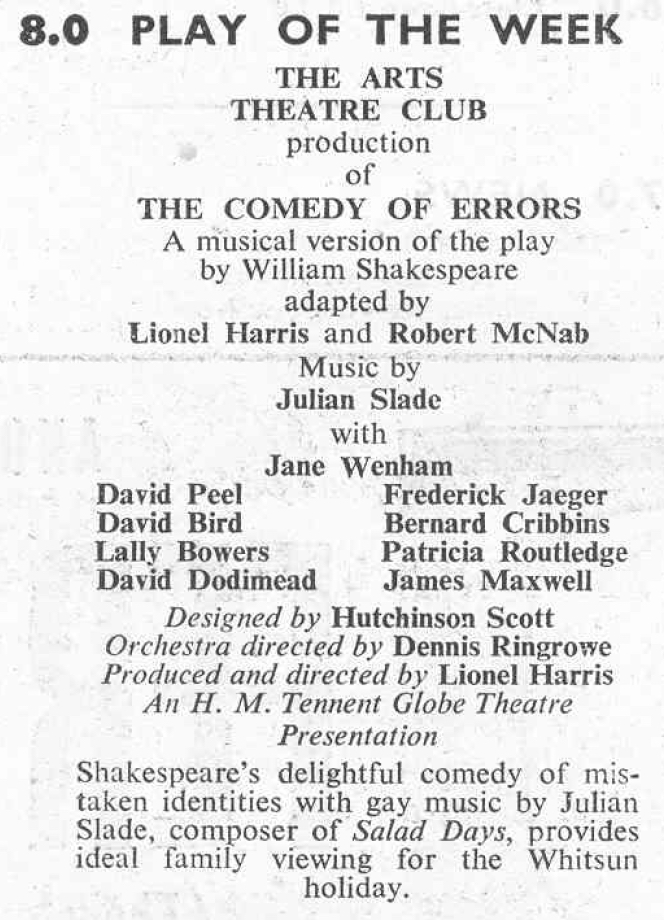 According to Joel Finler, in 1955 Lionel Harris was 'was one of the many producers, directors and technicians, including Alvin Rakoff, Desmond Davis and Julian Amyes, who left the BBC to join the newly formed ITV.' A big part of the attraction was enhanced salaries across the board, and Harris contracted initially with H.M. Tennent's television operation, making around 7 productions a year for the next 6 years. And since his own production of his own musical had closed at the Arts Theatre on 13 May after 54 performances, why would he not take it to television just 8 days later?
Many (or should that be all?) of the 'Globe Theatre Productions' were broadcast from ATV's studio in the converted Wood Green Empire (and the invaluable, astonishingly detailed website 'An incomplete history of London's television studios' has details here). Frustratingly, the above still, reproduced in TV Times from the stage production, is the only visual record I can find of the ATV version of the musical. No tele-recording is believed to exist, and for the moment I have not been able track down any television reviews. Nor can I find any record of a stage revival since. But thanks to the official website dedicated to the work of Julian Slade we can hear two brief audio fragments of the score: 'Should he upbraid…' and 'Let's go hand in hand'.