Last month, Claes Oldenburg passed away at the age of 93. Although he is most associated with the Pop art movement, his art contained a seriousness and political critique that was absent in the work of artists such as Andy Warhol where the surface was the thing. Born in Sweden but grew up in Chicago before attending Yale where he studied literature and art history and then returned to Chicago where he attended classes at The School of the Art Institute of Chicago.
In the early 1960s, he help popularise Happenings, art created as part of a situation, event, or performance. In 1961 he sold models of household objects "in an ironic celebration of mass consumerism," Andy Warhol had been a customer. The mix of the spectacle from participation in Happenings and the re-production of household objects informed his "soft sculptures" that were also a critique of art history. These were large pieces of public art of objects such as hamburgers and ice cream cones, fabricated using materials that would deflate and appear limp and were subject to gravity and chance. Using materials such as vinyl and kapok rather than marble or bronze was a critique of traditional sculpture and purposefully invoked comparisons with a flaccid penis. Oldenburg was commissioned to produce public art in his alma mater, outside a library at Yale University, "Lipstick (Ascending) on Caterpillar Tracks" (1969) was made as a satire on America's role in the Vietnam war. London almost got an Oldenburg with his design for a new statue in Piccadilly Circus. Eros would be replaced by a cluster of 8-meter-high orange lipsticks or a skyscraper-sized pair of women's knees. A postcard collage of Lipsticks in "Piccadilly Circus, London" (1966) is in the Tate collection.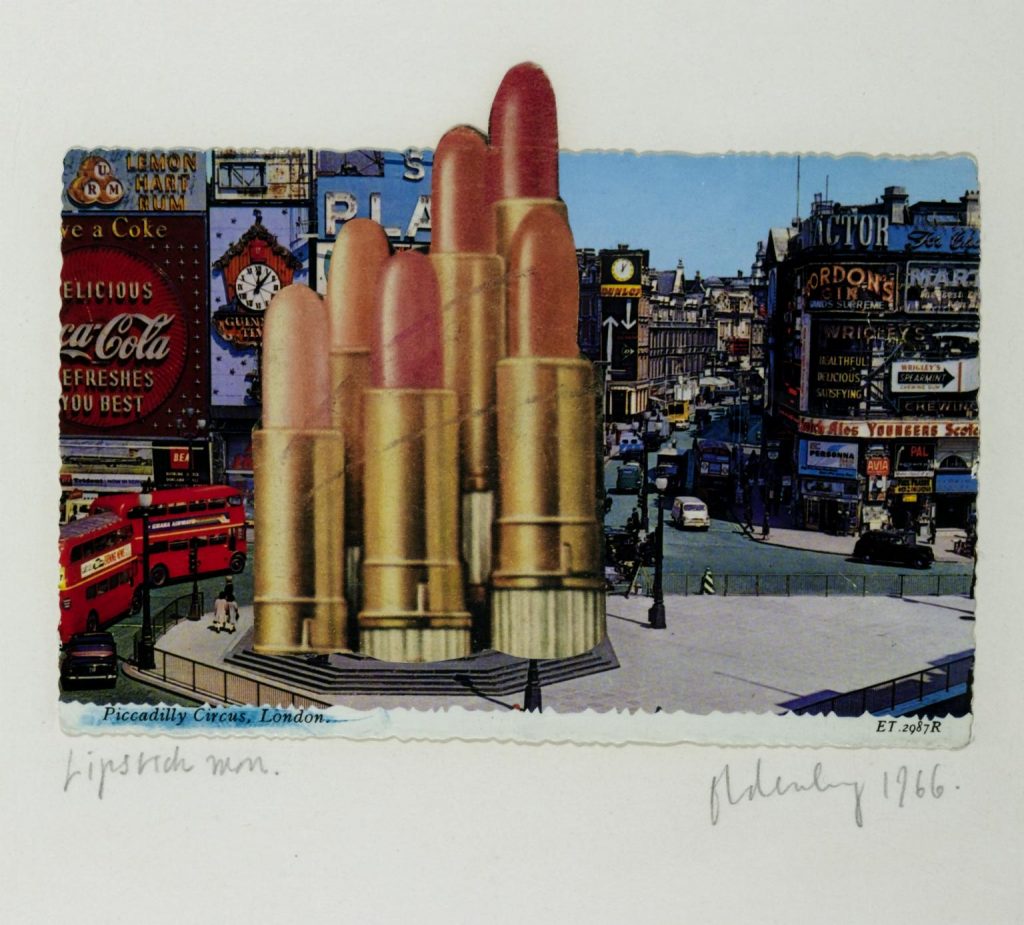 Oldenburg was married twice. First to Patty Mucha who helped Oldenburg produce his work by stitching together his soft sculptures. His second wife, Coosje van Bruggen, was a rather reluctant seamstress and her contribution to her husband's work was more conceptual than Mucha's had been. After 1981 all Oldenburg's sculptures would be signed by them both. Van Bruggen passed away in 2009.
After his wife's death, Oldenburg continued to produce art. A small-scale show in 2017, Shelf Life, put on work that he and his wife had collaborated on over their 32-year relationship. His later work took on a more archival nature, with Oldenburg saying "I guess I was always an archivist," the twist being that he was now archiving himself.
Illuminations have a documentary on Claes Oldenburg, which is part of our Art Lives series.