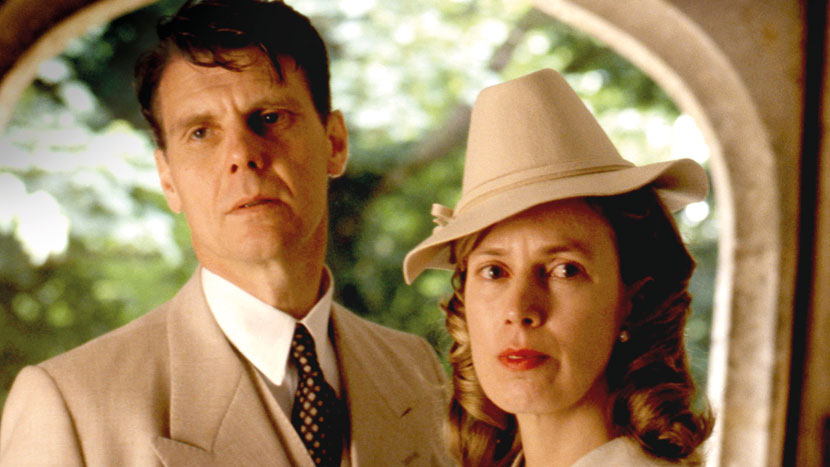 On Tuesday night BFI Southbank screens a film that is, for me, one of the singular masterpieces of television drama, Richard Eyre's film Country from a script by Trevor Griffiths. Made for BBC Television in 1981, this rarely-seen 80-minute drama scrutinises an upper-class family in the eve of the Labour election victory in 1945. A peerless cast includes James Fox, Leo McKern, Wendy Hiller and Penelope Wilton. Why this film is not widely recognised as one of the key British cultural achievements of the late 20th century is a mystery to me – although of course the fact that it was made for (what was then then, as still it is now to a degree) the less respectable small screen, rather than the cinema, is part of the answer. So too is the fact that the film has never been available on VHS or DVD.
It is a great, complex, powerful, richly imagined work – and the chance to see it on a large screen is one not to be missed. (Although frustratingly I have to, since I will be in Stratford-upon-Avon prepping next week's live relay of the RSC's Antony & Cleopatra.) As I noted last week, in 1984 BFI Publishing released my book-length analysis of Trevor Griffiths's television drama, Powerplays, which I co-authored with my former Time Out colleague Mike Poole. Below is part of what we wrote about Country thirty-plus years ago.
One acknowledged influence on the writing of Country was [Chekhov's] The Cherry Orchard [which Trevor Griffiths' had translated for both theatre and television], and… certain parallels are obvious. Both offer a class analysis of a society in microcosm centred on a country house and its estate, both feature families faced with the loss of property and position.

At the centre of both is a ball, and in both the gentry has a brief, hostile encounter with the working class. Chekhov encompasses a broader social range and the depiction of all his characters is far more sympathetic than the later writer's critique. But the most significant difference is that in The Cherry Orchard, the orchard itself is sold and felled. In Country, home and business are preserved. Russia was to experience fundamental social change; despite the intentions and achievements of its 1945 government, Britain was not. Country addresses itself to the reason for that failure.

Even more fundamental to Country's composition was Dodie Smith's [theatre play] Dear Octopus. An exemplar of what Griffiths calls the 'country house drama', this 1938 West End hit is also the tale of a family reunion at a rural mansion. When Country was transmitted several critics commented on the more than superficial closeness, and indeed, when the plays are read together, the similarities are striking. […]

Griffiths' intent in working with a pre-existing text was also partly to put forward a critique of the genre which it represented. Country was conceived o indicate and expose the silences in such plays, and to make them less seductive to future audiences. As he has explained, 'One of the things which is never discussed in country house drama is the economic base of the class portrayed, and its exploitation of other classes. What we're asked to see as the truth is that rich, powerful people share a common humanity with those who are less rich and less powerful… Country deals centrally with the question of succession, with wealth and the perpetuation of privilege. So it challenges the inbuilt but never spelt out assumptions of a genre.'

That genre may be moribund in today's West End, but it undoubtedly thrives within the dynastic sagas of television costume drama. So that Country is as much directed against, for example, the distortions of The Forsyte Saga as it is against a theatrical tradition of the '30s. Ironically, Country was actually transmitted at the same time as the second episode on ITV of Granada's Brideshead Revisited, a much-hyped and extraordinarily lavish adaptation of Evelyn Waugh's novel, which celebrated the human and spiritual qualities of the Marchmain dynasty. As one critic remarked, 'There could be no more comprehensive corrective to Waugh's romantic vision of opulence than Griffiths' rigorous class analysis.'

One further aspect of Country's complex relationship with genre is the integration of references to the family saga of The Godfather. More obvious in earlier versions of the script than in the final film, these include the play on the family name, Carlion, phonetically only one sound removed from Corleone. There is also the centrality of family ritual and celebration, which is fundamental in Mario Puzo's book and Francis Coppola's film. Without over-stressing the parallel, Griffiths identifies Britain's controlling Mafia.
Powerplays: Trevor Griffiths in Television by Mike Poole and John Wyver is long out-of-print. But decent copies can be had from Abebooks for as little as a fiver, and also from other good second-hand stores.