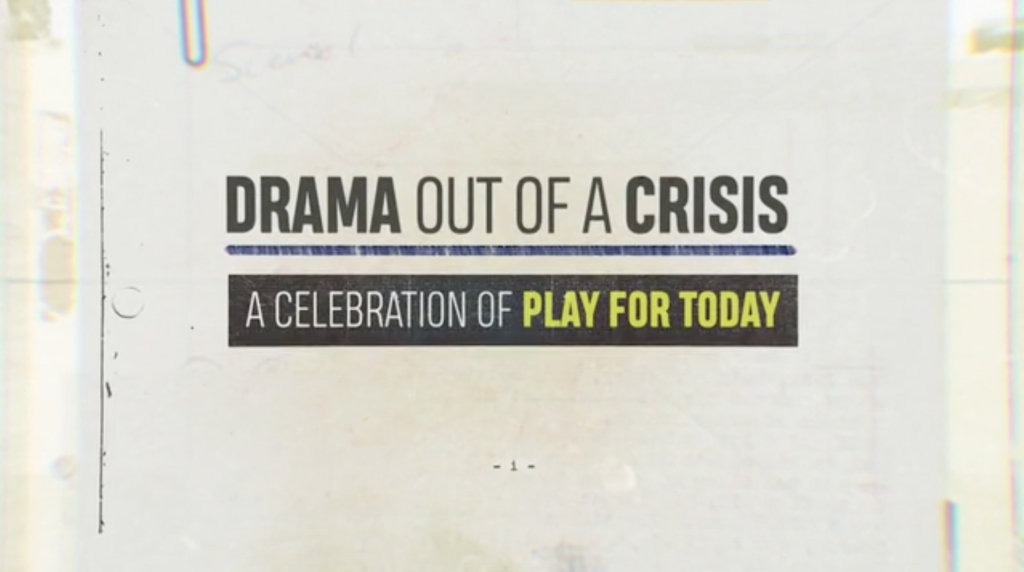 John Wyver writes: Illuminations has delivered to the BBC our 90-minute documentary Drama Out of a Crisis: A Celebration of Play for Today which marks the 50th anniversary of the start of the Play for Today series. (The header image is the main title card, created as part of the film's graphic design by Ian Cross.) The first Play for Today was The Long Distance Piano Player, shown on BBC1 on Thursday 15 October 1970. Some 300 single dramas followed over the next fourteen years, and all but 37 still exist.
The documentary, which features interviews with some of those who made the series together with a veritable cornucopia of excerpts, will be shown on BBC Four around the time of the anniversary. Other planned activities in a full programme of events include repeat screenings of a number of the plays on BBC Four, a Radio 4 documentary, a BFI Southbank season from mid-October to the end of November, the release of seven titles on a BFI Blu-ray box set, an online academic conference and more.
While I'm cautious about self-justification and/or vainglorious puffery, I think that the documentary, which I have written and directed, and which has been brilliantly edited by Todd MacDonald, has a number of interesting and innovative aspects. To start a discussion of those, I am going to write a series of posts over the coming couple of weeks that explore different aspects of the production process, including working with archival elements, our distinctive graphics, and the edit and visual language of the film. I'm not sure it's possible for there to be spoilers in such a chronicle of how a film was made, but you may prefer to take a look at the documentary first (which will be on BBC iPlayer for a year after transmission) and then return here.
Although I have been making archive-based documentaries about the history of television for nearly forty years (the first was The Prisoner Files for Channel 4 in 1982), I have to admit that it did not occur to me to propose an anniversary programme. Concerned not to get caught up in nostalgic reflection when it faces so many urgent issues for today and tomorrow, BBC Television has a complex and sometimes cautious relationship with its past. The initial idea, however, came from a BBC Arts commissioner, who back in January 2019 asked me – and presumably a number of other producers as well – if I would submit a proposal.
Even before I started to make independent productions with Illuminations I was Television Editor for Time Out magazine from September 1977 until the 20-week dispute in the summer of 1981. For the magazine's listings I previewed many of the Plays for Today in these years, watching as many as I could just in advance of transmission and writing short responses. (A project for the coming weeks is to look these out and to see what my naive, early 20s-something self wrote.) I also contributed feature articles, interviewing Dennis Potter for Blue Remembered Hills (1979), directed by Brian Gibson, and visiting the location shoot for Long Distance Information (1979), a Neville Smith script directed by Stephen Frears.
Before this I can recall seeing Dennis Potter's Angels Are So Few on transmission in November 1970, and it making a huge impression on the insecure 15 year old that I was. (Fifty years on, and only minimally more secure, I'm happy to pay tribute by including a clip of this, and of the closely connected Only Make Believe (1973), in the opening moments of the documentary.)
For years before I got the job at Time Out, Play for Today was mandatory viewing, initially at home with a disinterested family (I remember I had to go to my Gran's next door to watch – and be deeply disturbed by – John Bowen's Robin Redbreast (1970), as directed by James MacTaggart) and later at university. Several of the television programmes that have been most significant for me since, including David Hare's Licking Hitler (1978) and Country (1981), written by Trevor Griffiths and directed by Richard Eyre, were made for Play for Today. Unsurprisingly, the chance to make an anniversary tribute was a commission that I really, really wanted.
The treatment
I submitted a pitch on 4 February 2019, which I hope is interesting to compare with the final film. I had hoped to offer this as a direct download from here, but that functionality – as Billy Smart points out below – isn't working, so at least for the moment I'll be pleased to send a .pdf to anyone who mails me with a request: john@illuminationsmedia.co.uk.
Thrillingly, and I do not use the word lightly, our proposal was preferred, the BBC allocated a standard budget, and I started to reflect on quite how to make the film. One early change was that the film was at first commissioned for a 60-minute slot but thankfully this was amended so that the film would run at 90 minutes. Early on, also, I brought on board two consultants, Simon Farquhar and Ian Greaves, who both know more about the series than I ever will, and they have been essential to supporting and shaping the film through each stage.
Throughout the rest of the blessed months of 2019 when the world had yet to hear of COVID-19 I mused from time to time on the film and committed to trying to watch each and every one of the some 270 extant Plays for Today. I was able to access many via the BBC Archive and also to watch a selection in the invaluable Mediatheque at BFI Southbank. I also benefitted from a handful of digital file of varying (for which read, usually execrable) quality and legality that were shared by colleagues. I set out view all of the productions that had not been wiped, and while I fell short of achieving this before finishing the documentary I have so far seen 204.
I now have access to almost all of the others, but there are two that I know to exist that have entirely eluded me: Don Shaw's Ackerman, Dougal and Harker (1972), directed by Ted Kotcheff, a copy of which is held by the BFI but which is currently inaccessible, and Michael Regan (1971), written by Robert Holles and directed by John Gorrie. The original of this was wiped by the BBC back in the day, but before this happened a copy was purchased by the BFI National Archive. Frustratingly, there is currently no viewing copy of the BFI's version, which awaits future restoration.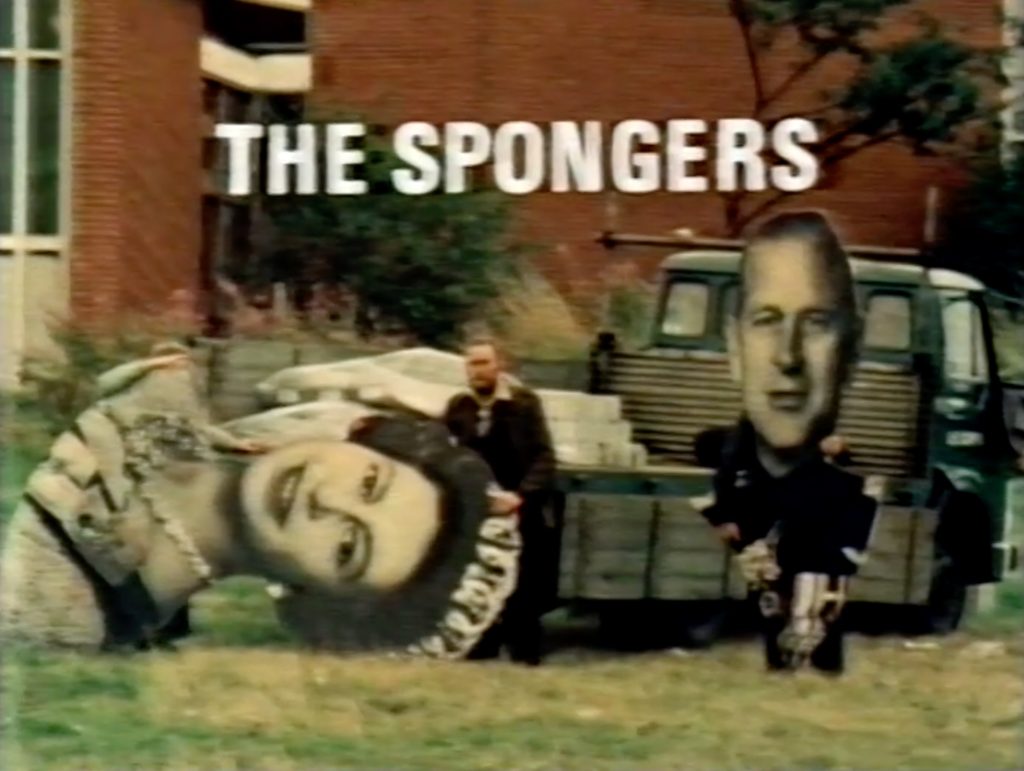 In the run-up to Christmas I started to approach potential interviewees, and the process of filming them and later editing the results is the focus of my next blog post. One of those who I corresponded with was producer Tony Garnett, who was a story editor and then producer on Play for Today's predecessor, The Wednesday Play (1964-70), and who then produced a handful of key Plays for Today, including The Spongers (1979), written by Jim Allen and directed by Roland Joffé. Tony was a wonderful drama producer – arguably British television's greatest – and a rather wonderful man. I had been speaking with him, on and off, ever since my Time Out days, and he was happy to agree to contribute to the documentary. Then, sadly, he died in January.
For more about Tony, see Anthony Hayward's Guardian obituary, Lez Cooke's BFI ScreenOnline essay, and Tony's own richly informative website; also, his 2016 book The Day the Music Died is a wonderfully interesting and moving memoir.
And we filmed a typically charming, typically modest interview with Tony when we released the DVD box set of the BBC's cycle of Shakespeare's history plays, An Age of Kings (1960), on which Tony was a member of the acting company: