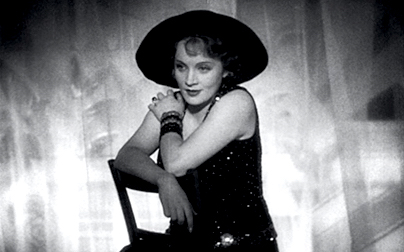 John Wyver writes: Easing into the post-holiday world, which looks just as grim as the pre-holiday one, here's a modest selection of links to articles that I have found engaging and valuable over the past week. I was late compiling this today an I'm almost certainly going to add to the selection later. Happy New Year to one and all!
• The ten best films of… 1930: let's start with a fine annual tradition – the new year round-up of notable cinematic masterworks from 90 years ago, thanks to Kristin Thompson at her essential blog with David Bordwell, Observations on film art; filmmakers Dovshenko, Ozu, von Sternberg (with The Blue Angel and Marlene Dietrich as Lola Lola, above), Murnau, Clair, Duvivier and Pabst all feature, along with, um, Wilhelm Thiele.
• Favourite films of 2020: I guarantee there will be discoveries for you on this 'ten best' list by Srikanth Srinivasan at his blog The Seventh Art.
• DVD Beaver's Best physical media of 2020: a rather astonishing retrospect which as well as being a reminder of the health of specialist DVDs and Blu-rays also acts as a vital guide to stuff you absolutely, unquestionably have to have in your collection.
• Documentary's longue durée: beginnings, formations, genealogies: a wonderful academic essay, published in the open access journal Necsus, by Charles Musser about the idea of documentary in 19th century media like the lecture and lantern slide show.
• A conversation with Henry Jenkins: while we're with Necsus, this is a rich conversation between scholar Doron Galili and the author of the key study Convergence Culture which was published a decade and a half ago.
• A good bird – remembering Barbara Windsor: Hannah Mackay with a lovely, touching obit for Sight & Sound of 'a woman in charge of her own image.'
• History, criticism, and splendid extras – on V. F. Perkins on Movies: Jeremy Carr reviews for Filmint.nu the collection edited by Douglas Pye of the shorter writings of the great and much-missed critic; as for so many of my peers, Perkins' Film as Film was one probably the foundational text for my serious engagement with the cinema.
• Brian Parker (1929-2020): thanks to the Forgotten Television Drama blog, here are some rather special exchanges between scholar Lez Cooke and the very fine television director who died on 8 December; as Lez writes in the introduction:
Given how little information there is about his career (at the time of writing I have seen no obituaries) I have edited our correspondence as a tribute. I am only sorry that we did not have time to explore more of his work for I am sure he would have been as informative and witty in his recollections as he is here in this brief correspondence.
• The rise of film TikTok: a terrific video essay to start off the new year, from kikiarazed:
• Out with the old masters?: I think Charles Saummarez Smith, writing for The Critic, is too gloomy about the future of traditional museums and galleries, but he makes some good points.
• The railway hobby [£ but limited free access]: a jewel of an essay by Ian Jack for LRB about the demise of the Ian Allan Book and Model Shop on Lower Marsh, behind Waterloo Station:
It was at that station in 1942 that Ian Allan, then a young clerk in the offices of the Southern Railway, invented – or, more accurately, enabled – the hobby that became known as trainspotting. It made him a fortune, and popularised an affectionate interest in railways matched by no other country.
• George Saunders: 'These trenches we're in are so deep': a fascinating Guardian interview by Killian Fox with the author of Lincoln in the Bardo who has now written a study of short stories by four Russian writers – Chekhov, Turgenev, Tolstoy and Gogol.
• Work sucks: on Anne Helen Petersen's Can't Even: for LA Review of Books a thought-provoking review by Rithika Ramamurthy of Can't Even: How Millennials Became the Burnout Generation.
• Trench warfare: depends on your stamina, of course, but Mike Davis looking back in detail at the US election for New Left Review is both impressive and provocative.
• The plague year: … and yes, you really must devote the time to reading Lawrence Wright's 30,000 word kaleidoscopic portrait of America in 2020 to which almost all of the current double issue of The New Yorker is devoted.
• Gerry & The Pacemakers – 'Ferry Cross The Mersey' (1965): marking this afternoon's sad news about Gerry Marsden – from Top of the Pops.