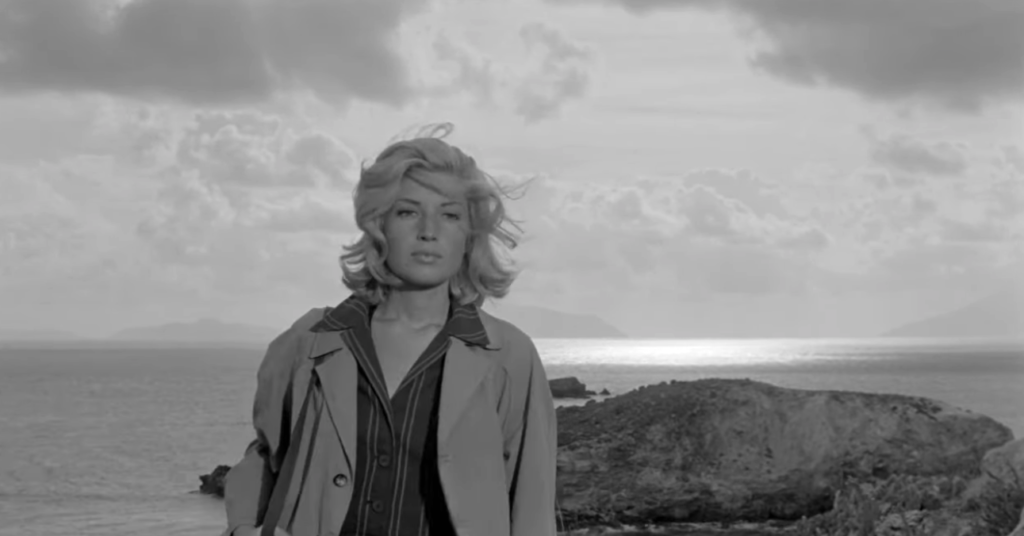 John Wyver writes: another batch of pointers to content I've found stimulating and informative and engaging over the past week, with many recommended to me by colleagues and confreres on Twitter, to whom I remain immensely grateful.
Let's start with a new video essay for Mubi.com about perhaps my favourite European director, Antonioni's Cinema of Absence by Manuela Lazic and Alessandro Luchetti; the header image is Monica Vitti in L'avventura (1960)
• Looking behind Éric Rohmer's cinematic style: Richard Brody for The New Yorker is terrific on the politics of the french filmmaker's 1990s tetralogy Tales of the Four Seasons.
• 40 Years of Michael Mann. 11 Great Movie Moments.: so much Mann magic here, chosen by critics for The New York Times, including (of course) what A.O. Scott calls the Michael Mann-est six minutes in all of cinema:
• A very acute watcher – a conversation with David Thomson: lots of pleasure to be had as you read Jonathan Kirshner talking with the film historian and critic for LA Review of Books.
• How Jane Fonda became the most radical woman in Hollywood. Again: a true delight – Durgh Chew-Bose talks with the ageless actor for Harper's Bazaar, with remarkable photographs by Mario Sorrenti and styling by George Cortina (and that's probably the first such credit in Sunday links).
• Frederick Wiseman – a journal: so much of interest here in a series of detailed responses to the peerless documentarist's work by Stephen Mamber, Professor in the Department of Film, Television, and Digital Media at UCLA, who has been watching every Wiseman film and writing about them.
• What would Adorno say about Wandavision?: Gerry Canavan for ArtReview:
If we think of the MCU as having uncannily survived itself, in [Edward] Said's sense – if we think of the film Endgame as the actual end of the Marvel franchise that was, and this year's Disney+ miniseries WandaVision (2021) and The Falcon and the Winter Soldier (2021) as the start of something different, something smaller and more discordant – we can begin to see, I think, the traces of Adorno and Said's late style everywhere.
• Wretched eminent things: Eoin Price is very good on Creation Theatre's Zoom-based The Duchess of Malfi (above) which I also saw this week; I admired its technical facility but I'm not as enthusiastic about its overall impact as is Eoin and indeed a number of other early modern experts, including Peter Kirwan at his The Bardathon blog who contributes a typically detailed and intelligent response to 'a bold and audacious experiment that, to my mind, is the most satisfactory blend of filmic and theatrical styles I've seen in this medium so far.'
• Aboutness — T.J. Clark on Hieronymus Bosch [£ but limited free access]: a wonderful essay from the Easter edition of LRB.
• Surface tension – the glamorous world of Noël Coward: I found this Stephen Patience essay for Apollo fascinating, and there are some glorious visuals, including this dazzling Self-portrait (1929) by Doris Zinkeisen (National Portrait Gallery, London; © Estate of Doris Zinkeisen):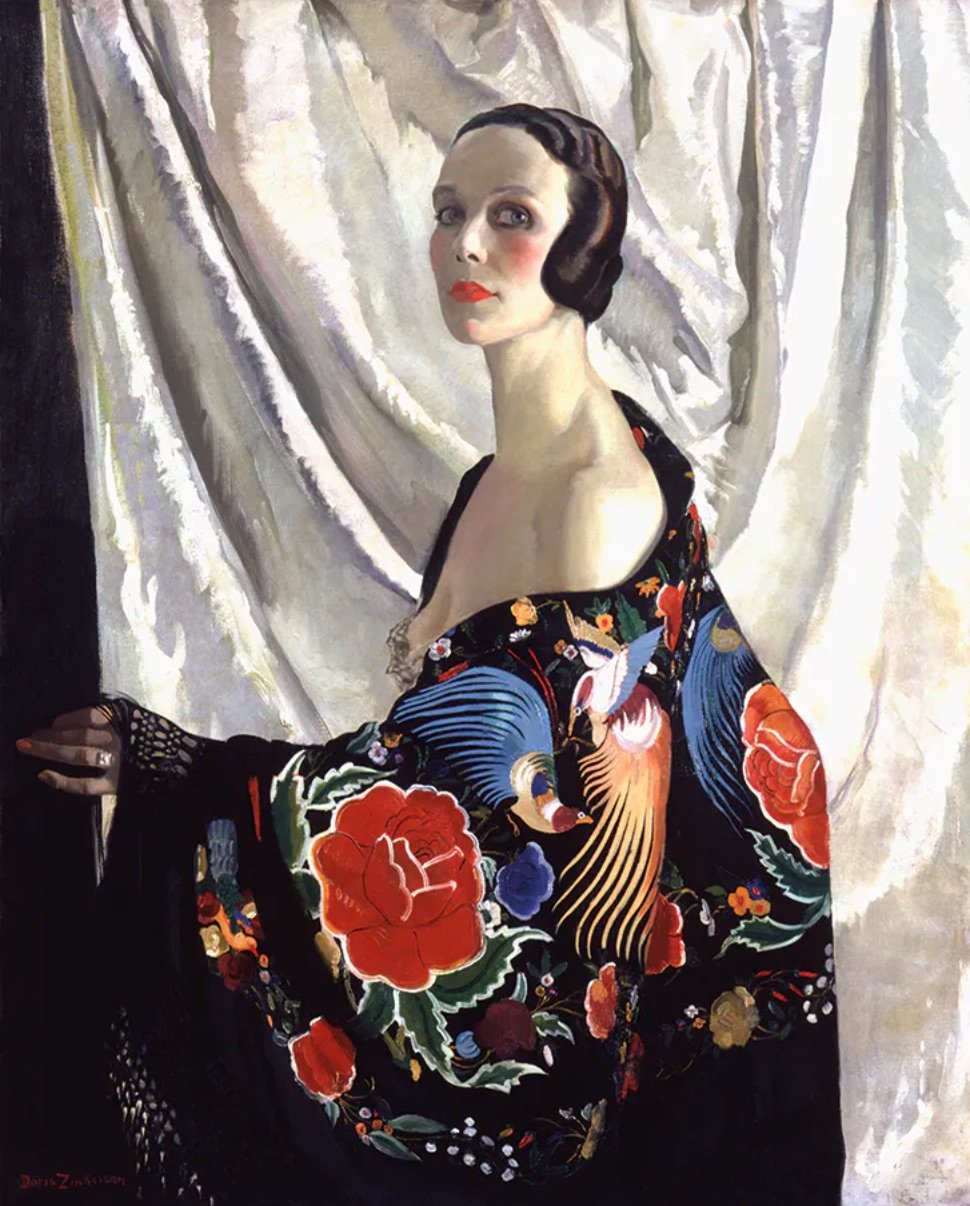 • How Beeple crashed the art world: yes, this Kyle Chaka piece for The New Yorker will make you angry but you probably ought to read it.
• London's modernist maisonettes: 'going upstairs to bed': a Municipal Dreams post together with glorious photographs by Thaddeus Zupančič who is documenting London's modernist council estates.
• Claims of right [£ but limited free access]: Richard Drayton contributes to TLS a broad and brilliant review of Linda Colley's new global history The Gun, the Ship, and the Pen: Warfare, Constitutions and the Making of the Modern World: 'as a piece of historical thinking, argument and writing, it is magisterial by every criterion'.
• This is a terrific list of background reading to one of the most compelling stories of the week:
• What is literature for?: this is from New Statesman a fortnight back but I'd missed it until now – Lyndsey Stonebridge is really good on why we must start 'owning our reading and asking more serious questions about what place literary education has in our collective life today'.
• The strange undeath of middlebrow: Phil Christman for The Hedgehog Review is really good on the reasons that 'everything that was once considered lowbrow is now triumphant'.
• Reading Roland Barthes in the age of misinformation: Carolyn Biltoft for LA Review of Books on why we need the great mythologist as much as ever:
According to Barthes, myth is a force that works by turning the confusion of subjective histories into the clear and objective eternities of nature. By naturalizing our own worldviews, it squirts ink into the water so that we do not have to face the true nature of our fears and desires. It is for these reasons that Barthes reminds us that the age of myth is not some bygone era but very much alive and well. Being what Barthes calls a good mythologist — a decoder of myths — is thus not primarily a matter of learning how to spot and dismiss untruths. Rather, it involves acquiring and continually using the tools of analysis, of reading and interpreting the meaning of signs.
• Experience: I tracked down my impostor: such a strange story, from Matt Lodder as told to the Guardian's Amy Sedghi.
• The mess at Medium: very fine reporting by Casey Newton for The Verge.
• The preteen's guide to getting rich off YouTube: Lucas Shaw and Mark Bergen for Bloomberg Businessweek explore the finances of Ryan Kaji, one of the most popular YouTube creators in the world.
• #BritainDebrief: I found this truly enlightening…