John Wyver writes: herewith a further batch of links to lighten any winter gloom (with minimal mainstream politics this week), put forward with my weekly expression of gratitude to those on Twitter who continue to highlight interesting stuff.
• The best video essays of 2021: the BFI's invariably wonderful drawing together of much great visual scholarship and imaginative engagement with sounds and images – there's so, so much to explore here, including
• Screening Room – on digital film festivals, Jessica McGough's imaginative 9-minute meditation on recent events…
• Thrills and melodrama from the 1910s: it's especially great to have a new blog post from film historian David Brodwell (although the epithet hardly does justice to the riches and range of his writing); here he writes about 'the virtually unknown 1915 Italian feature Filibus: The Mysterious Air Pirate [and] the famous but little-seen 1919 serial adventure Tih-Minh, by Louis Feuillade'.
• Chuck Jones & gender performance: for Reverse Shot, Caden Mark Gardner is persuasive on Bugs Bunny in What's Opera, Doc? and Rabbit Seasoning:
Perhaps one of Bugs Bunny's greatest attributes is that he transcends the rational to become one of Hollywood entertainment's greatest anti-establishment heroes.
• "It had nothing to do with me" – Francis Ford Coppola's The Conversation: a Mubi.com essay about one of my absolute favourite movies, above with Gene Hackman.
• Immortal technique: from Steve Macfarlane's Element X Cinema, '[a] conversation with Nyika and Dávid Jancsó about their father Miklós, his legendary long takes, a hundred years of Hungarian cinema, and everything in between'.
• Why I still love West Side Story: reverting to a topic engaged with in links before Christmas, this is well-argued from John McWhorter for The New York Times (and I agree with it).
• The history of black-and-wwhite cinematography – from Its death to latest Oscar trend: Luci Marzola for IndieWire, with a great deal of relevance for the…
• The Tragedy of Macbeth – making the film: I'm no great fan of Joel Coen's adaptation but this b-t-s 13-minute feature from Apple TV+ is stylish and interesting:
• Ways of Seeing at 50 – how John Berger's radical TV series changed our view of art: Olivia Laing does a good job for Guardian, marking the fiftieth anniversary of the first transmission.
• How Who Killed Fourth Ward? challenged the nature of documentary filmmaking: for The New Yorker, Richard Brody is persuasive about the importance of James Blue's 1978 three-part investigation the destruction of a Black neighborhood in Houston, that is, he argues 'also a powerful self-interrogation'; the film is legally and freely available on a channel devoted to the director's work, and the first part is here.
• The undoing of Joss Whedon: a really extraordinary read, and a deeply depressing one – Lila Shapiro's interview for Vulture with the celebrity show-runner, director and misogynist.
• The BBC is so much more than a subplot in the Tory soap opera: first of two good Guardian pieces about the attack by the Tories on the BBC; this is by Zoe Williams and draws on a paper by Dan Hind and Tom Mills in the 2018 Open Democracy collection New Thinking for the British Economy, and…
• The fightback starts now! Here's how the BBC can survive the Tory assault: … thoughts from Mark Lawson.
• Britain's indifference to Molière's 400th is no surprise but it's still shameful: I couldn't agree more with Michael Billington, but at least we have this…
• Words and Music – Molière: … Radio 3's dependable anthology strand with extracts from translations of his plays and other writings, complemented by an eclectic playlist of music, and…
• Free Thinking – Adapting Molière: … a delightful Anne McElvoy-chaired discussion, also from Radio 3, about translating and adapting the playwright, with Liz Lochead, Clare Finburgh-Delijani and Suzanne Jones, and …
• The Miser: … a glittering new Radio 3 production adapted by Barunka O'Shaughnessy with Toby Jones, Holli Dempsey and Mathew Baynton. Which collectively justify my BBC licence fee for the first half of this year at least!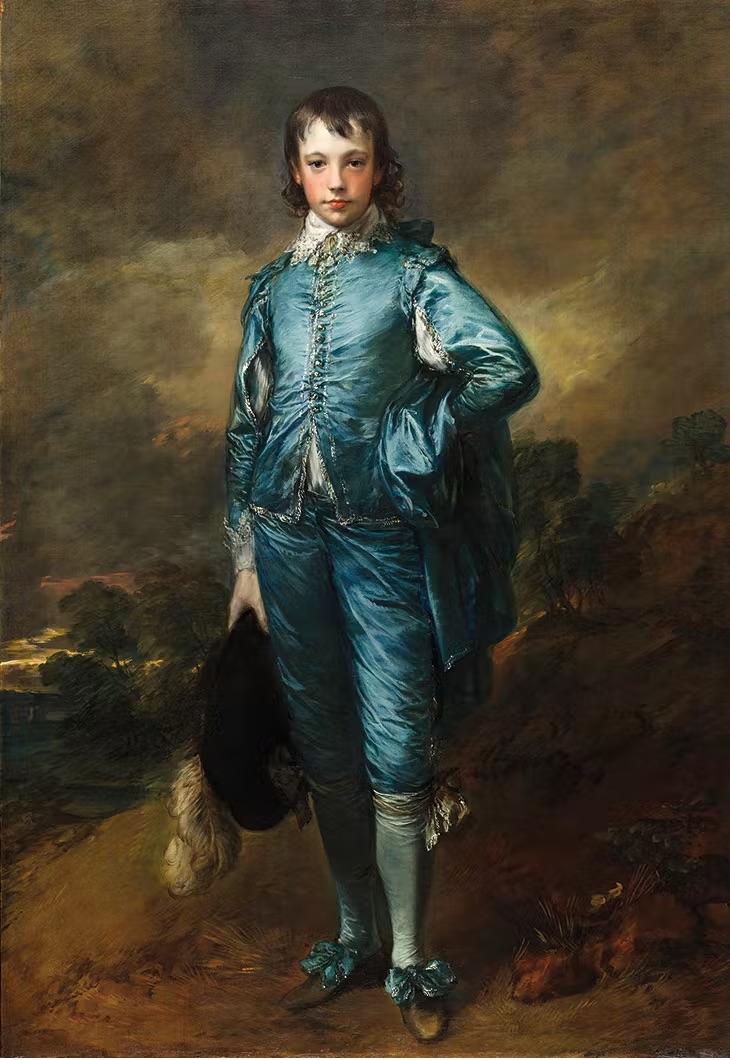 • Dress code – decrypting Gainsborough's dazzling boy portraits: Juliet Carey for Apollo is richly rewarding on a group of Gainsborough's work including the famous 1770 painting above, on loan from the Huntington to the National Gallery, 25 January–15 May.
• Damien Hirst and the art of the deal: included in Scott Reyburn's fascinating piece about the British artist for The New York Times is this quote that one might think could be applied to contemporary art in general: 'It's like being in a cult, and I'm the cult leader".
• Rethinking the sources of medical photography: I found resonances with my own work on interwar television, so little of which was recorded, in this blog post by Beatriz Pichel reflecting on her own practice as a historian of photography and on the loss of so many medical images:
The lack of photographs is often frustrating, but it's also exciting. It has challenged me to rethink my project, looking for sources in places where I was not expecting to look… It also means that the final image does not dominate my analysis anymore. The way I think about early medical photography now is not only informed by the photographs that I have seen, but by all the scattered and at times random references that I have read… How did doctors and photograph[er]s use photography in medical contexts? With which purposes? What were their expectations and what values did they attach to these photographs? Did they even care about what the final images look like?
• Going to the dogs – the post-war rebuilding of White City: fascinating urban and architectural history from Modernism in Metroland.
• Thomas Mann's brush with darkness: 'It is impossible to talk seriously about the fate of Germany in the twentieth century without reference to Thomas Mann,' writes Alex Ross in a very fine article for The New Yorker.
• On becoming Lucy Sante: from Vanity Fair, ' the renowned writer, culture critic, and scholar of the demimonde discusses her transition—and finding herself'.
• Harry Bleachbaker, by N. F. Simpson (1976): at the Neglected Books Page, David Quantick hymns the comic brilliance of N.F. Simpson.
• Foulest, vilest, obscenest: for LRB, Erin Thompson reviews David Freedberg's recently-published Iconoclasm:
Freedberg, who describes himself as a member of the 'bien-pensant liberal bourgeoisie', decries racism and the histories of oppression honoured by many of the monuments that protesters have targeted in recent years. But he can't condone their destruction.
• A virtual tour of the Old Library at Magdalen College, Oxford: I think this is just lovely, but then I might be a bit biased as this is my old college…