John Wyver writes: welcome to this week's listing of links to articles and a handful of videos that have engaged my attention over the past week. Stay safe and well.
• The extraordinary Sir Simon McDonald "clarification" – a guided tour: this was probably the piece I most enjoyed across the week – David Allen Green's forensic (and devastating) close reading.
• What do we need in a crisis? Broadcast TV!: John Ellis at CST Online is very good on media in this moment: 'Connection and reassurance, long the business of ordinary TV, have found their cultural role in this time of crisis. There is a new reality that we all share…'
• 'Can we do this without breaking the law?' Inside the first lockdown TV drama: Mark Lawson for the Guardian spoke with the makers of the starry Isolation Stories, shot in self-isolation and due to be screened by ITV from 4 May.
• How the coronavirus is changing television production: meanwhile, across the Atlantic, for Buzzfeed, Krystie Lee Yandoli explored ways of continuing to work pioneered by producers at Keeping Up With the Kardashians, Tonight with Jimmy Fallon, American Idol, The Walking Dead and more.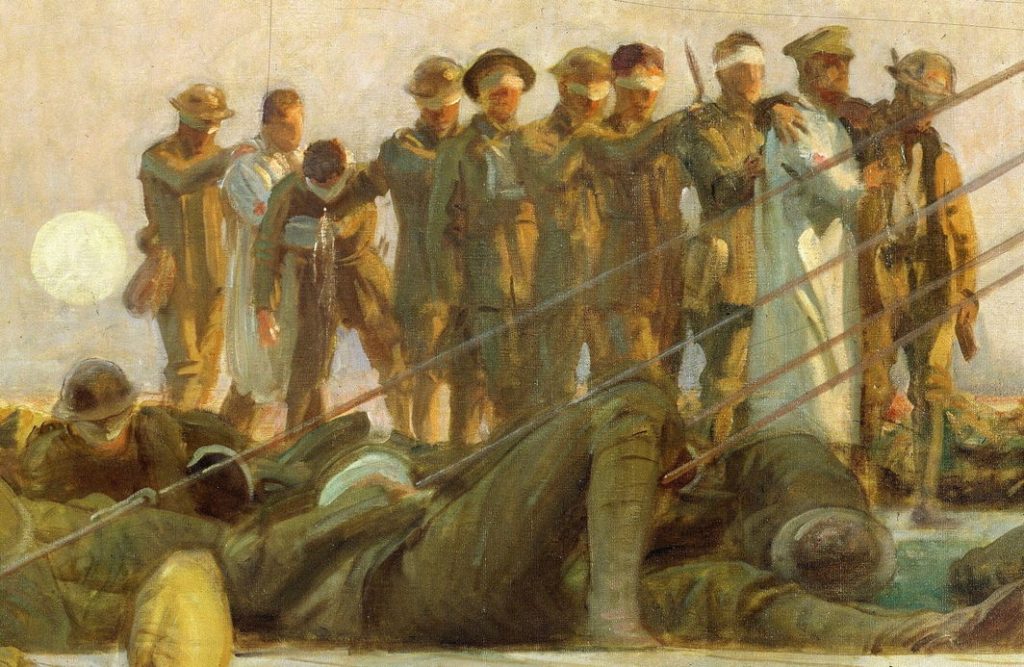 • Close contact: an illuminating essay by Michael Lobel for Artforum about art and the 1918 flu pandemic, taking in Duchamp, Munch, Schiele and especially John Singer Sargent's monumental canvas Gassed, 1918-19, from the Imperial War Museums collections (header image and detail, © IWM Art).
• What we miss without museums: this is beautiful and very true, from Rachel Cohen for The New Yorker.
• The untold story of the birth of social distancing: fascinating social, medical and political history from the mid-2000s, by Eric Lipton and Jennifer Steinhauer for The New York Times.
• The greatest films you've never seen: this really is a compendious listing, courtesy of the Department of Film at MoMA, of films, archive television and video, available online – some of the commercial services are only accessible in the USA, but many of the links work worldwide, including the Jean Desmet collection from Amsterdam's EYE Filmmuseum; more information here – and meanwhile enjoy this 1913 Vitagraph comedy of backstage theatrics directed by James Young:
• Media playlists: as for other recommendations of what to watch, I'm a big fan of these curated recommendations from the Centre for Screen Cultures at the University of St Andrews; one of this week's additions is Lucy Szemetova's 'Hungarian cinema in 12 + 1 (mostly) contemporary films'.
• Hollywood starts here, or hereabouts: David Bordwell is a essential as ever on the 1917 Thanhouser studio production of The Woman in White, adapted from Wilkie Collins, which is currently available here on Vimeo:
Apart from its entertainment value, the Thanhouser Woman in White can teach us a lot about film history. Why? Because it sums up very forcefully what American narrative cinema could do in that crucial year 1917. Forget your Griffith, leave aside (regretfully, just a moment) your Webers and Harts and Fords and Fairbankses. The mostly unheralded team of screenwriter Lloyd Lonergan and director Ernest C. Warde have given us a concise demonstration of the power harbored by classical Hollywood from the start. The storytelling tools assembled in that era remain with us still.
• Aleksandr Dovzhenko, hillbilly avant-gardist: Jonathan Rosenbaum on the Soviet director, for Mubi.com.
• The provocative TV drama that predicted the rise of reality TV: Adam Scovell on the 1968 BBC drama The Year of the Sex Olympics, written by Nigel Kneale and directed by Michael Elliott, newly released on DVD by the BFI here's a scene…
• April 18: What, and who, makes a great photographers' gallery?: James McArdle on, amongst other things, the wonderful Sue Davies who died this week and the early history of her legacy, The Photographers' Gallery.
• Ready for surprise – Joel Meyerowitz interview 2020: Jim Casper at Lensculture speaks with the great American image-maker about street photography and more- available as audio and a transcript, with compelling visuals.
• The real story behind that viral photo of President Johnson during the Vietnam War: at Gizmodo, Matt Novak is terrific on this…
• How Facebook works for Trump: Ian Bogost and Alexis C. Madrigal for The Atlantic:
Facebook wired a machine into electoral decision making. Political campaigns have ceased to communicate with voters and have begun to communicate with AI instead. Facebook's artificial intelligence for delivering advertising is already a crucial component of a winning 2020 campaign—perhaps the crucial component. And it works in a tangled, outlandish way that no human, not even at Facebook, can ever fully understand.
• Mobile libraries – culture on the go: a lovely slice of cultural history, with great images, from Joseph Smith at the The Unwritten Record from The National Archives in the USA.
• Review: Was Andy Warhol a saint or scourge, genius or dolt? A new biography befits a great life: for the LA Times, Stephen Metcalf is very good on Blake Gopnik's new biography and on the possible impact of Covid-19 on 'Warholism' and the 'second gilded age' to which it was so central.
• Judd: more from MoMA – a rich range of resources in text, audio, images and video that give a strikingly strong sense of the museum's recent Donald Judd retrospective.
• The master of unknowing: Susan Tallman for New York Review of Books on Gerhard Richter.
• Mike Davis in the age of catastrophe: Dana Goodyear for The New Yorker on the writings of the pre-eminent chronicler of California's recent history.
• Shipwrecked: a challenging read by Adam Schatz for LRB on Covid-19 and Amin Maalouf's 2019's essay, Le Naufrage des civilisations ('The Shipwreck of Civilisations'):
When did the ship begin to sail off course? Maalouf places emphasis on 1979, the 'year of the great turnaround', when Thatcher and Reagan declared war on social democracy and the welfare state, Khomeini came to power in Iran, Deng Xiaoping opened China to the market, and the Soviet Union launched its ruinous invasion of Afghanistan. Disparate as these events were, Maalouf believes they all form parts of the same historical shift, as free-market ideology and religious fundamentalism not only prevailed over communism, but led to the weakening of social democracy, secularism and other universalist ideals…

'Conservatism became revolutionary' while the left became conservative, forced to defend the gains of the past. The result today is clear: a 'world in decomposition' in which 'most … have ceased to believe in a future of progress and prosperity.'
• De-Centering Arendt – on the first edition of Hannah Arendt's Complete Works: Jana V. Schmidt for LA Review of Books on a major scholarly project scheduled for completion in 2031.
• Feminism, authorship attribution, and the value of the hidden work of data 'cleaning': a very good post by Rachel White at 'The Thomas Nashe Project Blog'.
• A Bit Lit 21 – John Wyver on early TV history and contemporary broadcast theatre: and finally, this is me this week speaking with charming, super-smart Andy Kesson for the terrific online project that he has assembled with Emma Whipday and Callan Davies.