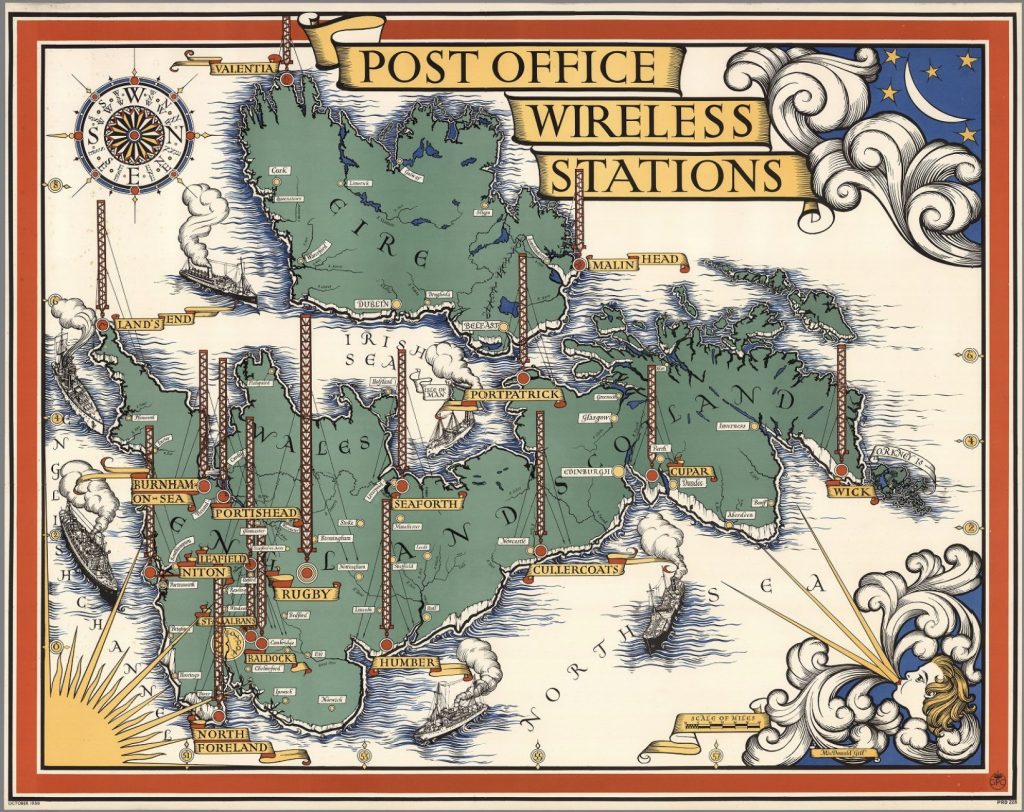 John Wyver writes: welcome to the weekly round-up of bits and pieces that have engaged and informed me over the past week. One little change: I've experimented by making (most of) the links open a new tab, which is not how I've organised the page before – good idea?
Unusually, the header image is not linked to any of the specific links but is simply something that I saw Tweeted by @OSaumarezSmith and which I think is all kinds of wonderful: a 1937 map by MacDonald Gill showing the location of the GPO's radio masts. I know little about Gill, Mac (brother of Eric, apparently) but I'm now keen to know more, and 'MacDonald Gill (1884-1947)' from The British Postal Museum & Archive blog in 2012 is one place to start.
• [Update] I've now discovered there's a fascinating and beautiful website devoted to MacDonald Gill and his work, compiled by his great-niece Caroline Walker – and there's a book too, forthcoming from Unicorn Press.
Plus, the University of Brighton Design Archives has a really good digital resource about MacDonald Gill, created in 2011.
• The British Library simulator: let's begin with something silly but in its way, sublime — a simulator of the building in Euston Road that so many of us are missing, built by the BL's Curator of Digital Publications Giulia Carla Rossi using the Bitsy game engine; background and intro here.
• Initial lockdown meeting: of course, I had to include this, even though you (and 170K others to date) have already watched it:
• Britain's pride in its past is not matched by any vision for its future: an essential Guardian opinion piece by Timothy Garton Ash.
• The Dunkirk delusion – from our finest hour to the coronavirus crisis: another valuable contribution to the debate about the meanings of World War Two today, from David Reynolds in the New Statesman.
• Out of the belly of hell — COVID-19 and the humanisation of globalisation: an uncompromising and brilliant long read from Anthony Barnett at openDemocracy.
• What kind of country do we want?: Marilynne Robinson writes for New York Review of Books about the USA, but there's much wisdom and many lessons for those of us on this side of the Atlantic.
• An aerial view of New York City's pandemic: a remarkable video from The New Yorker, shot by Zack Taylor, introduced by Micah Hauser…
• The drones were ready for this moment: … strong analysis of the imminent Drone Age from Alex Williams and colleagues for The New York Times.
• Class of 19/20 perform "When I Grow Up" | Matilda The Musical: to cheer us up after all that (and there's something extraordinarily resonant about this just now):
• 'Everybody needs a place to think', or do they? – the end of BBC Four, arts programming and precarity: Leanne Weston at CST Online with some nuanced thoughts about one of the media stories of the week – I don't agree with all of the analysis but this is definitely worth a read.
• TV adapted quickly to coronavirus. Does it have the guts to show what comes next?: interesting thoughts from LA Times television critic Robert Lloyd.
• The memory lane that runs through A Kid for Two Farthings: Elia Taylor for Criterion on Petticoat Lane and Carol Reed's under-appreciated 1955 fantasy of London life.
• Queer Empire – on the 40th anniversary of The Empire Strikes Back: for Los Angeles Review of Books, a brilliant demonstration by Rebecca Harrison of how to make you look at a familiar movie entirely differently.
• How one Yesterday screenwriter's dream became something of a nightmare: one more tale of a movie writer getting screwed, this time it's Jack Barth, with Richard Curtis appearing to be the bad guy, on the Danny Boyle movie Yesterday; by Vince Mancini at Uproxx.
• @biilt drew my attention to this important thread:
• And @alexrossmusic showed me the way to Das Rheingold: Coronadämmerung with Jamie Barton, Ryan McKinny and Kathleen Kelly…
• Villiers de l'Isle-Adam meets Richard Wagner: … and here's a splendid little excerpt of Alex Ross's forthcoming book Wagnerism.
• In Guy Vaes's footsteps: an irresistible Diary column by Iain Sinclair in Belgium, for London Review of Books.
• The Birth of a London Slum – the St Giles Rookery and the geoeconomic factors behind slum development: here's an excellent example of what's not exactly a new format, but is one that has been given new life in these times, the video lecture; Adam Crymble, Leeds Beckett University, presented this during the week as part of the British History in the Long Eighteenth Century Seminar at London's Institute of Historical Research:
• Before the Internet, there was the 1960s Dial-a-Poem Hotline: fascinating cultural history, and wonderful images, from Messy Nessy Cabinet of Chic Curiosities.
• Richard Sadler – Coventry post-war photographer 'pre-eminent': an online BBC celebration, with some great images, of the photographer who has died at the age of 92. I hope to use some of his images in a documentary for next year about the building of Coventry Cathedral. See also this personal tribute by John Cooper.
• Front page, The New York Times, 24 May 2020, together with the story of how and why it was assembled, The project behind a front page full of names; the online interactive version is equally extraordinary and compelling.