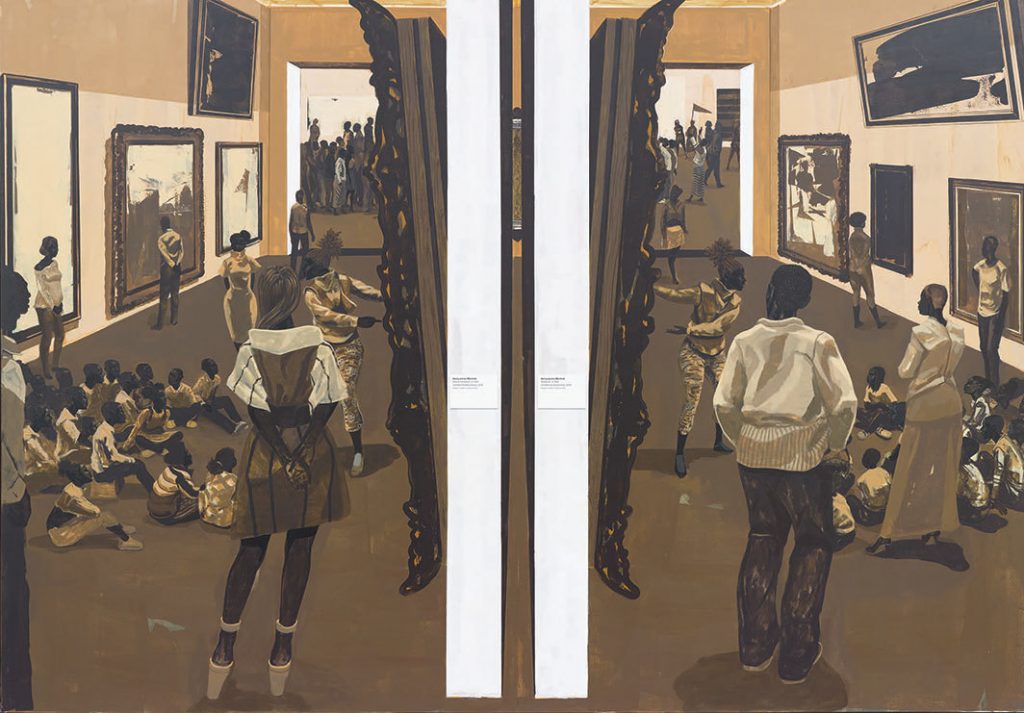 John Wyver writes: another group of links to articles, occasional videos and Twitter threads that have engaged and on occasion challenged me over the past week – thanks, as ever, are due to those on my Twitter feed that so unselfishly recommend great writing and reading.
• John Lewis was an American founder: lots of exceptional writing this weekend about the late and truly great activist, and this is among the best, by Adam Serwer for The Atlantic.
• 'White fragility' is everywhere. But does antiracism training work?: complex writing on a complex topic – Daniel Bergner on the works and teachings of Robin DiAngelo, for The New York Times.
• Rethinking collections research: 'Head of Collections [at Science Museum Group] Tilly Blyth examines how the choices we make about what to research can help us to understand the role objects in our collection had in supporting colonial structures and the new roles the collection might play in creating spaces that are open for everyone.'
• Flailing states: a wide-ranging, coruscating LRB essay about Anglo-America from Pankaj Mishra.
• Let them eat cake: for Avidly, this is excellent by Adam Fales about consumption, anti-capitalism and this…
• I walked all 1,114 blocks of my ZIP code just to catalog how people style their house numbers: honestly, this is terrific – from Dan Kois via Slate:
The numbers on your house do more than identify your address for the postman; deployed properly, like the perfect pair of earrings, house numbers accentuate a harmonious visual message in concert with the design around them. Sometimes that message is one of individuality: My house, the numerals say, reflects my own personality, and is unlike any other house you might encounter. Sometimes it's a message of conformity: My house fits in securely with all my neighbors'.
• Ozu's silent talkie: Passing Fancy (1933) on The Criterion Channel: you may not be able to access Criterion's USA-only streaming service (unless you avail yourself of a VPN connection), but you can enjoy a new David Bordwell-authored short video on how the Japanese director Yasujirō Ozu sometimes relied on sound in a silent film.
• La Flor – seven propositions: dazzling Adrian Martin for mubi Notebook on Mariano Llinás' thirteen-and-half-hour 2018 spectacular, preparing you for 'its special pleasures of progressive dissolution and paroxysm.' As an intro, perhaps also read Phil Hoad last September for Guardian.
• How virtual cinema could help arthouses secure their future in 7 easy steps: interesting reflections via IndieWire from veteran distributor Ira Deutchman.
• Celebrating the first British television drama: a fine post on the BBC Archives blog from Jamie Medhurst marking the 90th anniversary this past week of the broadcast by the Baird Company and the BBC of Pirandello's The Man with the Flower in his Mouth.
• Louis Mahoney (1938-2020) – trailblazing Doctor Who actor and fearless campaigner: a tribute to the actor and activist by Stephen Bourne at BFI.
• We can't erase outdated TV shows, but we can hold their views to account: sensible words from Channel 4's editor-in-chief Dorothy Byrne.
• Netflix 30 Q&A index: links to all of the the currently available, richly informative posts by Amanda Lotz on the strategies of the streaming giant; these are great on the differences between online services and broadcast television.
• The tech giant's invisible helpers: Shira Ovide is very good on the politics of internet infrastructure, from The New York Times.
• Strasbourg 1518: reliving a 16th-century 'dancing plague' in lockdown: Sarah Crompton for Guardian on the making of the Jonathan Glazer / Artangel / BBC Films performance which premieres 10pm, tomorrow night, Monday 20 July, BBC Two, and then on BBC iPlayer.
• What do you hope for?: beautiful and powerful from artists with English National Opera – 'Nine people from around the world and living in London sing, dance, speak and play, exploring what it means to raise your voice for the colour of your skin.' Curated and directed by Simone Ibbett-Brown; film by Nick Kofi:
• Cézanne and his love affair with the rocks of Provence: Ann Dumas for the Royal Academy on the now-cancelled exhibition; you can also take a video tour of the show with curator John Elderfield, courtesy of the Princeton University Art Museum.
• Oskar Kokoschka and his doll of Alma Mahler: a truly weird and wonderful from the ever-entertaining and enlightening @WhoresofYore:
• Reality tests: Tim Griffin for Artforum on Hal Foster's collection What Comes After Farce?:
In conclusion, Foster suggests that this changed landscape makes previous formulations of critique implausible. The task of the critic should no longer be to force to the surface buried truth (the 'unconscious'), but instead to introduce some alternative sense of possibility—or, better, to 'produce an interruption, a crack or gap, that might allow a different reality to emerge.' The cracks today are all around us. But in a timely way, Foster himself has produced a meta-painting in line with [Kerry James] Marshall's Untitled (Underpainting) (above) or Velázquez's Las Meninas; he grounds us complexly in a culture reverberating with different modes of representation that are themselves irrevocably bound up with our grasp of reality.
• Re-covered – The Orlando Trilogy: Lucy Scholes for The Paris Review on Isabel Colegate's masterwork, originally published as three separate novels, Orlando King (1968), Orlando at the Brazen Threshold (1971), and Agatha (1973), and now reissued by Bloomsbury under the title of the first: 'If I were asked to describe the trilogy in only one line, I'd call it an impressive historical family saga that critiques the intertwined evils of hereditary privilege and capitalism.'
• Inside the feminist publisher that upended the literary world: Melissa Benn for New Statesman on Lennie Goodings' A Bite of the Apple: A Life with Books, Writers and Virago.
• Living through turbulent times with Jane Austen: a personal story from Rachel Cohen for The New Yorker.
• Seaside Bar Song (Studio Outtake – 1973): audio only, but I'd not heard it before, and it's three minutes and 32 seconds of pure joy – 'I want to live a life of love while the night's still young':
Header image: Kerry James Marshall, Untitled (Underpainting), 2018, acrylic and collage on PVC, 84 × 120 × 4″. © Kerry James Marshall.