John Wyver writes: I am increasingly fascinated by British television in the early to mid-1950s. This was a moment when the medium was becoming increasingly confident and an ever more significant presence in both public life and in the private lives of viewers. But it was also when the BBC's television monopoly, which – with a break for the war – had been protected since late 1936 was challenged by discussions about and then the establishment of a new commercial service, ITV, which went on the air in London in September 1955.
Since tele-recording of live broadcasts began only in 1953 and was still a complex and expensive process, we have very few programmes from this moment. Those that do exist are richly revealing of the potential of the medium, as well as its still significant limitations and its underpinning tensions. One such survivor, which seems to be all-but unknown in the histories, is the BBC broadcast This is Music Hall. A 90-minute variety spectacular, this speaks revealingly of television's close relationship with the theatre and the music hall, of the BBC's deep unease about ITV, of a concern about the Americanisation of culture, and more generally of the tensions between the past and the future of entertainment.
'The big battle for the day of rest'
Broadcast on Sunday evening 9 October 1955, This is Music Hall is framed as a tribute to the Grand Order of the Water Rats. Somewhat oddly, it celebrates the 66th anniversary of the founding of this fraternity and charity-giving society open only to male variety artistes, and it includes towards the close birthday wishes, along with a cake and choral serenade, for the 93 year old Fred Russell. Russell, who died two years later, is known as 'the father of modern ventriloquism'. He had started performing his act with a figure seated on his knee in 1882 and was still doing his turn on television as late as 1952, although here he contributes only a spirited speech of thanks.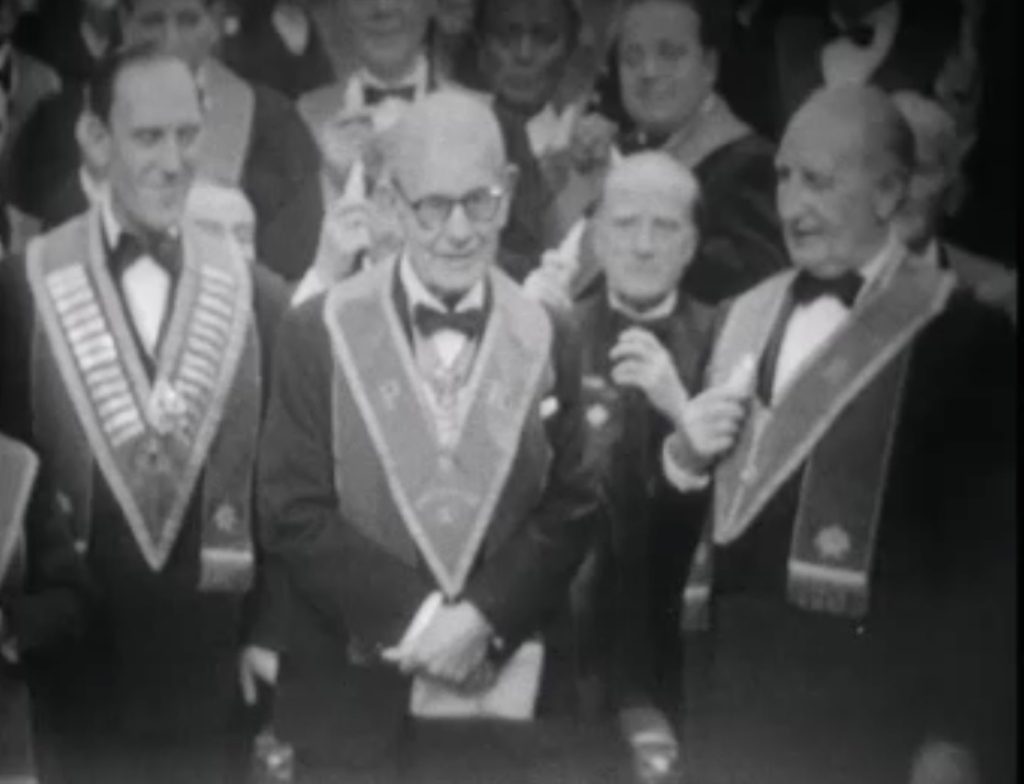 (As a sidebar thought, it occurred to me that Fred Russell might be the earliest-born person to appear on British television in a broadcast of which we have a recording. Since he came into the world in 1862, he would have been 74 when the BBC started its service in 1936, and I could think of no-one in the few surviving traces of pre-war material who would have been that old. But when I raised this on social media, the peerless Dick Fiddy pointed out that there is a 1946 BBC film report of George Bernard Shaw on his 90th birthday, which definitely gives the title to GBS. )
This is Music Hall was scheduled directly opposite the third edition of ITV's Sunday Night at the London Palladium. ITV had gone on the air only in London just over a fortnight earlier on 22 September (when the BBC was also broadcasting to the Midlands), but this Val Parnell-produced spectacular for ATV was already acknowledged as a popular hit. The edition on 9 October 1955 featured Norman Wisdom as compère, along with his regular straight man Jerry Desmonde and The London Palladium Girls, more generally known as the Tiller Girls. Desmonde presented the popular 'Beat the Clock' competition, which was an acknowledged American import, having been licenced from CBS and Goodson and Todman (although TV Times that week credited Goodman and Todson).
Two weeks before, the first edition of Sunday Night at the London Palladium had been hosted by Tommy Trinder (below), but since he was the current 'King Rat' he was the master of ceremonies for This is Music Hall.
The BBC's uneasiness about ITV is immediately present in the voice-over that introduces him: 'And here, kidnapped*** from commercial television – thanks Val – is King Rat, Tommy Trinder.' Stepping forward, after this knowing name-check to Parnell and as curtains close behind him, Trinder's first words are:
Good evening, everybody. How do you do? And now for those who've never seen commercial television, I've got news for you – tonight you're going to see commercial television.
(*** Another sidebar, with regard to the use of 'kidnapped' here. Throughout 1955 numerous BBC production personnel had left the corporation to take up better-paid jobs at the new ITV companies. Commenting on this in his speech to the opening night gala of ITV, broadcast live from the Guildhall, the Independent Televiusion Authority Chairman Sir Kenneth Clark had praised the companies for having 'discovered and equipped their studios [and] collected – or should I say kidnapped their staff'. Cue laughter from the ITV bosses.)
Tommy Trinder continues referencing ITV as he describes the Water Rats as 'a firm that's been established for 66 years. We sell laughter, song and dance. And those, ladies and gentlemen, are our commercials.' Yet with a very few exceptions, of which more below, the bill was decidedly backward-looking and was in no sense packed with stars that 'Val' would have been on the phone to for the Palladium.
Writing in The Listener (13 October 1955), Philip Hope-Wallace recognised the significance of the scheduling, describing it as 'the big battle for the day of rest… between the Commercial's weekly Palladium visit and the BBC's monster Water Rat gala':
… it wasn't such wonderful television, fun though it be merely to glimpse so many gallant topliners. The jokes were like a celebration to the corn goddess: female impersonation, effeminacy, all the dear old staple jests were trotted out. The trouble is that this sort of show flatters the immediate audience at the viewers' expense. The merry roar goes up in the hot communion of the theatre; but sitting at home, what we most clearly feel is 'out of it'.
The acts on show include Harry Lester and the Hayseeds, a all-male comic hillbilly band, comics Charlie Chester and Jimmy Wheeler, female impersonators Clarkson Rose and the Rosebuds, pianist Charlie Kunz, monologist Rob Wilson, minstrel group The Water Rats (mercifully not in blackface), and bagpipe player Jock McKay. Somewhere in the midst of all this a choir of ladies in long frocks are introduced as 'the Grand Order of Lady Ratlings'. Needless to say, the humour throughout is riddled with casual misogyny.
One poignant moment is provided by a fragment of film from America featuring Stan Laurel and Oliver Hardy sitting together at a table recollecting a string of British music acts who were Rats as well as some American stars: 'Peter Lorre, Danny Kaye… 'Let's stick to the people they've heard of,' Ollie says. This was just over a year after their final stage appearance in Plymouth during their UK tour, and less than two years before Hardy's death.
Putting on the show
Throughout the broadcast, Tommy Trinder does his best to conjure up the 'hot communion' hoped for by Hope-Wallace, and insistent laughter and applause from a mostly unseen audience also contributes to a degree. But many of the venerable acts were honed for the music hall where communality was central to the experience, and it is all too apparent that although the new medium is straining to achieve this it is falling far short. The Good Old Days, which began as an irregular series from the City Varieties Music Hall, Leeds, in July 1953, and which ran, remarkably, for 30 years, managed this rather better, in large part by foregrounding the theatricality of the show and incorporating the audience.
(For more on television, theatricality and communality, in particular in relation to pantomime on television see Lawrence Napper's rich post from December 2019, Pantomime and Television: Aladdin and his Wonderful Lamp (1966) at the BFI Southbank; Napper draws on ideas in Richard Dyer's BFI Television Monograph 2: Light Entertainment (1973), which should be much more often cited by scholars than I suspect it is these days.)
Although there is no sense of a proscenium, and as far as I can tell the programme was broadcast from a studio, presumably at Lime Grove, and not from an actual auditorium, the set-up is that of a theatre stage with a prominent curtain. This facilitates hidden scene changes for the very basic, painted sets. Camerawork throughout alternates head-on wide shots and mid-shots. About halfway through the show Tommy Trinder reveals a mostly elderly audience attired in evening dress, and introduces a handful of celebrities including the humorist, playwright and MP Alan Herbert and the holiday camp entrepreneur Billy Butlin. These and others submit to gentle ribbing while also committing to charitable donations.
Overall, the set-up feels stolid and staid, and would I suspect have felt restricted and old-fashioned even at the time, especially when contrasted with the much more fluid, open and determinedly modern style of Sunday Night at the London Palladium which was made possible by ATV's outside broadcast cameras.
The producer of This is Music Hall was the light entertainment and comedy stalwart Graeme Muir, and the basic production design was by Richard Henry, who had been a BBC studio designer since 1950, and who would become a well-established drama designer working on, among much else, Z Cars (1962-69), The Wednesday Play (1964-69) and some sixteen productions for Play for Today (1970-79). A "devised by" credit is accorded to George Wood, who in his professional persona as Wee Georgie Wood also make a brief appearance on-screen. IMDb describes him as a 'pint-sized, squeaky-voiced British music hall comedian, a performer from the age of five.' He had been an exceptionally popular pantomime star, known as 'the Boy Phenomenon' (do look up his Wikipedia bio), and was King Rat in 1936.
Perhaps the most intriguing credit, however, is that for writer Hy Kraft, who was a noted Broadway playwright and producer but who had been blacklisted in 1950 after being named before the House Un-American Activities Committee by Artie Shaw. Kraft was a prominent member of Hollywood's leftist community, had been a signatory on Fritz Lang's citizenship papers, and he refused to offer 'friendly' testimony. He had written the successful musical Top Banana (1950) for Phil Silvers, which was then filmed – somewhat disastrously – in 1954. Quite how he became involved in This is Musical Hall is something of a mystery, although he may have been working in London with lyricist Eric Maschwitz on the musical Summer Song which opened in London the following February.
The shape of things to come
75 minutes in, after a communal chorus of 'I Belong to Glasgow', the show unveils Max Bygraves, and we are jolted into a whole new world of entertainment. First off, he affects an American accent for his own 1952 hit 'Cowpuncher's Cantata', which had been produced on record by George Martin at Abbey Road, and he delivers it here with all the energy and excitement that had been missing from the show so far. Even the camera seems to recognise this as it creeps closer.
Speaking to the lens, with an easy familiarity, he plugs his new musical, which although he doesn't say so is a Val Parnell production for the Palladium. At the same time he reflects just a trace of unease about the impact of American culture, when he says of the show, 'It's very unusual, and I'll tell you why — because it's British.' Following which he goes into the show's signature number 'Meet Me on the Corner', which would chart the following month before reaching No. 2. In the song's arrangement, which feature plenty of brass, in his easy movements, in his clothes, and in his voice, Max Bygraves effortlessly puts across a sense of youthful contemporaneity.
After which, we scroll rapidly backwards for the birthday greetings to Fred Russell, including a hyperbolic speech on behalf of the BBC by Ronnie Waldman, who was then Head of Light Entertainment, before a finale (as in the header image). with the massed ranks of the Water Rats singing the National Anthem and paying homage to a portrait of Her Majesty Queen Elizabeth.