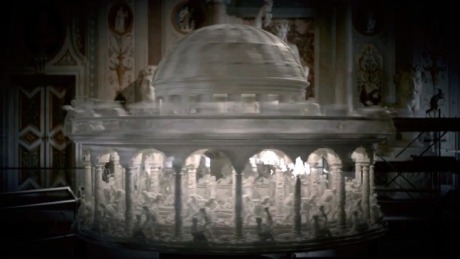 I've had a wonderful birthday week in France, and now I'm back with all sorts of new challenges to face. Here's a selection of three things for today, before – inspired a bit by my birthday blog – I start posting more seriously once again.
• Revolution of the Eye – Modern Art and the Birth of American Television: I *really* want to see this new exhibition at the Jewish Museum in New York (until 27 September); fortunately there's a book too, by Maurice Berger with an introduction by LynnSpigel; see also this review by Mike Hale for The New York Times.
• Nitrate days and nights: David Bordwell on an event that I wish I could have been at – The Nitrate Picture Show at George Eastman House; see also a column by Richard J, Leskosky for The News-Gazette.
• 'All Things Fall': an astonishing 3D printed zoetrope (also above) created by Mat Collishaw based on 'The Massacre of the Innocents' by Rubens, with 3D modelling and animations by Sebastian Burdon.
All Things Fall – 3D printed zoetrope by Mat Collishaw from Sebastian Burdon on Vimeo.