John Wyver writes: Among my television ephemera is a handsome 12-page pamphlet printed in black and red on high quality paper published by the BBC in the late summer of 1960. 20 new plays presented by BBC Television (respecting the modish use of the lower-case) looks forward in celebratory fashion to a season of Sunday-night drama productions between 25 September 1960 and 5 February 1961 which were all original commissions for the medium. Among the authors are names with which we are familiar today including John Whiting, Elaine Morgan, John Osborne, John Hopkins and Jack Pulman, together with a number who even committed historians might struggle to identify, such as Harry Green, Beverley Cross and Lindsay Hardy.
This season of dramas, of which I believe five survive, has next-to-no presence in television history, perhaps in part because it was not graced with an anthology title. But I want to suggest that it was a significant initiative by the BBC that complicates the generally accepted genealogy of original contemporary drama for the medium. ABC's Armchair Theatre (1956-74) under producer Sydney Newman is most often valorised as the late 1950s and early 1960s powerhouse of such drama – challenging, socially concerned, and realist as per the writings of Raymond Williams. The impetus then passes, so the mainstream history goes, to the BBC only when Newman moves there at the start of 1963 to create not only Doctor Who later that year but crucially The Wednesday Play (1964-70) from the autumn of 1964.
20 new plays demonstrates that under Newman's predecessor as Head of Television Drama, Michael Barry***, the BBC was significantly more committed to new work for television than has perhaps been recognised. Even if, as we have to acknowledge, the editorial choices resulted in work that appears to have had less impact than the celebrated productions of Armchair Theatre. Nonetheless, these commissions should be better known – just as Barry deserves to be more fêted than he is (a mis-judgement that I plan to address more generally) – and I'm going to devote a strand of blog posts between now and the new year to exploring what it is that we can know about these 20 plays.
In his introduction to the pamphlet, 'New writing in television', Michael Barry suggests that December 1954, at that point not even six years ago, was 'the date on which the specially written television play arrived'. This was the moment when Nigel Kneale's adaptation of George Orwell's 1984 transfixed the nation, or at least that part of it with a television set, and led to questions in Parliament. (Barry uses the numeric form of the title although it is most often written as Nineteen Eighty-Four.) As Barry notes, '1984 reached a nation-wide audience stretching from the south as far as Scotland and television drama was recognized as a force in the land.' And this nearly a year before ITV, which of course receives no mention in Barry's text, went on air.
Barry is also keen to establish an earlier pedigree for the form:
We must remember, however, that the major Duncan Ross scripts were already known [in late 1954]; that Iain MacCormick's first play cycle, of which the best two plays had been revived that summer, had reached the screen; that the standard of adventure serials had already been established by Francis Durbridge; and Donald Wilson was among those contributing regularly to the screen. Behind this group, and by that time a memory of the past, were the first producer-writers, led by the distinguished author, Denis Johnston, the first post-war Head of BBC Television Programmes. The play, The Silence of the Sea, transmitted on the first evening that television re-opened in June 1946, was dramatized especially for the home screen…
… and indeed had been produced by Barry himself. Johnston, Ross, MacCormick, even Wilson, who scripted one of the 20 New Plays, are largely forgotten figures today, but as Barry suggests each is deserving of more attention. He continues with an overview of the television writing world in 1960, employing a masculine pronoun unthinkingly, despite the 20 new plays commission to Elaine Morgan as the sole female writer:
Today the number of television writers has increased to three figures and, most important, they are a professional community close to the workshop of production of which they form a part until the moment of performance. Television, in this regard, provides the playwright with a unique position. Too often, in cinema, and even in the theatre, he is only a subordinate member of the group of craftsmen who prepare a production.
'… even in the theatre …' Really? I hardly think so. But nonetheless it's revealing to see here such a clear proposal of the unique status of the writer in television drama.
Barry recognises that the choice of authors in 20 new plays is far from exhaustive:
I welcome the return of John Whiting to authorship for television and the theatre after too long a silence, the presence of a first television work by John Osborne, and the advent of new names among others which are already known to the discerning. But there is no more significance in the omission, for example, of John Mortimer, John Arden, Terence Dudley, Willis Hall, Nigel Kneale, Iain MacCormick, John Prebble, Denis Constanduros, and Frank Baker, than that their next works are in preparation and will strengthen the months that follow.
No further women, we might note, and – perhaps inevitably – no sense of a non-white author. But there are other intriguing absences too, including the established television author Alan Plater and also Harold Pinter, who had scored a singular success in April with A Night Out for Armchair Theatre. Perhaps, however, they were too strongly associated at this point with ABC. One might have thought Giles Cooper would be on the list, since he had been contributing radio adaptations and new plays since 1950 and would be a key figure in television drama's next decade. Acclaimed theatre writers are missing too, such as Arnold Wesker and Shelagh Delaney. So who had in fact been tapped for one of the 20 new plays? The full list is as follows:
A Walk in the Desert by John Whiting
The Unplayed Part by Leopold Louth
The Ruffians by Alun Owen
Pay Day by Roderick Barry
The Chopping Block by Vincent Tilsley
Looking for Garrow by Elaine Morgan
A Subject of Scandal and Concern by John Osborne
The Wind and the Sun by Colin Morris
The Squeeze by Harry Green
The Nightwalkers by Beverley Cross
The Assassins by Lindsay Hardy
Song of a March Hare by Leo Lehman
A Time to Fight by Barry Thomas
Tuppence in the Gods by Michael Voysey
Nearer to Heaven by Jack Pulman
Venus Brown by Rex Tucker
A Woman Comes Home by John Hopkins
Off Centre by John Elliott
A Kind of Strength by N.J. Crisp
The Intervener by Donald Wilson
Of these titles, I believe 15 were either never recorded or were subsequently wiped. The Chopping Block and Looking for Garrow both exist, at least in part, but are not currently digitised in the BBC Archive. I have, however, been able to view three other extant titles: John Osborne's A Subject of Scandal and Concern, The Wind and the Sun by Colin Morris and Michael Voysey's Tuppence in the Gods, which was the main drama offering on Christmas Day 1960. These will be discussed in future posts, along with the inaccessible pair and the dramas we have lost. Lots of interest here, I think, and and the makings, I hope, of an enjoyable and stimulating holiday journey.
Meanwhile, to whet your appetite further, here is the page from Radio Times (23 September 1960) with Michael Barry's announcement of the series. Despite this being a series of original dramas for television, the idea of a theatrical opening night retains its allure: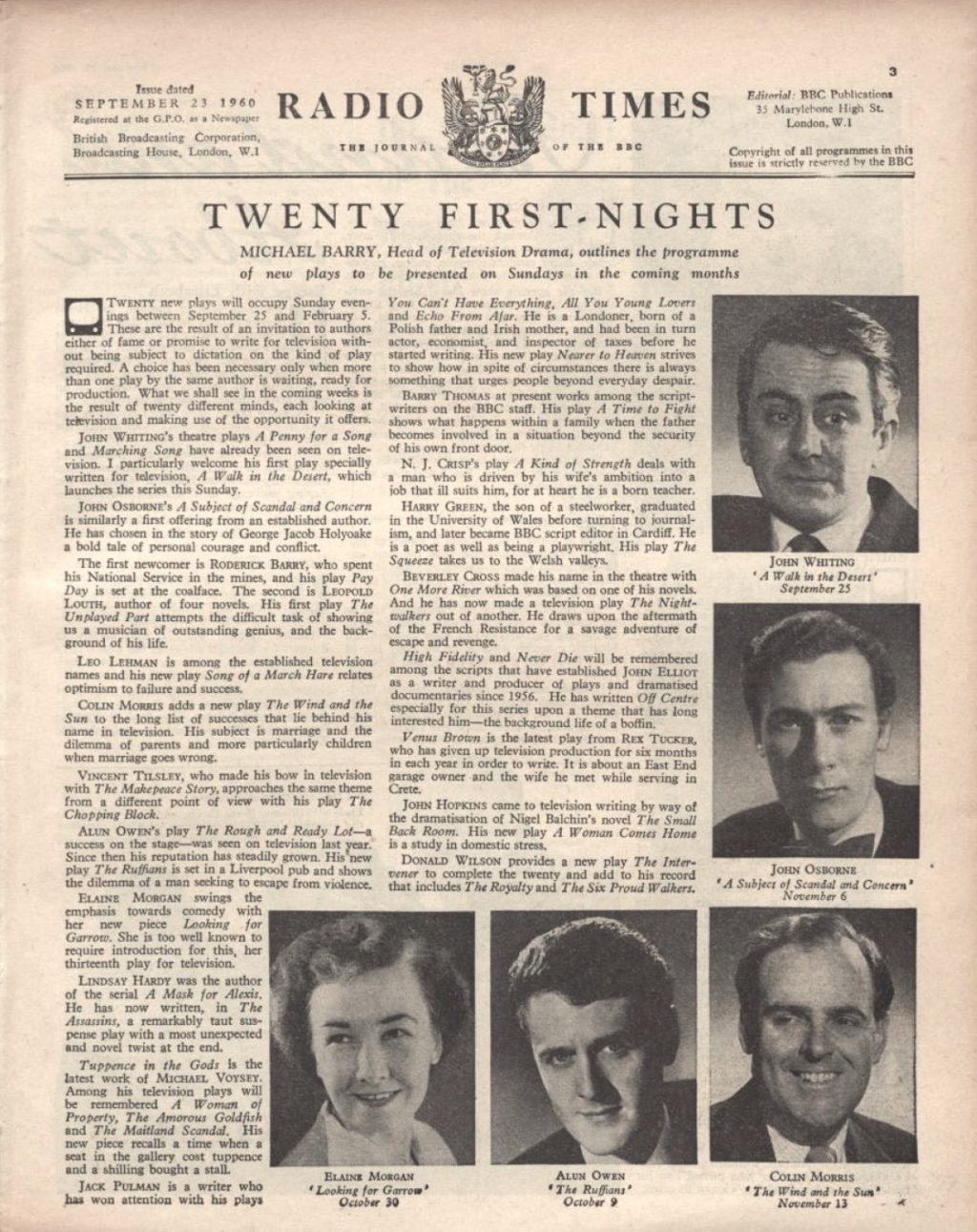 *** For more on Michael Barry, see Oliver Wake's exceptional post for British Television Drama, originally written in 2010 and substantially updated in 2013; this includes an extensive (and invaluable) list of Barry's producer credits.
Other posts in the series: