John Wyver writes: this is the second of a series of posts, which began here, in which I am chronicling the making of our BBC Four documentary, Drama Out of a Crisis: A Celebration of Play for Today. The 90-minute film will be broadcast in mid-October to mark the 50th anniversary of the start of this important strand of single dramas that ran on BBC1 from 1970 to 1984. As before, although there is nothing by way of a narrative spoiler, you may prefer to wait to see the film before reading this.
Any such film about the history of television and film almost inevitably features both archive extracts and interviews, and there is a long tradition of such productions in which innumerable small variations in the use of both elements have been employed. I'll discuss our use of the archive in a couple of future posts, but here I want to muse about our filming and editing of the interviews, including with filmmaker Ken Loach, above.
We shot 13 interviews over four days at the end of January and in the first week of February, more than a month before even the inkling of a lockdown. Elements from ten of these feature in the documentary. In those heady pre-lockdown days I anticipated doing further interviews once I'd started to make sense of what I'd already gathered, but this proved to be impossible.
Choosing
I started with one principle, which I associate (perhaps erroneously) with the Arena series and its long-time series editor Anthony Wall: an interviewee who was a participant in whatever one is asking about will invariably contribute something significantly more than a commentator. And this "something" is not (simply) accuracy or detail or comprehensiveness, but something much more intangible: authenticity, or texture, perhaps even what some theorists call 'atmosphere'.
I'll try to expand on this when the film is out in the world, but for me the featured interview elements have qualities that exceed the information or ideas they convey. If you get the chance, look at how contributors use their hands, how they smile and sit and shrug, and indeed how for a moment or two they sit in silence. Perhaps I am romanticising this, but I feel that at times you can watch them inwardly recalling triumphs and disappointments from forty years and more ago — and somehow that's precious.
Without making any grand claim, for me each of these flakes and fragments is a part of the history with which the film engages. Commentators can offer thoughts, context, analysis in interviews, but those were not the qualities I was primarily after from this component. Context and analysis were what I hoped we could get at by the creative ways we employed the archive, by the juxtapositions we made, and by sparing use of a narrator.
All of those who I approached for the first round of interviews kindly agreed to participate – except one. Everyone was happy to offer their time without payment of a fee. I regret that we were not able to make the schedule work for a small number of other contributors, who I fully intended to film with at a later point. One of my great regrets is that, because of the make-up of British television in the 1970s, the writers and production teams were appallingly non-diverse, and as a consequence all of our interviewees are white – although pleasingly we were able to feature the great director Horace Ové, who directed and co-wrote two Plays for Today, in an archive fragment recorded in 1982.
Sadly, many of the key participants in the story are dead, including writers like Dennis Potter (who also features in archive clips), Jim Allen and John McGrath, directors James MacTaggart, John Mackenzie and Alan Clarke (in an archive extract), and the hugely influential producers David Rose and Tony Garnett (both of whom make archival appearances). I especially regret not filming with Tony, who was happy to contribute but who died in January.
Filming
I knew that I wanted a consistent, meant style across the interviews, with the focus being very much on our distinguished contributors and not on the surroundings of an office or living room. Abstracting them from the everyday was a way to achieve this, and so we decided to invite them (offering a taxi each way) to a small studio in a central London mews. There, director of photography Phil Cooper and two colleagues, assistant camera Piers Quérée and sound recordist Donal Sweeney, hung a range of colour rolls as backgrounds for our main "A" camera. The choice of which hue backed which interviewee was largely random and the range was dictated by what had been left over from previous shoots in the space.
One of the ideas that runs through the film is the foregrounding of both film and studio production technologies. There are photographs and archive sequences that highlight this, there are film flares and video break-up as transitions, and there are inclusions of self-reflexive excerpts from the plays themselves. To extend this, we set a second, "B" camera that revealed our own studio set-up, and we also requested – and it's a bit of a cliché, I know – that each interviewee use a clapperboard to begin the recording.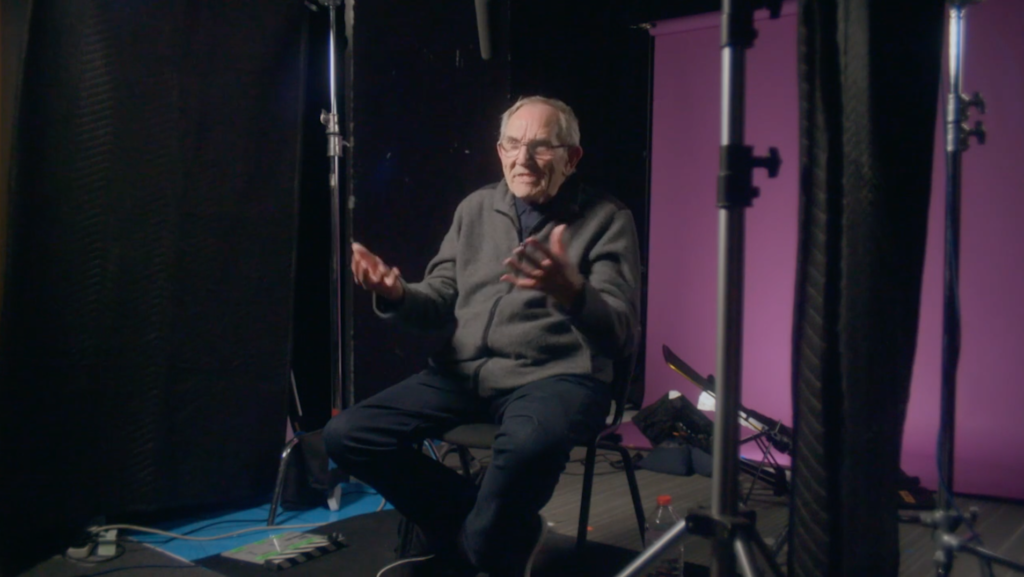 I drafted around a dozen questions for each interviewee, some common to everyone and some, naturally, specific to productions they worked on or people they collaborated with. Although I don't always do this, I shared the questions in advance, and for some of the contributors I was able to secure for them to view copies of their own plays, allowing them in some cases to watch them for the first time in 40 years.
Each of the interviews lasted between 20 minutes and an hour, and so of course later it was heart-breaking to chisel just a few minutes out of each to include in the final film, and also to recognise that we simply did not have space for three of them. I'm hoping, however, that we can find another way of making a number of them available.
Editing
Once the interviews had been shot, we went through a standard process of transcribing them, using first the powerful speech-to-text software Trint, which generates unique timecodes for each paragraph, and then refining the result manually. After this I took these transcripts and began a "paper" cut, selecting the most pertinent sections from each, ordering and re-ordering them using only the words on a page. This paper cut was the basis for the first stage of Todd MacDonald's edit, as he assembled the chosen elements into a "sync pull". Our first go at this, without any archive elements, ran at something close to two and a half hours.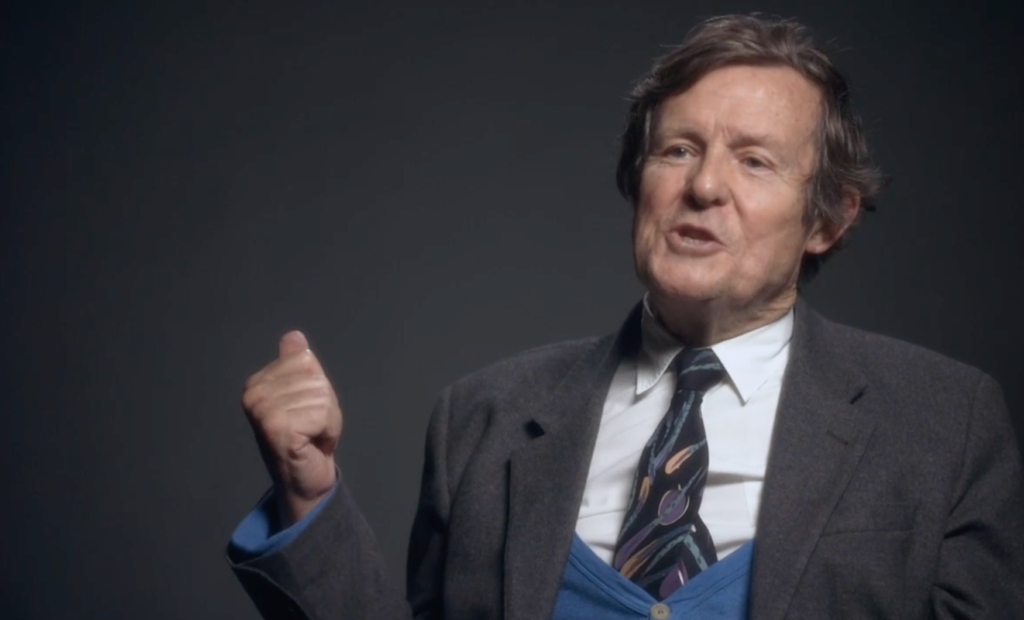 After that, we began to cut and shape the material, paying attention now to the expressive and performative qualities of the interviews as well as what was actually being said. We worked remotely from our homes with a fast-developing script held in a common Google doc and new versions posted nightly to Vimeo. On occasional Zooms we screen-shared the cut and considered it together in real time. And we slowly started to integrate elements of the archive. Just as one does with any conventional edit. The whole process from sync pull to having a cut more or less to length took some eight weeks.
During this Todd began to develop a couple of distinctive and innovative techniques in the cutting of the interviews. Because they were shot to a high technical standard (as well as made to look great) with a 4K camera, in addition to editing between moments, we could cut "into" the images of both cameras. The pictures were recorded at such a high resolution that we could digitally find new framings without any noticeable loss of quality for our HD master. So Todd was able to re-position our subjects and conjure up close-ups from mid-shots, even though both A and B cameras had held static frames throughout the filming.
This was a technique that Todd began to develop on Figures of Speech, an online collaboration with the Almeida Theatre for which distinguished actors read significant political speeches. The result is dynamic and visually rich, and when used sensitively can be used to bring emphasis to and enhance the impact of a spoken contribution. Here , for example, are shots from a sequence with producer Peter Ansorge.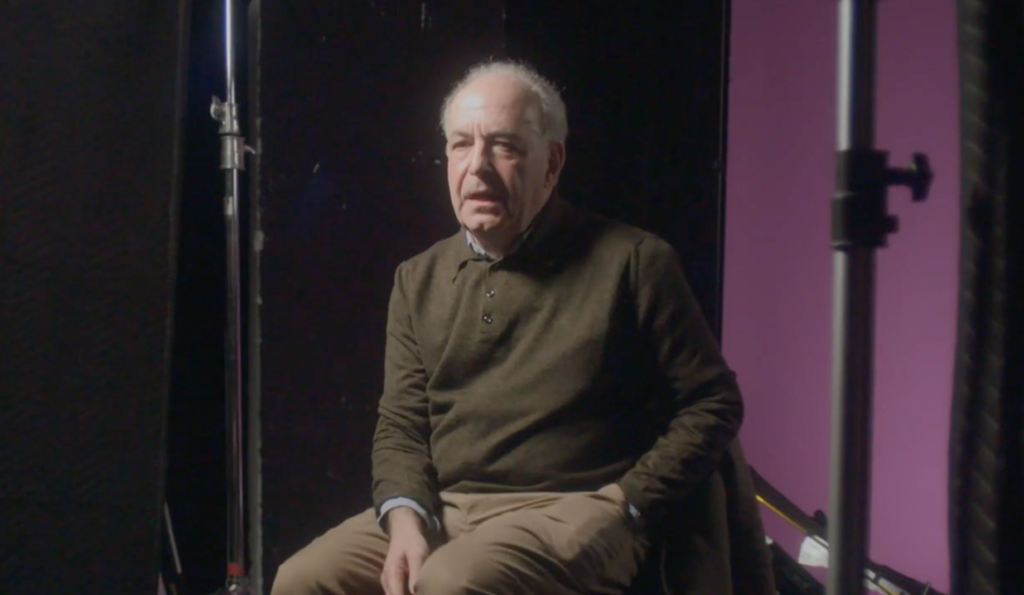 Although this is less noticeable, we have also on occasion played around with the audio in the interviews. The "dynamic frame editing" (I just made that up) allows for extensive cutting within a run of sync without the use of distracting cutaway shots. Beyond this, however, there are moments when we hear a speaker continuing a thought as we see she or he sitting in silence.
Again, our hope is that this imparts some additional energy and interest, but I also like the way it draws attention to our process, reminding the viewer ever so subtly (and hopefully without simply prompting the thought, 'It's out of sync') that all of this is a construction, an interpretation. If this survives the BBC's 'quality assessment' (QA) processes then you'll get the chance to judge.
One final thought. We have not always used the interviews full-frame, and so by way of a teaser here is a split-screen frame-grab incorporating the interview with director Roy Battersby…