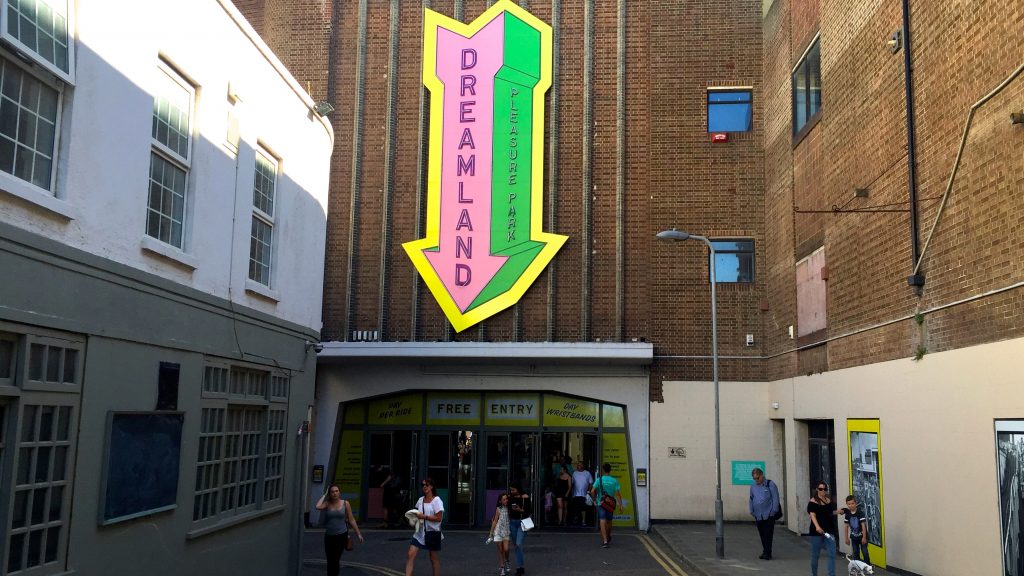 After yesterday's enthusiasm for The British Library at Turner Contemporary, here's one more post from our day trip to Margate. After lunch and an ice cream we walked back along the front and turned down into Dreamland. Recently reopened, about which more below, this amusement park with a wooden roller coaster known as the Scenic Railway (currently closed for maintenance) welcomed its first visitors in 1921, with the iconic moderne front and cinema (currently shrouded in scaffolding) being completed in 1935. (There's a useful if rather relentlessly upbeat history here.)
I came here as a kid on days out in the 1960s and in – I think – 1970 I saw my first rock concert in the Ballroom. That night the band was Deep Purple, soon to be followed by King Crimson and Emerson Lake and Palmer. But probably my strongest sense of Dreamland now comes courtesy of Lindsay Anderson's 12-minute film O Dreamland that he shot there in 1953 but which was edited later and first shown in 1956, and from which this is a framegrab: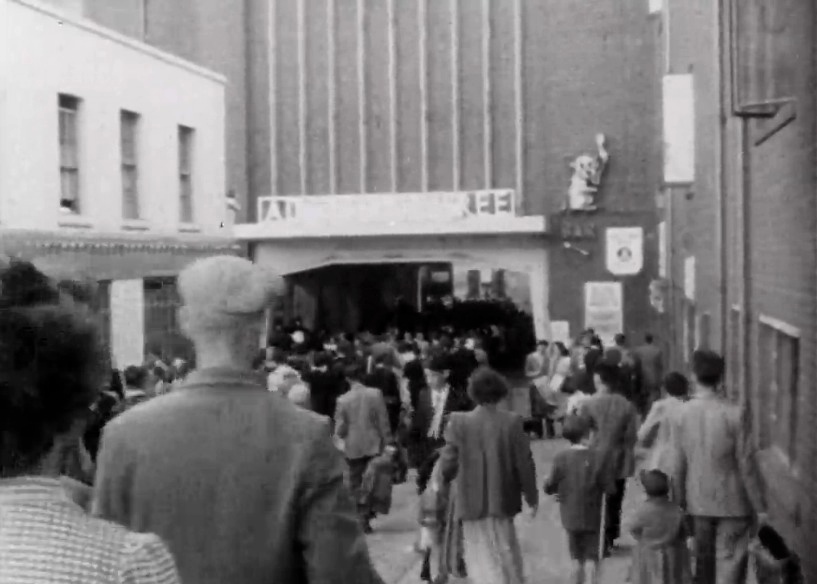 Anderson's film, made with John Fletcher, is currently free to view on BFIPlayer. As one of the first 'Free Cinema' documentaries of the mid-1950s, it is assured a place in the history of British cinema. As BFI ScreenOnline says,
Free Cinema is now acknowledged as a highly influential moment in British cinema history, which not only re-invigorated British documentary in the 1950s but also served as a precursor to the British New Wave in the late 1950s and early 1960s.
O Dreamland was shown as part of the first Free Cinema programme at the NFT in February 1956, alongside Tony Richardson and Karel Reisz's Momma Don't Allow and Lorenza Mazzetti and Denis Horne's Together. (All of the Free Cinema films are available in the excellent BFI DVD box-set Free Cinema.)
Seemingly artless, with unremarkable close-up cinematography and a soundtrack dominated by the Frankie Laine song 'I believe' along with a maniacal laugh, the film is a bleak and despairing portrait of the lumpen proletariat of post-war Britain. Watching it again after Tuesday's visit it is surprising that there's so little sense of the particularities of the place. There are almost no wide-shots, for example, and you only get an overview of the site in the closing shot, taken at night from the top of central Ferris Wheel.
What clearly fascinated Anderson – and seemingly repelled him too – were the people who went to Dreamland: day-trippers, elderly matrons, wide-eyed kids, desperate would-be lovers. We see them being accosted by barkers and hucksters, playing Bingo, feeding coins into the slot machines. drinking tea, and staring transfixed at the 'Torture Through the Ages' exhibit with its animated life-size figures being burned and electrocuted and suffering the death of a thousand cuts. Anderson's contemporary Gavin Lambert wrote,
Everything is ugly… It is almost too much. The nightmare is redeemed by the point of view, which, for all the unsparing candid camerawork and the harsh, inelegant photography, is emphatically humane. Pity, sadness, even poetry is infused into this drearily tawdry, aimlessly hungry world.
But more than sixty years on poetry and humanity appear to be in short supply in the film, and I can only see (and hear) Anderson's distanced contempt for people whose yearning for a better world, whether man-made or God-given, is restricted by the lyrics of a pop song:
Every time I hear a newborn baby cry,
Or touch a leaf, or see the sky,
Then I know why,
I believe.
Also sixty years on, having survived fire and neglect and bankruptcies Dreamland itself has had a series of face-lifts. Optimistically, in June 2015, after a rebirth under the auspices of The Dreamland Trust and a redesign by Wayne Hemingway, the park was reported by Marina O'Laughlin for the Guardian to be 'back from the dead'. Oliver Wainwright, also for the Guardian, detailed much of the process in a fascinating article (which has some great archive photos). And for the same paper, in advance of the re-opening, Zoe Williams wrote, 'it is going to incredible: in scale, in scope, in detail, in vision, in the radical pursuits of fun, it's awe-inspiring.' But it's not. Nowhere near.
Reality bit, as Will Coldwell reported in June this year:
Despite positive press coverage it has been a tough opening year for Dreamland. The park has struggled to draw enough visitors – 50% fewer than anticipated over its first summer season – and in January its operator Sands Heritage was given five years to repay £3m debts. On 27 May, administrators were called in, though the park will remain open while they look for a new operator.
A new pricing structure means that admission is now free, which we took advantage of on Tuesday, and you pay for individual rides and attractions, which I have to admit we didn't. But it's all rather run-down, terminally tacky and a long way from the hipster nostalgia-fest that people seem to have dreamed of just over a year ago. Anderson might recognise many of the types who made up the rather sparse crowd on the sunniest of afternoons. And for me, despite a decent store of fond memories, there was about as much poetry as the filmmaker discerned back in 1953. 'O Dreamland,' indeed.